Marvel fans continue to dislike She-Hulk as the latest sees thousands of fans dislike the "Twerking" promo video on YouTube.
In conjunction with today's Season finale, Marvel released a new She-Hulk "Twerking" spot (watch below) which features star Tatania Maslany twerking along with Megan Thee Stallion, in addition to Maslany dancing from various episodes and a behind-the-scenes look at the footage.
However, much like the show itself, MCU fans aren't at all happy.
While the She-Hulk twerking video has 3.7k likes, it happens to have almost 5k dislikes on the official Marvel YouTube channel, which at the least means fans are divided, something that is never a good thing.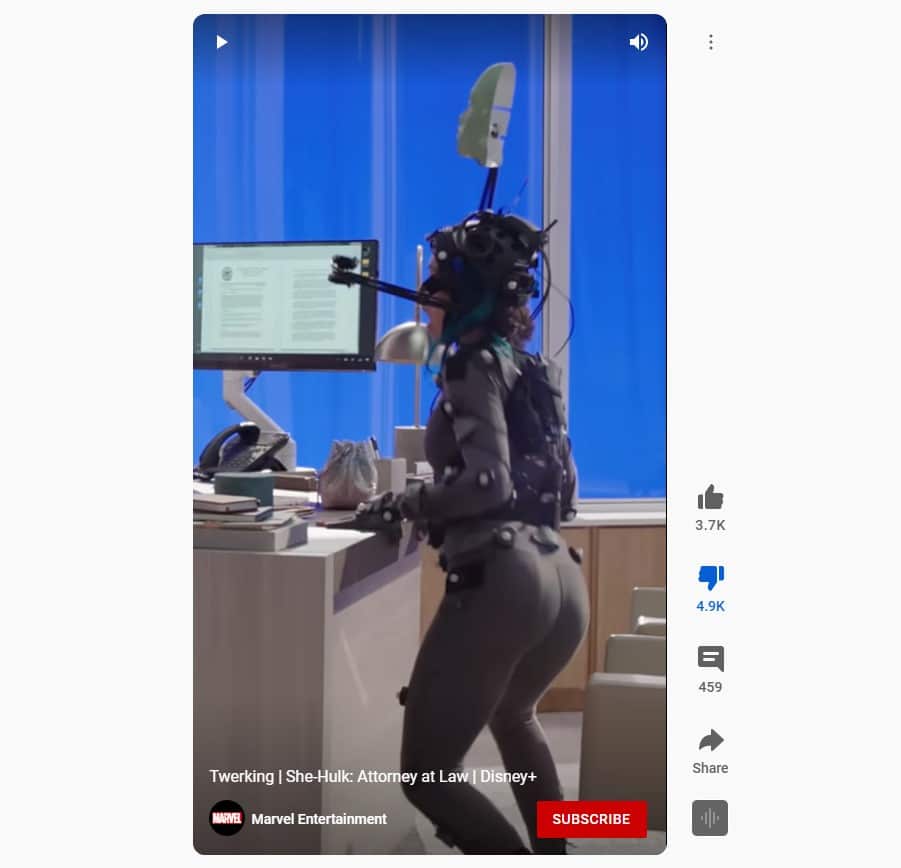 Fans don't like She-Hulk
Regarding what fans think, checking Rotten Tomatoes now reveals She-Hulk has the worst Rotten Tomatoes Audience Score of all Marvel Cinematic Universe projects with a score of 35%, which is down from the 50% when the series first premiered.
She-Hulk is even less liked than Captain Marvel (45%) and Marvel TV's Inhumans (43%).
IMDb is more of the same as fans on the site give the She-Hulk series a 5.0.

What's wrong with She-Hulk?
So what went wrong with She-Hulk?
Terrible writing from writers that don't read comics.
Even worse CGI.
An inconsistent storyline that doesn't sync.
And as I responded to Mark Ruffalo on Twitter, it's a complete embarrassment for anyone that calls themselves a Hulk fan, a She-Hulk fan, a Son of Hulk fan, and I'll add, a Marvel fan.
Kevin Feige doesn't care about the comics, the source material, the fans, or it seems, much of anything.
All the MCU does is continue to insult, make fun of, and mock the original material and the fans.
Gone are the days when the MCU respected the fans and the comics. Those were the days.
'Nuff said!