When the star of the movie is attacking the studio, you know you are in big trouble – just ask Scarlett Johansson and Black Widow – as Simu Liu fires back at Disney CEO Bob Chapek about comments made about Marvel's Shang-Chi movie.
With Black Widow tanking big time at the box office in addition to every movie released as of yet failing (it's because they aren't any good and has nothing to do with the pandemic, see below) Disney has decided to release Shang-Chi digitally after only 45 days of being released in theaters. Disney did something similar for Black Widow, but instead of 45 days, they didn't wait as long and released it early following a 30-day theatrical release.
In a recent Disney investor conference call, Disney CEO Bob Chapek said releasing Shang-Chi would be an "experiment" hinting its box office would bomb as well (via Deadline):
As far as the theatrical window for the upcoming Labor Day weekend release of Marvel's Shang-Chi and the Legend of the Ten Rings, Chapek called the 45-day frame for the pic before it hits Disney+ "an interesting experiment," and "another data point" for the studio as it juggles theatrical releases with its streaming service.
The comments didn't sit well with Simu Liu who fired back on social media:
We are not an experiment.

We are the underdog; the underestimated. We are the ceiling-breakers. We are the celebration of culture and joy that will persevere after an embattled year.

We are the surprise.

I'm fired the f**k up to make history on September 3rd; JOIN US.
Shang-Chi star Simu Liu responds to Disney: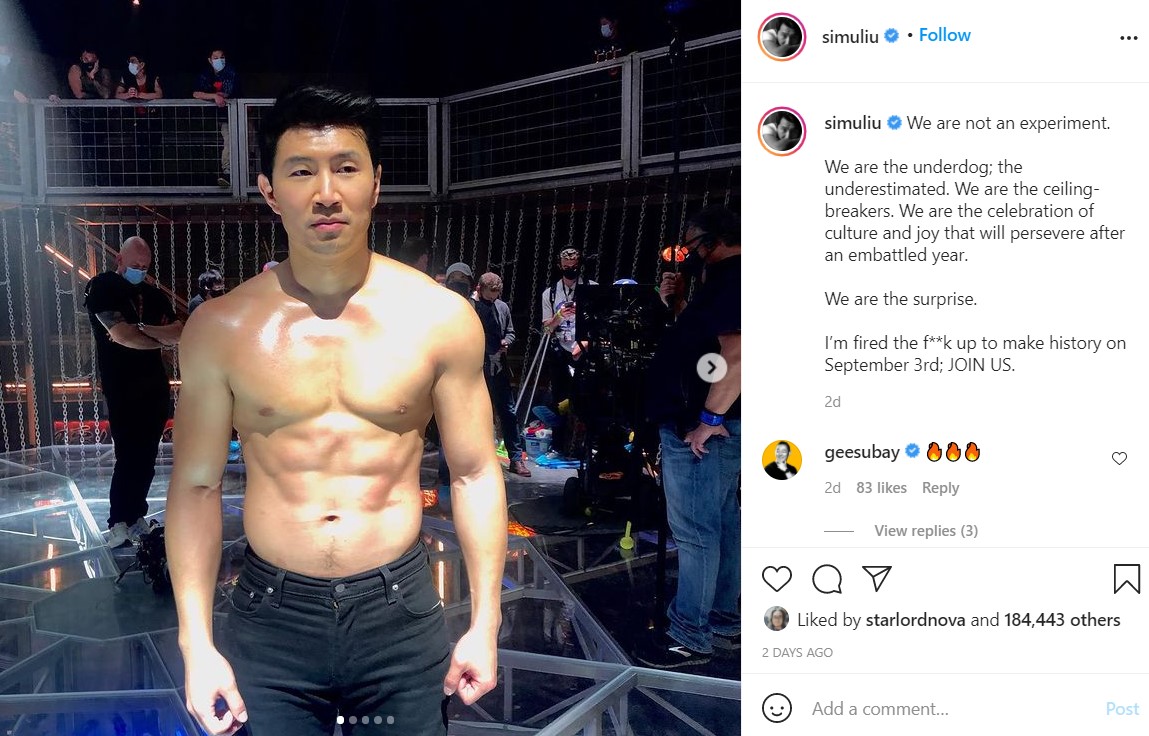 Shang-Chi box office expected to be worse MCU movie
Regarding the Shang-Chi box office, current estimates offer it will debut behind Black Widow's $80 million and will be the lowest MCU box office debut ever with only $35 to $55 million (Ant-Man opened to $57 million).
What hurts Shang-Chi is that it is opening Labor Day weekend where everyone will probably be involved in other activities, again people not going to movie theaters has ZERO to do with the pandemic, unlike how Hollywood and its shill media site are spinning things. These movies released haven't been any good, that's why people are not going to see them.
It's claimed fans are afraid of movie theaters:
People are afraid to go to movie theaters they say #BlackWidow #JungleCruise #TheSuicideSquad #FreeGuy pic.twitter.com/wWIP0wrS1a

— Matt McGloin (@cosmicbooknews) August 16, 2021
Johnny Reznik joined Billy Joel for Iris ! pic.twitter.com/tVaKqR1ldg

— George Richert (@GeorgeRichert4) August 15, 2021
SURPRISE: Johnny Rzeznik from the Goo Goo Dolls makes a surprise performance at tonight's Billy Joel concert! https://t.co/JjPFVDC5B7 pic.twitter.com/VHOUmFkWYa

— News 4 Buffalo (@news4buffalo) August 15, 2021
Billy Joel, performing right now as we speak, before 50,000-60.000 in Buffalo. But, you know, the NYS Education Department is more worried about 22 kids lining up across from each other. #politicalBSasusual #coveringtheirass pic.twitter.com/nwjlFcSLZG

— Rich T HVSR (@HVSportsReport) August 15, 2021
Windy City Win. #SquadUp pic.twitter.com/bXTjDWzDRj

— New York Yankees (@Yankees) August 15, 2021
Kings of Leon crew, great show! #Nash pic.twitter.com/XifNwulbJZ

— KJ (@kevingjones817) August 13, 2021
Kings of Leon was the first band I toured with professionally so it's only fitting they be my first big show back after a crazy, crazy year and some change. Was weird to be in the crowd without a radio though! pic.twitter.com/LnxpsHIxhe

— Sam Pauly (@iamwhoisam) August 13, 2021
Never thought I'd see this… @LukeBryanOnline @TheBillsMafia #BillsMafia pic.twitter.com/s6vyyY3mhp

— Michael Thomas (@MichaelThomas82) August 15, 2021