Samuel L. Jackson is finally back in the MCU as Nick Fury for Captain Marvel.
The movie is currently filming, and Samuel L. Jackson took to Instagram to show off a behind-the-scenes image.
"Caught a lil' nap while going thru the process today! #captainmarvel #nickgettingfurious #lifecastsabitch," Jackson said on Instagram. 
The image reveals Samuel L. Jackson apparently getting fitted for something, or perhaps a likeness is being created of the actor as Captain Marvel takes place in the 1990s.
Another possibility is that since the Skrulls will be featured in Captain Marvel, one of the Skrulls pretends to be Nick Fury!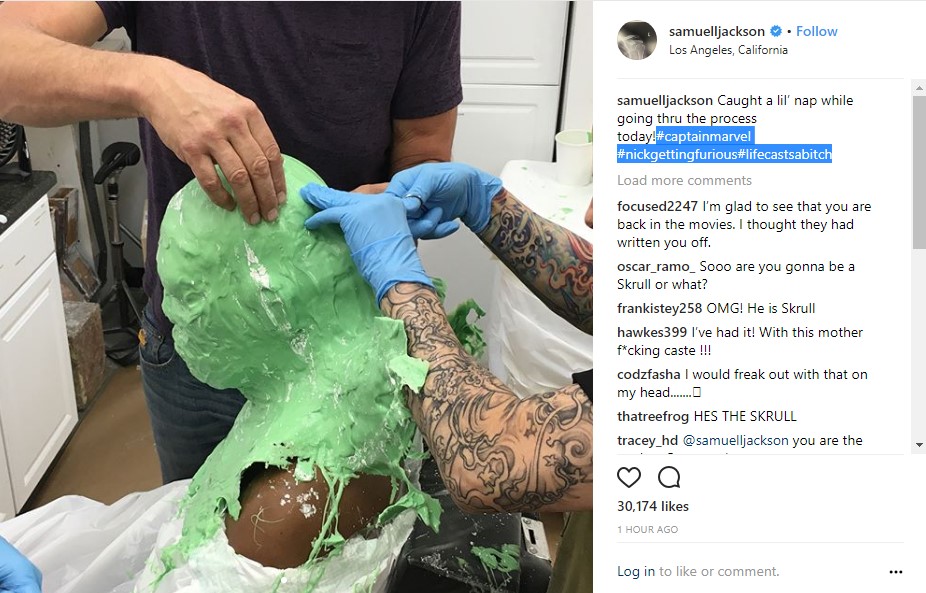 Marvel Studios president Kevin Feige recently mentioned Jackson while talking Captain Marvel:
We wanted to explore a period before Samuel L. Jackson's Nick Fury had any idea about any of the other heroes and crazy stuff going on in the world. You know, we first met Nick when he told Tony, "You're part of a big universe. You just don't know yet." Well, we want to go back to a time when he didn't know it yet, and really showcase and announce that Carol Danvers was that first hero that Nick came across. That meant she could be the singular hero, but place it within timing of the MCU. It also got us talking about different genres, exploring this notion of sort of the '90s action film. We hadn't necessarily done anything like that before either, so there are definitely homages to our favorite '90s action films within Captain Marvel.
Captain Marvel has a March 8, 2019 release directed by Anna Boden and Ryan Fleck starring Brie Larson as Carol Danvers/Captain Marvel, Samuel L. Jackson as Nick Fury, Jude Law as Walter Lawson / Mar-Vell, DeWanda Wise in an unknown role, Ben Mendelsohn is rumored to play the villain, Skrull commander / leader, and Gemma Chan is playing Minn-Erva.