Samuel L. Jackson returns to the MCU with Captain Marvel which follows a lengthy four year absence from appearing in The Avengers: Age Of Ultron (Jackson is not slated for any of The Avengers: Infinity War movies).
While speaking with AV Club, Samuel L. Jackson lets loose some interesting details about Nick Fury in Captain Marvel.
"I meet Captain Marvel in more of an origin story. You'll see Nick Fury with another guy's face, somebody that's got two eyes, so that's a whole big deal. You'll see. It's prior to the eye injury, no eye patch," Samuel L. Jackson said. "
Samuel L. Jackson continues with what sounds like confirmation SHIELD will be a part of Captain Marvel.
"I'm sort of the glue that holds all these guys together," Jackson said. "I got them into the organization, into S.H.I.E.L.D., and every now and then I show up to remind them that S.H.I.E.L.D. has a purpose. It's been a good job. It was a nine-picture deal. I did it. It was good."
Captain Marvel will also feature the shape-shifting alien race known as the Skrulls, which is rather interesting as Jackson commented "with another guy's face." Was Jackson having a play on words?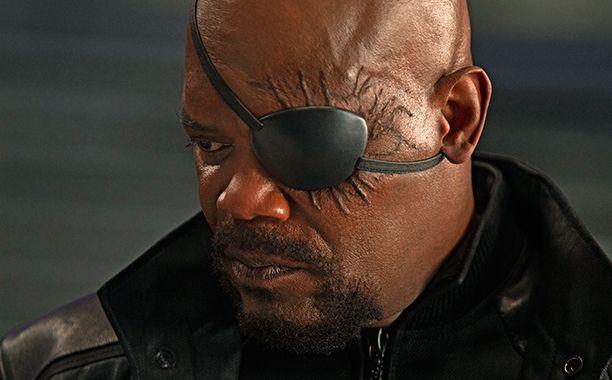 The Captain Marvel movie may actually also show how Nick Fury lost his eye – as it is unknown how the character was injured in the MCU – but during Captain America: The Winter Soldier, Nick Fury gave a clue, which seems to fit with the theme of the Skrulls.
"The last time I trusted someone, I lost an eye," Nick Fury told Captain America.
Captain Marvel films soon for its March 8, 2019 release directed by Anna Boden and Ryan Fleck also starring Brie Larson as Carol Danvers / Captain Marvel, Jude Law as Walter Lawson / Mar-Vell, DeWanda Wise in an unknown role, and Ben Mendelsohn is rumored to play the villain, Skrull commander / leader.
A previously released description for Captain Marvel offered: The superhero film will be set in the 90s, and the Skrulls, alien shape-shifters, will be the primary antagonists. After encountering the Kree hero, Captain Marvel, Carol Danvers was accidently subjected to otherworldly radiation that transformed her into a superhuman warrior. Calling herself Ms. Marvel, she established herself as one of Marvel's most powerful and prominent heroes as a sole heroine and as a member of the Avengers. Recently, she adopted the mantle of Captain Marvel for herself.