The near-forgotten New Mutants movie is getting a trailer released in a few days with confirmation the flick will get a theatrical release.
Director Josh Boone confirmed the New Mutants theatrical release on social media, and Boone also confirms the movie shown in theaters will be his version.
"New trailer supervised by myself, co-writer @knatelee and color corrected by the great @peter_deming arrives January 6th. We're very excited to share it with you! In theaters everywhere April 3rd!" Boone posted on Instagram.
A fan questioned in the comments if New Mutants will be the original version that he shot, as there have been reports when New Mutants was at Fox Studios that it underwent massive rewrites and reshoots, but Boone says it's his version (Disney now owns Fox, New Mutants, X-Men, Fantastic Four).
"I wouldn't be promoting it here if it wasn't," Boone replied.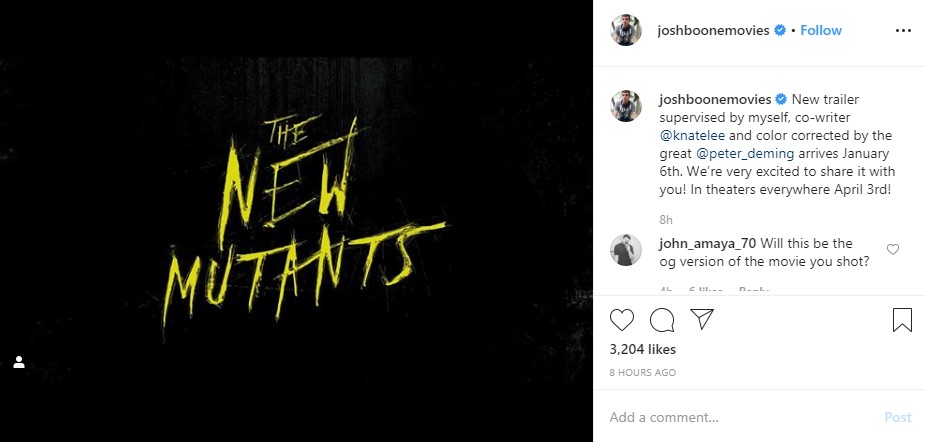 New Mutants movie finally happening
Test screenings have offered that the movie is just "okay" with it said that Disney was unimpressed by the movie, but what exact version that was shown in the test screening remains unknown.
There have been rumors for months that Disney may cancel the theatrical release for New Mutants and instead release it on HULU, but now we see that isn't happening.
Regarding the difference between Josh Boone's version of New Mutants and the Fox Studios, assumed to be Simon Kinberg version, I believe it is thought Boone's version is lighter, which fits with Disney Marvel movies.
New Mutants stars Maisie Williams, Anya Taylor-Joy, Charlie Heaton, Alice Braga, Blu Hunt, Antonio Banderas, and Henry Zaga.
Check out the first New Mutants trailer that was released back in October of 2017: