Blockbuster Video is long gone and now Netflix's DVD-by-mail service is joining the dust in the wind.
Netflix has announced after 25 years that the company has decided to end its DVD service as of September 28.
The DVD service started in 1998 with both rentals and sales of DVDs but sales of DVDs quickly ended a year later. The service quickly took off as users didn't have to pay late fees that came with Blockbuster as long as they kept the DVD. Only when they mailed and returned the famous red envelope could they get another DVD sent through the mail. People also didn't have to leave their houses to both order and return new DVDs. Ten years later would see Netflix introduce streaming, and the rest they say is history.
The first DVD shipped was Beetlejuice on March 10, 1998, with over 5.2 billion DVDs shipped worldwide. 2009's The Blind Side is said to be the most popular title which is by director John Lee Hancock starring Quinton Aaron, Sandra Bullock, and Tim McGraw, and follows the story of Michael Oher, a homeless and traumatized boy who became an All-American football player and first-round NFL draft pick with the help of a caring woman and her family.
Co-CEO Ted Sarandos released the following announcement.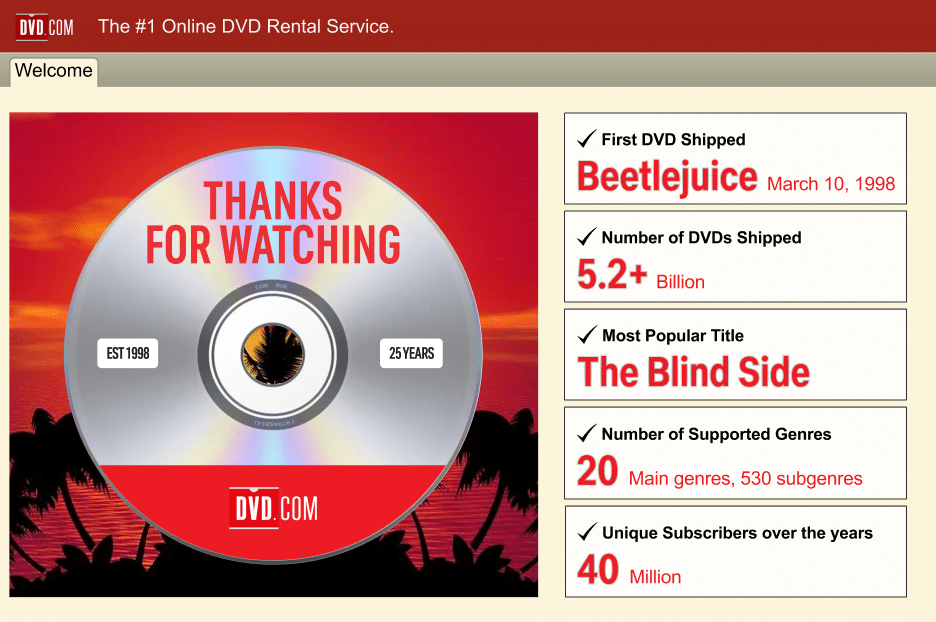 From CEO Ted Sarandos:
After an incredible 25 year run, we've decided to wind down DVD.com later this year. Our goal has always been to provide the best service for our members but as the business continues to shrink that's going to become increasingly difficult. So we want to go out on a high, and will be shipping our final discs on September 29, 2023. 
Those iconic red envelopes changed the way people watched shows and movies at home — and they paved the way for the shift to streaming. From the beginning, our members loved the choice and control that direct-to-consumer entertainment offered: the wide variety of the titles and the ability to binge watch entire series. DVDs also led to our first foray into original programming — with Red Envelope Entertainment titles including Sherrybaby and Zach Galifianakis Live at the Purple Onion.
We feel so privileged to have been able to share movie nights with our DVD members for so long, so proud of what our employees achieved and excited to continue pleasing entertainment fans for many more decades to come. 
To everyone who ever added a DVD to their queue or waited by the mailbox for a red envelope to arrive: thank you.
-Ted Sarandos