Disney and Marvel Studios have pushed back the release date for The Marvels by four months to November.
The Marvels will now be released on Nov. 10, 2023, instead of the Summer July 28th release date. Disney has now moved up Haunted Mansion from Aug. 11 to that July 28 release date.
A new poster with the release date has also been released featuring Brie Larson who returns from Captain Marvel, Teyonah Parris as Monica Rambeau from WandaVision, and Iman Vellani who first appeared in the Ms. Marvel Disney Plus series.
"Higher. Further. Faster. Together." teases the poster.
Brie Larson tweeted the poster adding, "TOGETHER. See you November 10."
Presently, The Marvels faces competition from WB's Dune: Part 2 which comes out a week earlier on Nov 3, and a week after the release on Nov. 17 sees The Hunger Games: The Ballad of Songbirds and Snakes get released, and Trolls 3.
What is the MCU release date schedule?
The updated MCU release date schedule now looks as follows:
Ant-Man and the Wasp: Quantumania: Feb. 17, 2023
Guardians of the Galaxy Vol. 3: May 5, 2023
The Marvels: November 10, 2023
Captain America: New World Order: May 3, 2024
Thunderbolts: July 26, 2024
Blade: September 6, 2024
Deadpool 3: November 8, 2024
Fantastic Four: February 14, 2025
Avengers: The Kang Dynasty: May 2, 2025
Avengers: Secret Wars: May 1, 2026
Armors Wars: TBA
Shang-Chi 2: TBA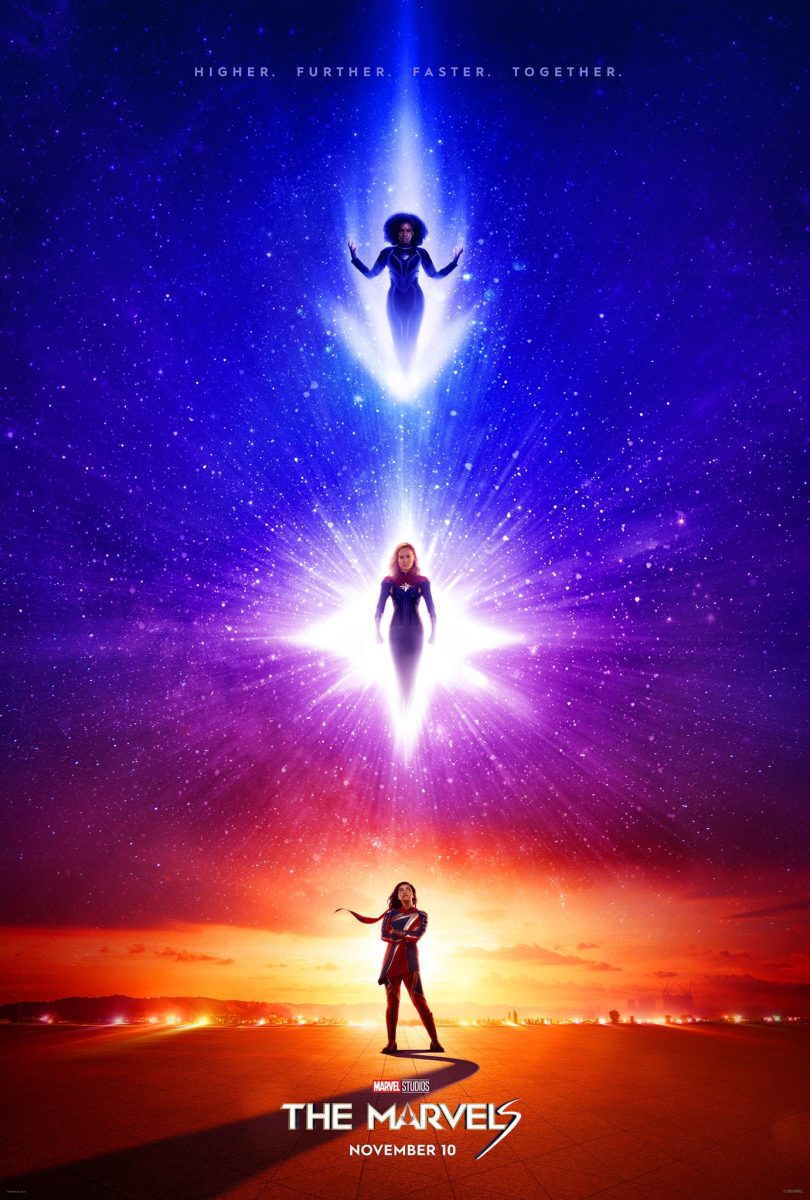 Kevin Feige compares The Marvels to The Avengers
Head of Marvel Kevin Feige also recently revealed that Ms. Marvel steals the show in the movie and compares The Marvels to The Avengers.
"I'm very proud of the Ms. Marvel show. I also know — and this is a spoiler — she essentially steals The Marvels," Feige told EW.com.
Feige added, "There are fun cosmic elements to it. Marvel comic fans will recognize elements of the Kree-Skrull war. And it's picking up directly after the end of Captain Marvel 1, not in timeline but in story. We also do that in our upcoming Disney+ series Secret Invasion, and those are two very different follow-ups to that movie. Tonally, they couldn't be more different. But there's something immensely powerful about seeing Monica and Kamala and Carol together in a frame. To me, it's only akin to the first Avengers movie and seeing the six of them together in a frame. It's chill-inducing. They're so great together, and they all have different histories with one another."