Following the recent Disney Investor Day presentation, Marvel has released updated plot synopses for Shang-Chi, WandaVision, The Falcon and the Winter Soldier, She-Hulk, and Moon Knight.
The descriptions are basically what Kevin Feige described during his Marvel announcements presentation.
MCU descriptions:
Shang-Chi: "Shang-Chi must confront the past he thought he left behind when he is drawn into the web of the mysterious Ten Rings organization."
Doctor Strange 2 "In The Multiverse Of Madness": "The Marvel Studios adventure, set to debut in theaters March 25, 2022, will connect the events of next month's WandaVision, the original new series debuting on Disney+, and the upcoming Spider-Man film."
Thor: Love and Thunder: With Chris Hemsworth (Thor), Natalie Portman (Jane Foster), and Tessa Thompson (Valkyrie) returning to their roles, they will be joined by Christian Bale, who will portray the villain Gorr the God Butcher.
Captain Marvel 2: "Brie Larson will be joined by Iman Vellani, who makes her debut as Ms. Marvel in the Disney+ series of the same name. Additionally, joining the cast is Teyonah Parris, who portrays grown-up Monica Rambeau — a character introduced as a child in Marvel Studios' Captain Marvel — in Marvel Studios' WandaVision."
Ant-Man 3 "Quantumania": Kathryn Newton joins the cast of Ant-Man and The Wasp: Quantumania as Cassie Lang, the daughter of Scott Lang. Paul Rudd reprises his role as Ant-Man, alongside Evangeline Lilly as Hope van Dyne/Wasp. Joining them are returning cast members Michael Douglas as Dr. Hank Pym, and Michelle Pfeiffer as Janet Van Dyne — aka, Hope's parents.
Black Panther 2: Marvel Studios' Black Panther 2 will continue to honor the legacy of Chadwick Boseman and his portrayal of King T'Challa, and will not recast the character. The sequel will continue to explore the incomparable world of Wakanda and all of the rich and varied characters introduced in the first film.
Fantastic Four: "Jon Watts will direct the new feature film for Marvel's First Family, Fantastic Four!"
Disney Plus descriptions:
WandaVision: "Wanda Maximoff and Vision are two super-powered beings living idealized suburban lives, but begin to suspect everything is not as it seems."
The Falcon and The Winter Soldier: "[The Falcon and Bucky Barnes], who came together in the final moments of Avengers: Endgame, team up on a global adventure that tests their abilities—and their patience."
Loki: Marvel Studios' Loki takes place after the events of Marvel Studios' Avengers: Endgame with Tom Hiddleston returning as the titular character.
What If?: "What If…?, which takes inspiration from the comic books of the same name, flips the script on the Marvel Cinematic Universe and reimagines famous events from the films in unexpected ways."
Ms. Marvel: "The Marvel Studios original series centers on fan-favorite Kamala Khan — a 16-year-old Pakistani-American growing up in Jersey City. A great student, avid gamer, and voracious fan-fic scribe, Kamala has a special affinity for Super Heroes, particularly Captain Marvel."
Hawkeye: "Marvel Studios' Hawkeye, helmed by Rhys Thomas and directing duo Bert and Bertie, is set to premiere on Disney+ in late 2021!" (Hailee Steinfeld confirmed as Kat Bishop)
She-Hulk: "A lawyer who specializes in superhuman-oriented legal cases."
Moon Knight: "The action-adventure features a complex vigilante who suffers from dissociative identity disorder. The multiple identities who live inside him are distinct characters who appear against a backdrop of Egyptian iconography."
Secret Invasion: "The crossover comic event series showcases a faction of shapeshifting Skrulls who have been infiltrating Earth for years."
Ironheart: Marvel Studios' Ironheart stars Dominique Thorne as genius inventor Riri Williams who creates the most advanced suit of armor since Iron Man himself, Tony Stark.
Armor Wars: What happens if Tony Stark's tech falls into the wrong hands? Don Cheadle returns to the role as James Rhodes — aka War Machine — who must face these tech consequences in this classic Marvel story.
The Guardians of the Galaxy Holiday Special: A ragtag bunch of misfits. The holidays. James Gunn. Do we really need to say anything else?
I Am Groot: Everyone's favorite little tree is coming soon to Disney+! Marvel Studios' I Am Groot will feature the seedling, along with several new and unusual characters joining Groot in a series of shorts.
Check out the MCU release date and Disney Plus schedules below.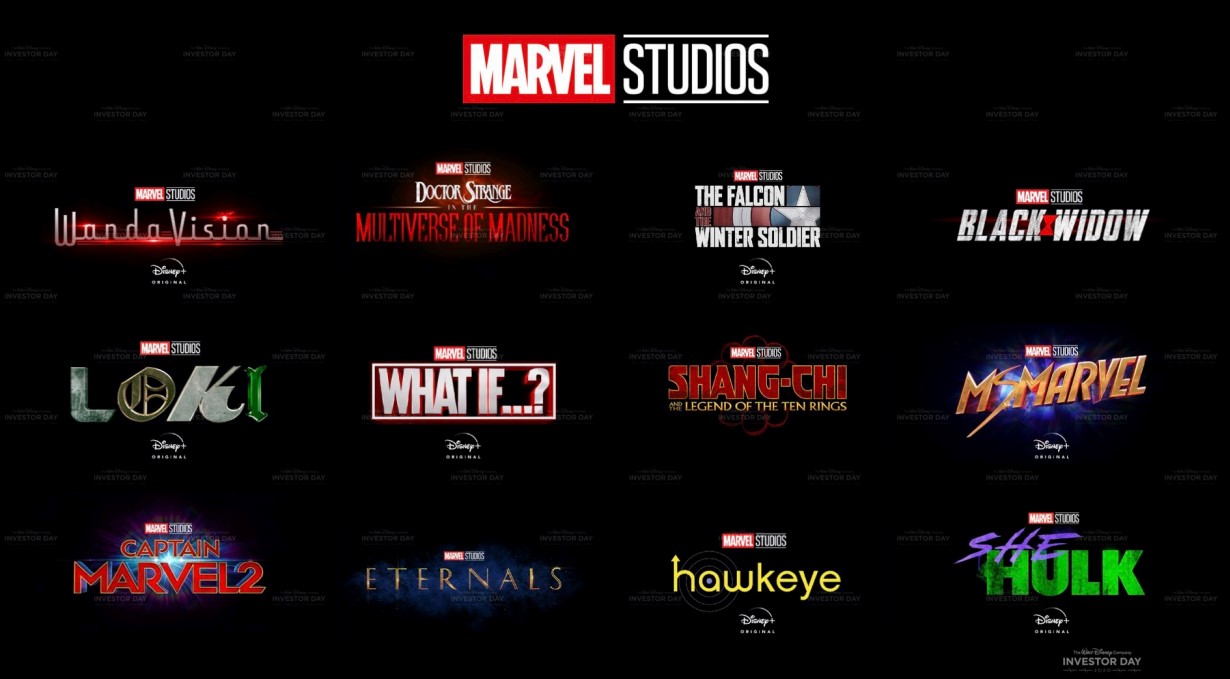 MCU release date schedule:
Black Widow – May 7, 2021
Shang-Chi – July 9, 2021
Eternals – Nov. 5, 2021
Spider-Man 3 – Dec. 17, 2021
Doctor Strange 2 – Mar. 25, 2022
Thor: Love and Thunder – May 6, 2022
Black Panther 2 – July 8, 2022
Captain Marvel 2 – Nov. 11, 2022
Ant-Man 3 – no release date
Blade – no release date
Guardians of the Galaxy 3 – confirmed sometime in 2023
Fantastic Four – no release date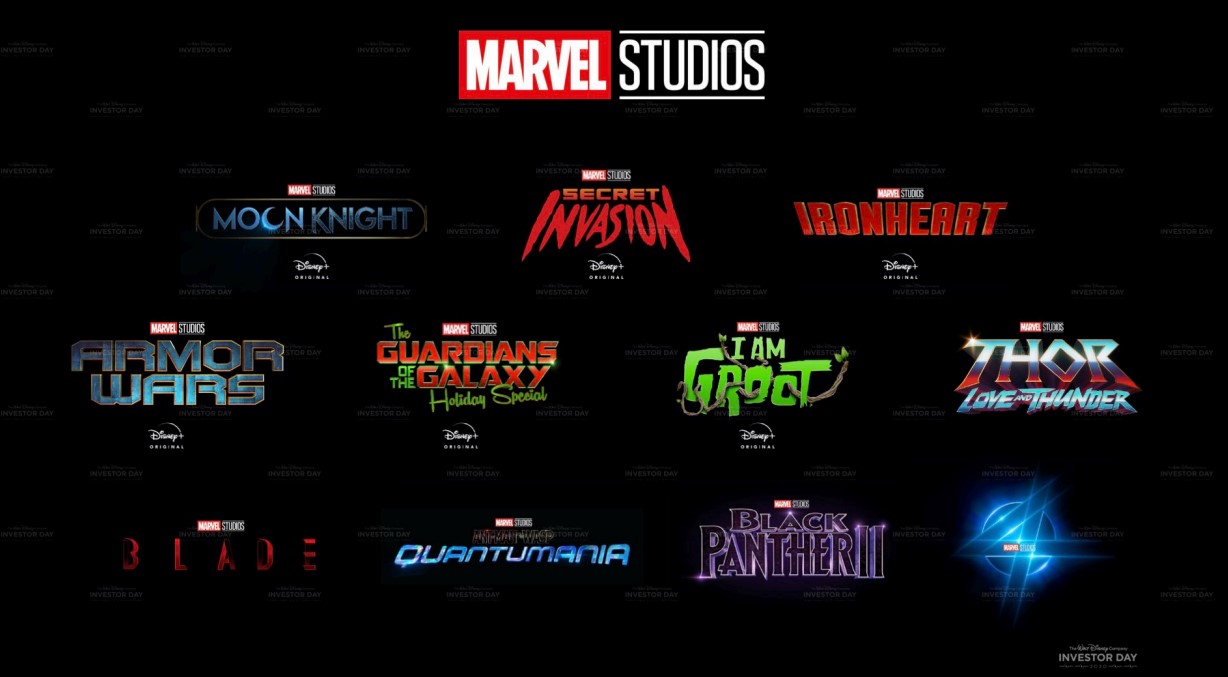 Marvel Disney Plus schedule:
WandaVision – Jan. 15, 2021
The Falcon and the Winter Soldier – March 19, 2021
Loki – May 2021
What If? – Summer 2021
Ms. Marvel – late 2021
Hawkeye – late 2021
Moon Knight – 2022
She-Hulk – 2022
Secret Invasion – 2022
Ironheart – 2022
Armor Wars (War Machine) – 2022
Guardians of the Galaxy Holiday Special – 2022 / holiday prior to Guardians of the Galaxy 3 release
I Am Groot (Baby Groot) – no release date