While the Disney Star Wars movies have been a big-time disappointment, fans are hoping the Disney Plus The Mandalorian series is a lot better, especially with Iron Man director Jon Favreau on board to oversee things.
Check out a cool new image (via EW) below that promises at least Star Wars on TV might be pretty good as a pic is released featuring Pedro Pascal as The Mandalorian battling a pair of Trandoshans. Fans will recall that the Bounty Hunter Bossk who appeared during Darth Vader's bounty hunter roll call in The Empire Strikes Back is of the same reptilian race.
"If you notice, there's a certain look that the Mandalorian lead character has, there's a size that the spaceship is, there's a scale that lines up with the original trilogy," Favreau recently told THR. "I'm trying to evoke the aesthetics of not just the original trilogy but the first film. Not just the first film but the first act of the first film. What was it like on Tatooine? What was going on in that cantina? That has fascinated me since I was a child, and I love the idea of the darker, freakier side of Star Wars, the Mad Max aspect of Star Wars."
Watch the new trailer below as well.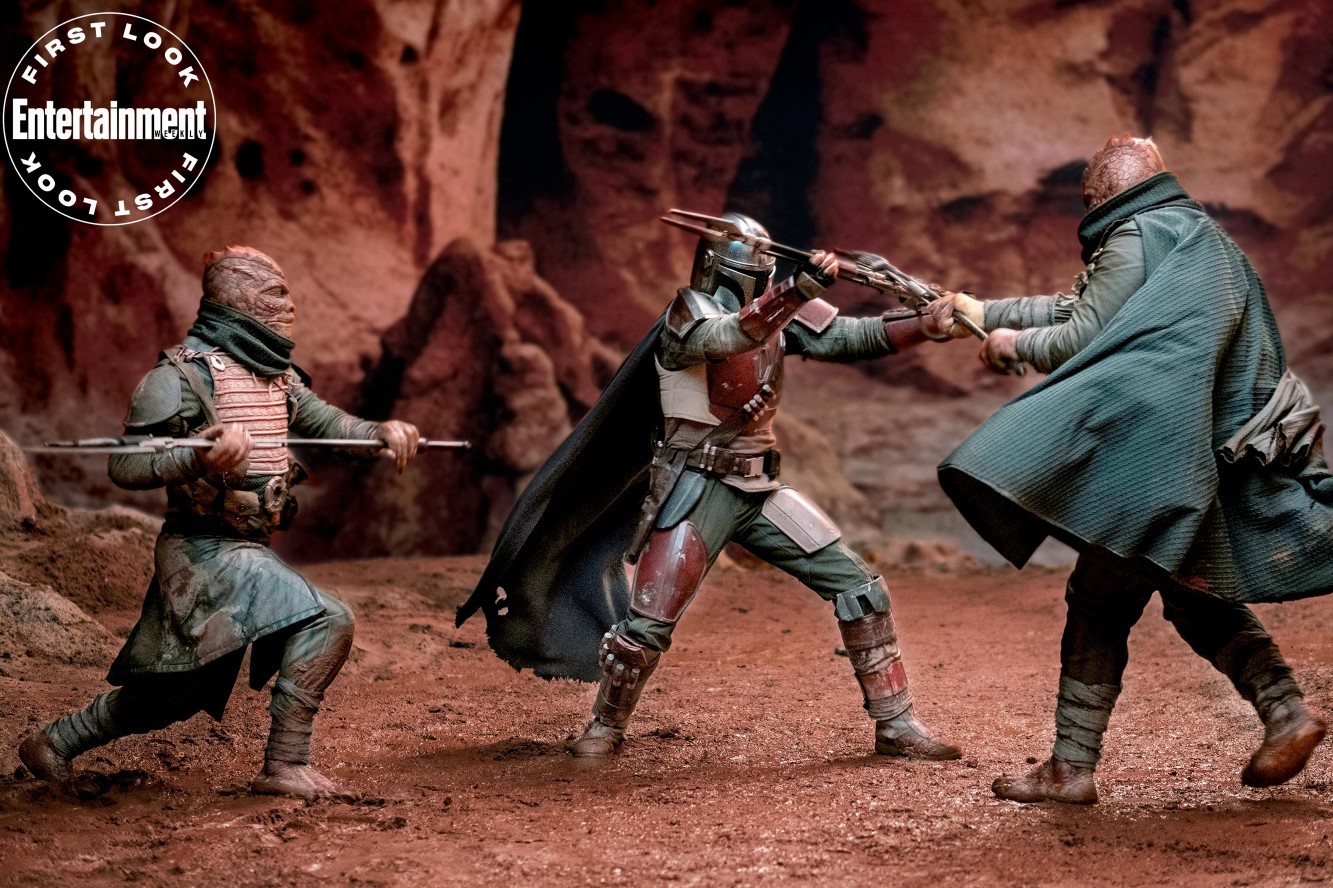 Star Wars The Mandalorian comes to Disney Plus in November
Synopsis: After the stories of Jango and Boba Fett, another warrior emerges in the Star Wars universe. The Mandalorian is set after the fall of the Empire and before the emergence of the First Order. We follow the travails of a lone gunfighter in the outer reaches of the galaxy far from the authority of the New Republic.
The Mandalorian is written and executive produced by Jon Favreau, with Dave Filoni (Star Wars: The Clone Wars, Star Wars Rebels) directing the first episode and serving as executive producer alongside Kathleen Kennedy and Colin Wilson. Additional episodic directors include Deborah Chow (Jessica Jones), Rick Famuyiwa (Dope), Bryce Dallas Howard (Solemates), and Taika Waititi (Thor: Ragnarok). The Mandalorian stars Pedro Pascal (Narcos) in the title role as a lone Mandalorian gunfighter, alongside Gina Carano (Deadpool), Giancarlo Esposito (Breaking Bad), Emily Swallow (Supernatural), Carl Weathers (Predator), Omid Abtahi (American Gods), Werner Herzog (Grizzly Man), and Nick Nolte (Warrior).
The Disney Plus streaming service launches Nov. 12 and will have the first episode available.
Star Wars The Mandalorian trailer: