This is definitely not what Marvel needs right now as it is learned Loki Season 2 is a big catastrophe on Disney+ as the ratings are down nearly 40% from the Season 1 premiere and a whopping 60% from the Season 1 finale.
Nielsen has released its streaming ratings for the week of October 5 which includes the first episode of Loki Season 2.
The Season 2 premiere episode failed to make Nielsen's Overall Top 10 streaming list.
The episode did make the Top Ten Original list coming in at #6 with 446 million minutes, which also includes any episodes watched that week from Season 1, so a total of seven episodes.
For a comparison, and it's a big one, the Season 1 premiere from June 9, 2021 clocked in 731 million viewing minutes in its first week, though it should be said the "pandemic" was still happening.
That's a loss of 39% when comparing the Season 1 premiere to the Season 2 premiere.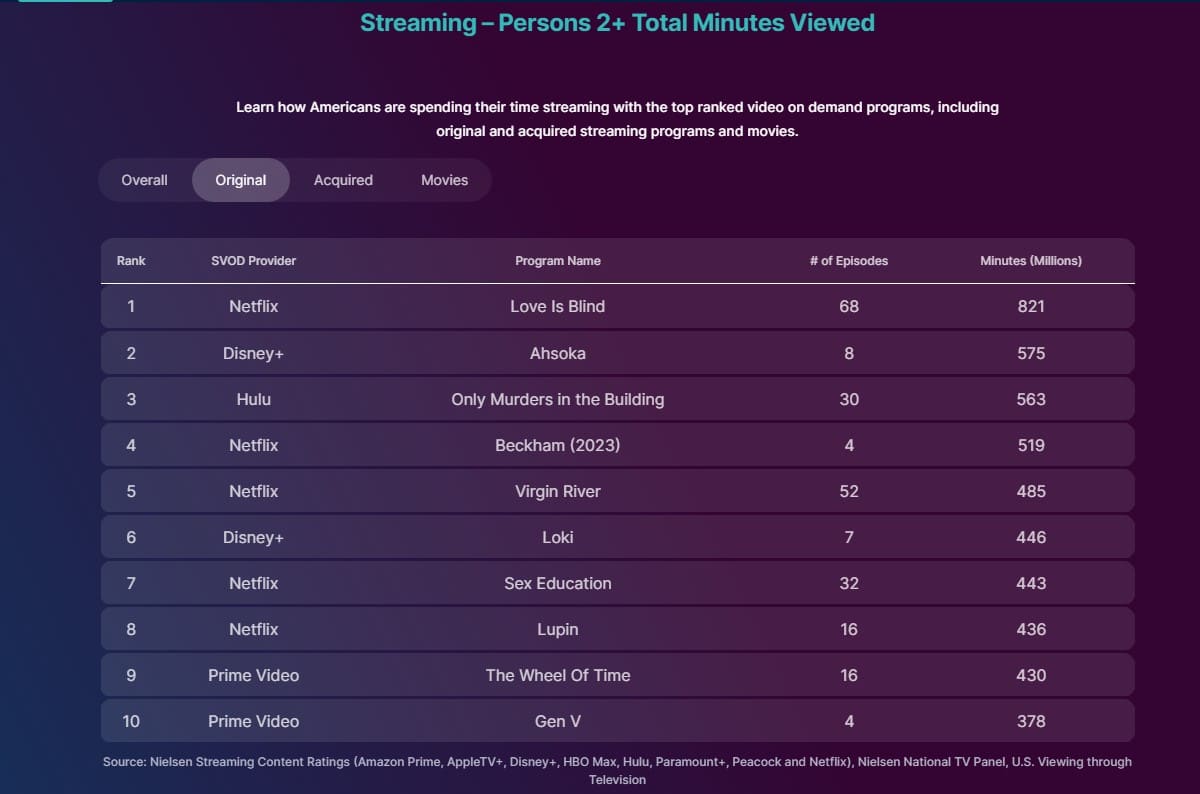 Loki vs Ahoska and The Mandalorian
We also see that Marvel's Loki is trailing Star Wars' Ahsoka, which comes in at #2 with 575M minutes with its final episode.
Ahsoka started off shakey, too, but picked up steam in its fifth episode and the ratings rebounded. The same could happen with the remaining episodes of Loki, though the return of Hayden Christensen as Anakin and Darth Vader may have been a big boost for Ahsoka, something Loki doesn't have.
Also similar to Ahsoka, is that Disney has claimed the Loki Season 2 premiere had record ratings, but the data from Nielsen seems to indicate that is not the case.
What the data does is confirm that both the Marvel and Star Wars brands are diminishing and hurting on the Disney+ streaming service, as well as that the Disney+ streaming service doesn't seem to be all that much of a success.
We can also compare the Loki Season 1 finale and Season 2 premiere to that of The Mandalorian Season 2 finale and Season 3 premiere.
The Loki Season 1 finale saw 1,100M; the Loki Season 2 premiere has 446M, a drop of 60%.
The Mandalorian Season 2 finale saw 1336M; The Mandalorian Season 3 premiere 823M, a drop of only 38%.
It also recently has been reported that Marvel is considering recasting Jonathan Majors due to the actor's legal issues and even that Marvel is considering removing Kang in favor of making Doctor Doom the MCU's next big villain.
Loki Season 1 Nielsen ratings:
Episode 1: 731 million
Episode 2: 886M
Episode 3: 713M
Episode 4: 813M
Episode 5: 1,080M
Episode 6: 1,011M