It's learned Kevin Feige helped design the cool Moon Knight costume in the Disney Plus series where it is also learned the suit is inspired by the Universe X comic book from Marvel and Alex Ross, which is an alternate version of Marc Spector from Earth-9997 set in a dystopian future.
The head writer on the show, Jeremy Slater, tweeted details prior to the second episode airing where Slater revealed Kevin Feige had a hand in designing the look of the costume.
Slater says that they came up with the idea of Spector being able to summon the Moon Knight costume instead of having to wear it under his clothes or hiding it somewhere to change into.
How Kevin Feige got involved is that the team was given all kinds of references to Moon Knight from the comics, including Universe X artwork from Alex Ross featuring Moon Knight sporting Egyptian bandages, so Feige came up with the idea to incorporate that look into the Disney Plus series.
Slater also says they wanted to make the suit work differently than the current suits in the MCU that resemble Iron Man (Spider-Man, Star-Lord, Ant-Man, etc.).
Check out the tweets below.
I wonder if Slater has anything to say about the controversy surrounding making Mr. Knight too goofy?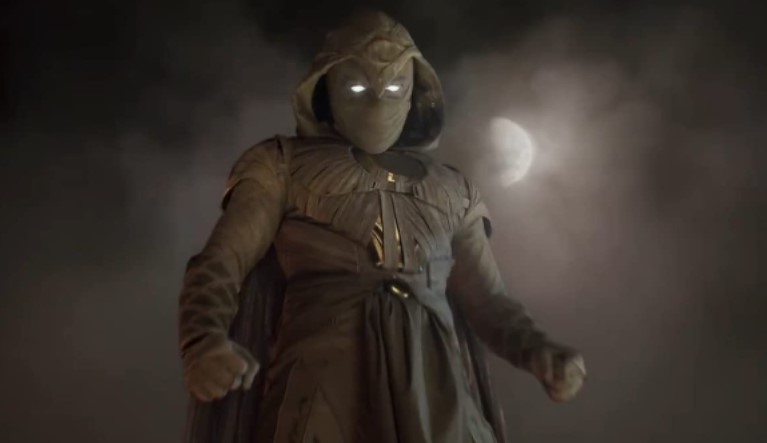 Jeremy Slater on Moon Knight costume and the involvement of Kevin Feige:
While we're all waiting for the second episode of #MoonKnight to drop, I've been trying to think of some fun, non-spoilery details I can share here.

How about some backstory on the creation of that incredible costume? 1/8

— Jeremy Slater (@jerslater) April 6, 2022
My very first idea for the show was a scene where Steven was trapped in a bathroom by a monster, only to be saved by the man in the mirror.

So right from the beginning, I knew his suit would need to be supernatural. 2/8

— Jeremy Slater (@jerslater) April 6, 2022
(It wouldn't make sense for Steven to be wearing a bulky costume beneath his clothes, after all, or for Marc to always have to fetch his costume from some hiding spot.)

So we knew the suit would need to be conjured into existence somehow. We just didn't know how. 3/8

— Jeremy Slater (@jerslater) April 6, 2022
Enter Nick Pepin.

Nick was one of our two Marvel producers, and part of his job included supplying us with every piece of Moon Knight reference material on the planet. Every inch of our writers room was papered with incredible comic art. 4/8

— Jeremy Slater (@jerslater) April 6, 2022
And one of those pieces of artwork was this UNIVERSE X version of Moon Knight, created by Alex Ross, Doug Braithwaite and Jim Krueger.

Look at that thing. Tell me that's not awesome. 5/8 pic.twitter.com/hqzfvn365B

— Jeremy Slater (@jerslater) April 6, 2022
We realized if the suit was conjured into existence *like the bandages on a mummy,* it would feel visually distinct from all the Stark/nanotech suits that currently populate the MCU.

At this point we assumed his costume would be some variation on the traditional comic look. 6/8

— Jeremy Slater (@jerslater) April 6, 2022
We pitched the "summoning" idea to Kevin Feige using the Universe X costume as a visual aid. He loved it… but wanted us to take it a step further. It was Kevin's idea to combine the modern Moon Knight look with the Universe X mummy bandages. 7/8

— Jeremy Slater (@jerslater) April 6, 2022
The end result is one of the coolest costumes we've ever seen in the MCU, brought to brilliant life by Marvel's team of artists and designers.

And it all started with a 20-year-old piece of comic art pinned to a whiteboard. 8/8

— Jeremy Slater (@jerslater) April 6, 2022