While The Butcher was absent from the first look photo, now Karl Urban shares blood-soaked images for The Boys Season 2 on social media.
"Totally Butcherd that one! Up to our old tricks. Shooting season 2 of @theboystv," Urban posted on Instagram which offers a first look at his character in Season 2.
Earlier also saw Karl Urban post, "Some days everything Goes right…. other days get totally Butcherd @theboystv."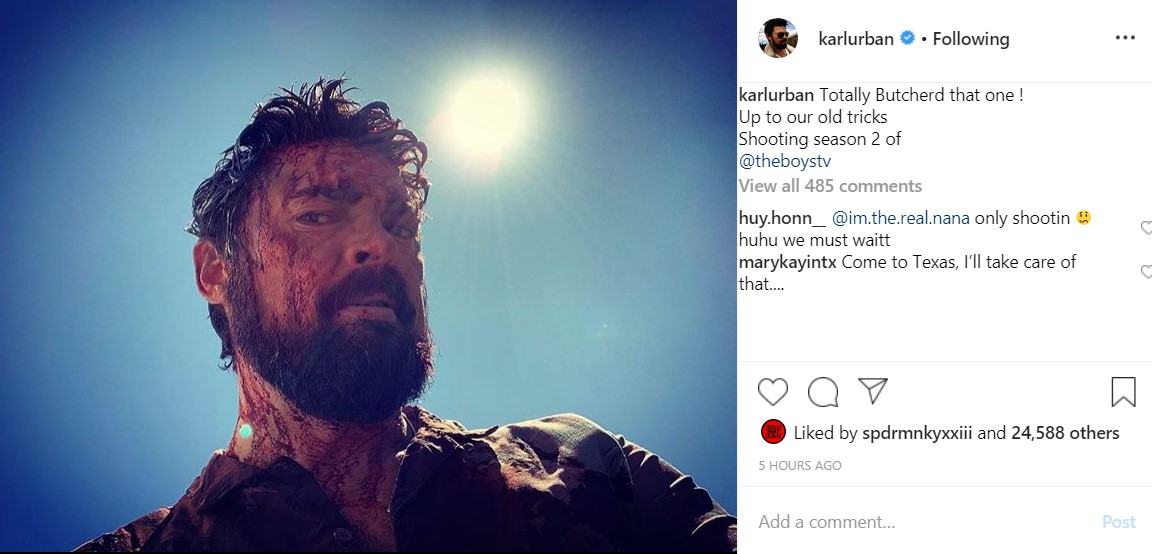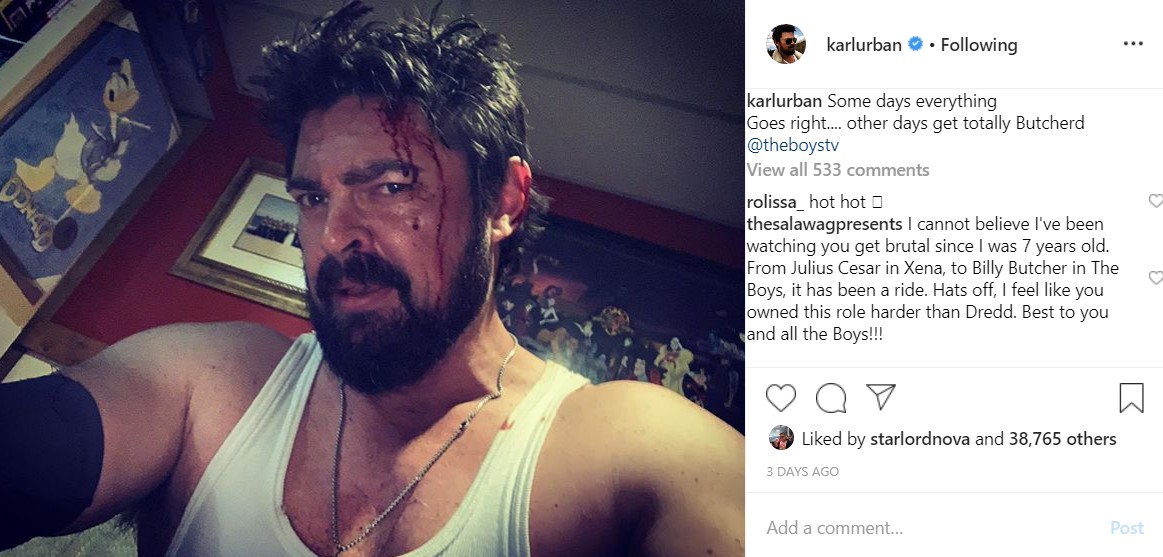 Karl Urban filming The Boys Season 2 for Amazon
The earlier image featured members of the cast also all bloody, but offering they are "number one."
If you haven't watched the first season, I highly recommend it, which can be found on Amazon Prime. It's based on the comic book of the same name from Garth Ennis and published by WildStorm, and Dynamite Entertainment.
The Boys is a take on the superhero genre but amps things up — a lot! Don't read any spoilers, just watch the show. It's good. The series also happens to be one of Amazon Prime's most-watched shows of all time.
In addition to Karl Urban, The Boys has has Eric Kripke serving as showrunner and also stars Tomer Capon as Frenchie, Karen Fukuhara as Kimiki, Jack Quaid as Hughie, Laz Alonso as Mother's Milk, with Anthony Starr, Dominique McElligott, Erin Moriarty, Jessie T. Usher, Jennifer Esposito, Chace Crawford, Nathan Mitchell, Elisabeth Shue, Colby Minifie, Shaun Benson, Jess Salgueiro, Nicola Correia-Damude, Jordana Lajoie, Brittany Allen, David Andrews, Brendan Beiser, Johan Strombergsson-Denora, Bruce Novakowski, and Simon Pegg.
Here is the official description:
THE BOYS is an irreverent take on what happens when superheroes, who are as popular as celebrities, as influential as politicians and as revered as Gods, abuse their superpowers rather than use them for good. It's the powerless against the super powerful as The Boys embark on a heroic quest to expose the truth about "The Seven," and their formidable Vought backing.