Last night I binge-watched the first season of The Boys on Amazon and absolutely loved it! Now a first look at Season 2 has been released offering a blood-soaked "bird's-eye" view as its quickly become one of the most-watched shows on Amazon!
The image reveals that The Boys Season 2 is currently filming as showrunner Eric Kripke tweeted, "A small token for #TheBoysTV fans. World's first pic of #Season2. As you can see, we're up to our old tricks. If you haven't seen, JOIN US. Streaming now on @PrimeVideo @TheBoysTV #TheBoys #SPN #SPNFamily #Timeless."
The pic features Tomer Capon as Frenchie, Karen Fukuhara as Kimiki, Jack Quaid as Hughie, Laz Alonso as Mother's Milk, and Kripke is in the middle as the group gives everyone the middle finger. Worth a mention is that Karl Urban's The Butcher is missing, but the reason why could be a spoiler.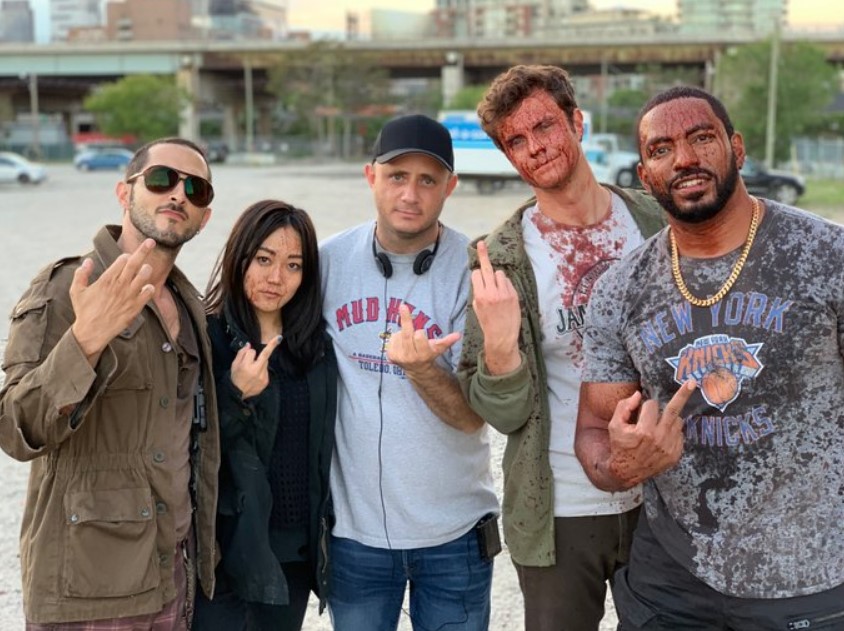 The Boys on Amazon is a big hit!
The Boys is actually based on the comic book by Garth Ennis that was published by Dynamite Entertainment, so if you want more, and don't mind spoiling things, head to your local comic book shop or hit up Amazon.
Here is the series description:
The Boys is an irreverent take on what happens when superheroes, who are as popular as celebrities, as influential as politicians and as revered as Gods, abuse their superpowers rather than use them for good. It's the powerless against the super powerful as The Boys embark on a heroic quest to expose the truth about "The Seven," and their formidable Vought backing.
The show also stars Anthony Starr, Dominique McElligott, Erin Moriarty, Jessie T. Usher, Jennifer Esposito, Chace Crawford, Nathan Mitchell, Elisabeth Shue, Colby Minifie, Shaun Benson, Jess Salgueiro, Nicola Correia-Damude, Jordana Lajoie, Brittany Allen, David Andrews, Brendan Beiser, Johan Strombergsson-Denora and Bruce Novakowski, with Simon Pegg.