New set images from the Birds of Prey movie have hit the net offering that the Joker returns in some form, but it is unclear if the character will be played by Jared Leto.
The pics feature Margot Robbie as Harley Quinn apparently in an argument with the Joker and getting kicked out of his house as he throws her belongings out the window. Previous set pics also show Harley with a basket of her belongings and wearing the same outfit as she walks down the street, so we see the scenes match up.
Regarding Jared Leto, he is currently filming Sony's Spider-Man spinoff Morbius movie, which may explain why he isn't a part of this scene. While some fans are guessing it is simply a body double, whoever the actor is in these new Birds of Prey set photos appears to be in full Joker makeup, so as I have guessed, Jared Leto may indeed be done with the DCEU.
As we see from the pics, the Joker's face may be in part covered up by the window, which means Jared Leto won't be needed for the scene, assumed to be a small cameo to further explain why Harley and Joker broke up — hence the title "Emancipation of One Harley Quinn" and Harley's tattoos.
While it may or not be Jared Leto in the role of the Joker, at least Birds of Prey isn't simply ignoring the Joker completely. Check out the pics: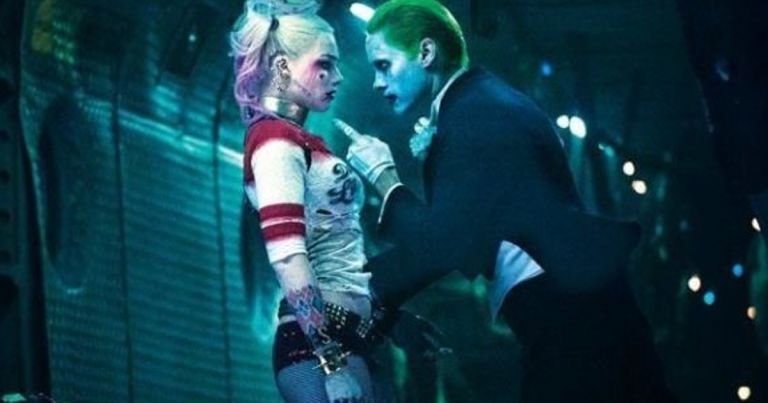 Birds of Prey (And the Fantabulous Emancipation of One Harley Quinn) has a February 7, 2020 release directed by Cathy Yan starring Margot Robbie as Harley Quinn, Jurnee Smollett-Bell as Dinah Lance / Black Canary, Mary Elizabeth Winstead as Helena Bertinelli / Huntress, Rosie Perez as Gotham City detective Renee Montoya, Ella Jay Basco as Cassandra Cain, Chris Messina as Victor Zsasz, with Ewan McGregor as Black Mask.
The plot is rumored to include that Batman has been missing for years, which gives rise to the villain of the movie, the Gotham crime boss Black Mask, and that the Black Mask kidnaps the young Cassandra Cain to mold her into an assassin, with Harley Quinn, Black Canary and Huntress coming together to rescue Cassandra and put a stop to Black Mask.