As Joker closes in on $900 million worldwide at the box office, Warner Bros. has released their "For Your Consideration" list for recommended award categories that they think the movie should be nominated for, which could be for the Oscars, Producers Guild Awards, Golden Globes, etc.
Check out the list below the new poster.
About the film:
Directed, co-written and produced by Todd Phillips, "Joker" stars Joaquin Phoenix in this character study of a man struggling to find his way in Gotham City's fractured society. Longing for any light to shine on him, he tries his hand as a stand-up comic, but finds the joke always seems to be on him. Caught in a cyclical existence between apathy and cruelty and, ultimately, betrayal, Arthur makes one bad decision after another that brings about a chain reaction of escalating events.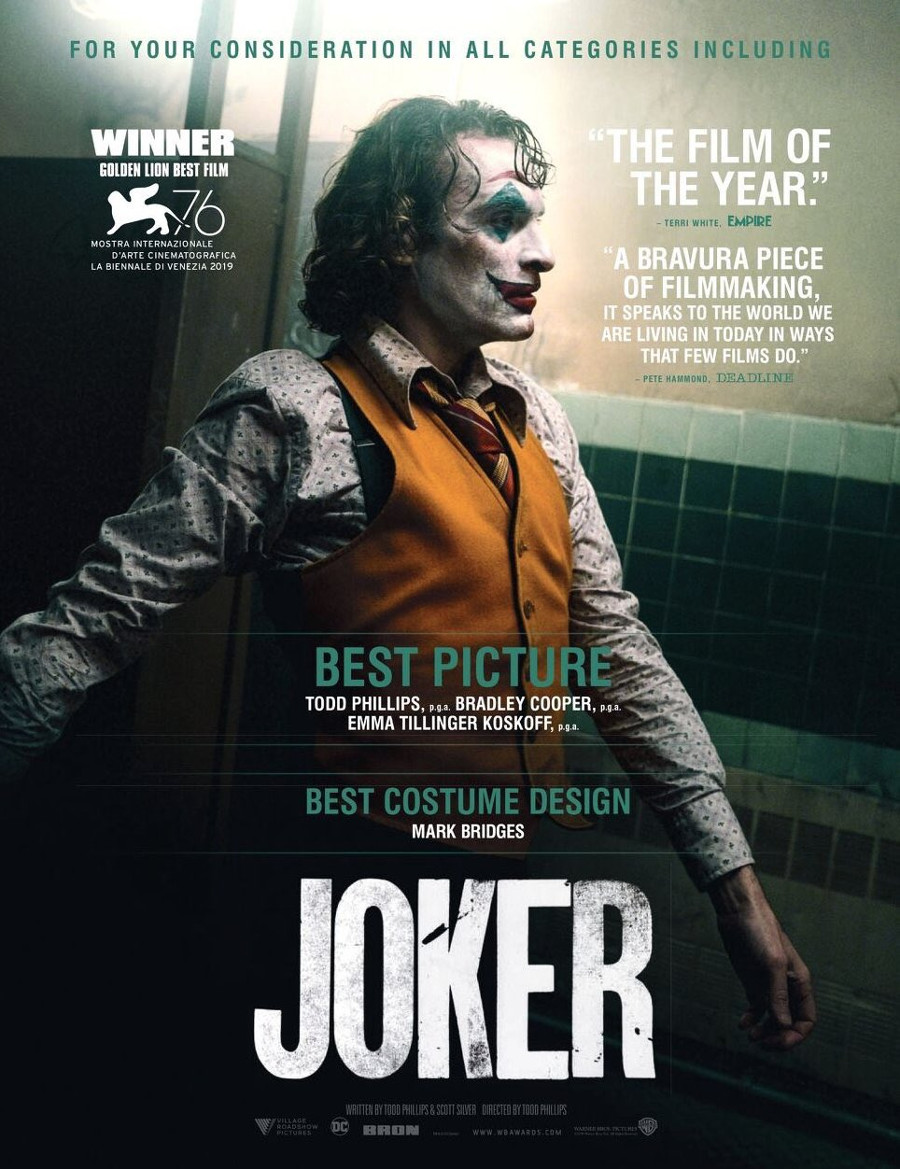 BEST PICTURE
TODD PHILLIPS, p.g.a.
BRADLEY COOPER, p.g.a.
EMMA TILLINGER KOSKOFF, p.g.a.
BEST DIRECTOR
TODD PHILLIPS
BEST ADAPTED SCREENPLAY
Written by
TODD PHILLIPS & SCOTT SILVER
BEST ACTOR
JOAQUIN PHOENIX
BEST SUPPORTING ACTOR
ROBERT DE NIRO
BEST SUPPORTING ACTRESS
ZAZIE BEETZ
FRANCES CONROY
BEST ENSEMBLE CAST
JOAQUIN PHOENIX
ROBERT DE NIRO
ZAZIE BEETZ
FRANCES CONROY
BRETT CULLEN
GLENN FLESHLER
BILL CAMP
SHEA WHIGHAM
MARC MARON
BEST CINEMATOGRAPHY
LAWRENCE SHER ASC
BEST PRODUCTION DESIGN
Production Designer
MARK FRIEDBERG
Set Decorator
KRIS MORAN
BEST FILM EDITING
JEFF GROTH
BEST COSTUME DESIGN
MARK BRIDGES
BEST VISUAL EFFECTS
Visual Effects Supervisors
EDWIN RIVERA
MATHEW GIAMPA
BRYAN GODWIN
Special Effects Coordinator
JEFF BRINK
BEST SOUND EDITING
Supervising Sound Editor
ALAN ROBERT MURRAY
BEST SOUND MIXING
Sound Mixer
TOD MAITLAND
Re-Recording Mixers
TOM OZANICH
DEAN ZUPANCIC
BEST MAKEUP AND HAIRSTYLING
Make-Up Department Head
NICKI LEDERMANN
Hair Department Head
KAY GEORGIOU
BEST ORIGINAL SCORE
HILDUR GUĐNADÓTTIR
(source: WB)