Earlier saw Disney reverse course and decide to rehire James Gunn back on Marvel and Guardians of the Galaxy 3, with the director now trending on Twitter.
Details include that Gunn will start filming on Guardians of the Galaxy 3 after he finishes DC's Suicide Squad 2.
Following his dismissal last Summer, there was a public outcry of support in favor of bringing back James Gunn by fans and celebrities alike, including the Guardians cast, with Dave Bautista being the most vocal in support of his director.
The news of James Gunn returning follows the release of the Captain Marvel movie as well as yesterday's new trailer and poster for The Avengers: Endgame.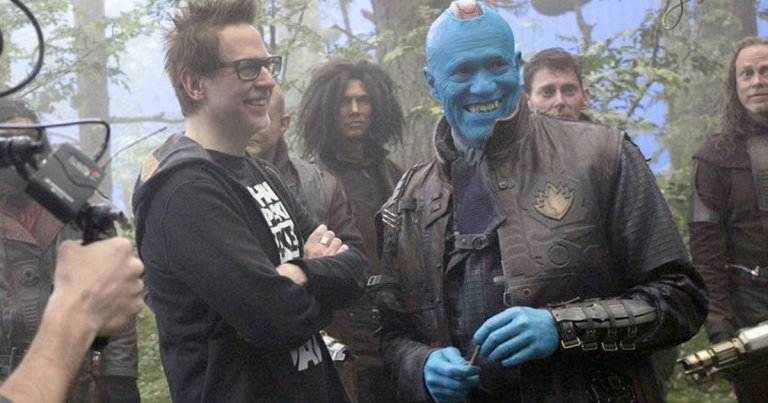 Check out the James Gunn reactions:
James Gunn walking into Hall H for the @MarvelStudios panel this year pic.twitter.com/lj5FCyvhAb

— Nicholas Whitcomb -- WonderCon (@Whos_Nick) March 15, 2019
Thanks to the alt-right bros who helped James Gunn get the Suicide Squad 2 job before he goes back in to direct the third of his Guardians of the Galaxy smash movie trilogy. pic.twitter.com/wik17XB3tu

— Kim Horcher (@kimscorcher) March 15, 2019
Fantastic Four, X-Men, Doctor Doom, Skrulls all coming in the next phases of the MCU and now James Gunn is back for GOTG and to watch over the cosmic related films pic.twitter.com/HVqv4v0cAf

— Mr iNabber (@iNabberTV) March 15, 2019
James gunn went from having his Baby ripped away from him nine months ago to being the first guy to direct both a DC and Mcu film. Justice. Sweet sweet justice. pic.twitter.com/MBpbQmWJq1

— Zach (@LentZach) March 15, 2019
Congrats to James Gunn being back on Guardians of the Galaxy- this footage of @DaveBautista's meeting with Disney was just leaked- pic.twitter.com/Kw034fHBT6

— Sam Roberts (@notsam) March 15, 2019
james gunn rolling up to the set of #GuardiansOfTheGalaxy3 pic.twitter.com/3ZXGnH55Wl

— Bruhman Beyond---- (@Addo_Man) March 15, 2019
The entire MCU fandom when they see James Gunn reinstated as director pic.twitter.com/et9eS6nCl9

— яoss (@rossbhriain) March 15, 2019
Not only is James Gunn back for #GOTGv3 but he's STILL doing Suicide Squad 2. Outstanding news.

— Paul Shirey (@arcticninjapaul) March 15, 2019
awesome news: Disney has decided to rehire @JamesGunn and he will be directing 'Guardians of the Galaxy Vol. 3'! He'll direct the sequel after he finishes directing 'Suicide Squad 2' for WB/DC.

I am extremely happy for James Gunn!

— Steven Weintraub (@colliderfrosty) March 15, 2019
James Gunn to all his haters after he gets re hired for GOTG 3 pic.twitter.com/B4Z3upd5DD

— Hael (@Haelcim) March 15, 2019
My response to the rehiring of James Gunn for Guardians 3:#RehireJamesGunn pic.twitter.com/kO9DjXex5t

— Hannah V. Boyens (@HannahVBoyens) March 15, 2019
JAMES GUNN is BACK! I'm shooked! #GOTGVOL3 pic.twitter.com/NJCk6PGhfT

— Parker B. Peter (@ParkerBatkins) March 15, 2019
James Gunn returns! pic.twitter.com/tow3odzjJB

— Kelvin Mendez (@kelvinm58370424) March 15, 2019