James Gunn shoots down Silver Surfer rumors surrounding The Guardians of the Galaxy Holiday Special coming to the Disney Plus streaming service, and the first batch of early reactions are of course out of this world.
A fan tweeted and trolled that people should stick around to watch The Guardians of the Galaxy Holiday Special post-credit scene as it features a silver surprise and included a GIF of the Sentinel of the Spaceways.
Gunn caught wind of the tweet and responded, "False."
Obviously, Silver Surfer appearing in the post-credit scene is false as heck as we all know none of these Marvel shows on Disney Plus have any decent-sized budget (why do you think this Xmas special is set on Earth?), so as the Silver Surfer would need some heavy special effects, that obviously isn't happening any time soon on Disney Plus.
What could be happening is that maybe a different "silver surprise" will be shown up as it's thought James Gunn is going with the woke clone space lesbian version of Wendell Vaughn Quasar, Phyla-Vel, to fit with Kevin Feige's Phase 4 and beyond that is presently having all kinds of problems.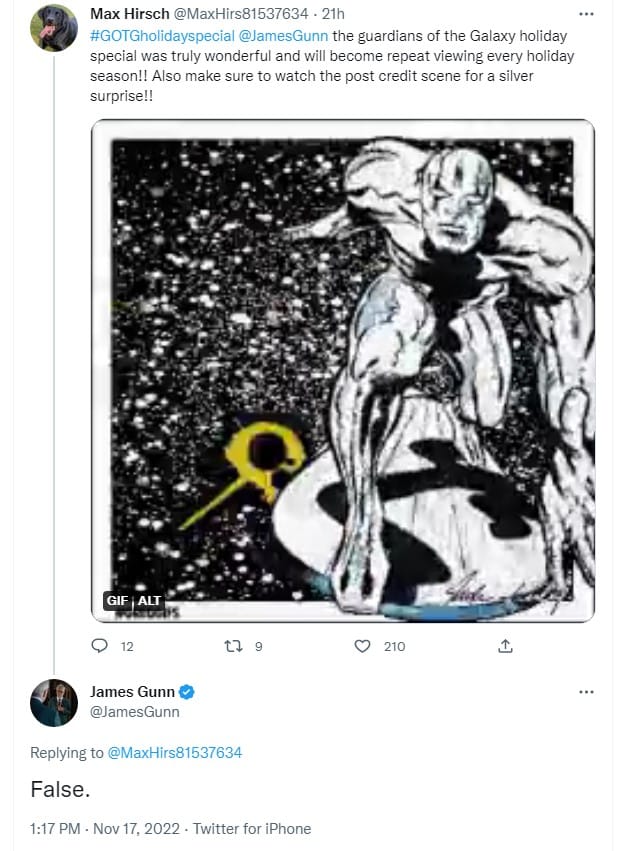 What do The Guardians of the Galaxy Holiday Special reactions say?
Per the norm with early reactions, they are all positive.
"The #GuardiansOfTheGalaxy Holiday Special is A NEW CHRISTMAS CLASSIC. @JamesGunn delivers another heartfelt and out of this world adventure that focuses on the family we choose and lengths we'll go to make their Christmas magical. I need more Cosmo ASAP!." – @dpabz
"'The Guardians of the Galaxy Holiday Special' is a lot of fun and made me smile a lot. Unlike everything Marvel it's not pushing the next MCU movie or show. It's exactly what the title is selling a holiday special. If you're a fan of Drax and Mantis you're going to love it." – @colliderfrosty
"The #GOTGHoliday special will melt every "No Christmas stuff before Thanksgiving" purist's heart. Such a feel good tale from @jamesgunn that shows everyone why @PomKlementieff and @DaveBautista are SO freaking good at what they do." – @jimviscardi
"The #GotGHolidaySpecial is just so much fun. Not nearly enough Nebula, but that's an evergreen feeling for me. Lots of laughs and joy. And honestly, hard to imagine a better kick-off to a career for @kevinbacon, really excited to see where he goes from here." – @reallyandi
"CHRISTMAS TIME IS HERE! #GOTGHolidaySpecial is a JOYOUS MIRACLE. @PomKlementieff & @DaveBautista are a perfect pair as we laugh, cry & sing along their adventure for the ultimate gift. @JamesGunn continues to tug the heartstrings. This ones on the nice list." – @shayhbaz
"The Guardians of the Galaxy Holiday Special is really enjoyable. Here for anything that celebrates the legend of The Legendary Kevin Bacon, but this is Dave Bautista & Pom Klementieff's show, aka Drax & Mantis Go to Hollywood, and they are a total riot. Especially while drunk." – @djkevlar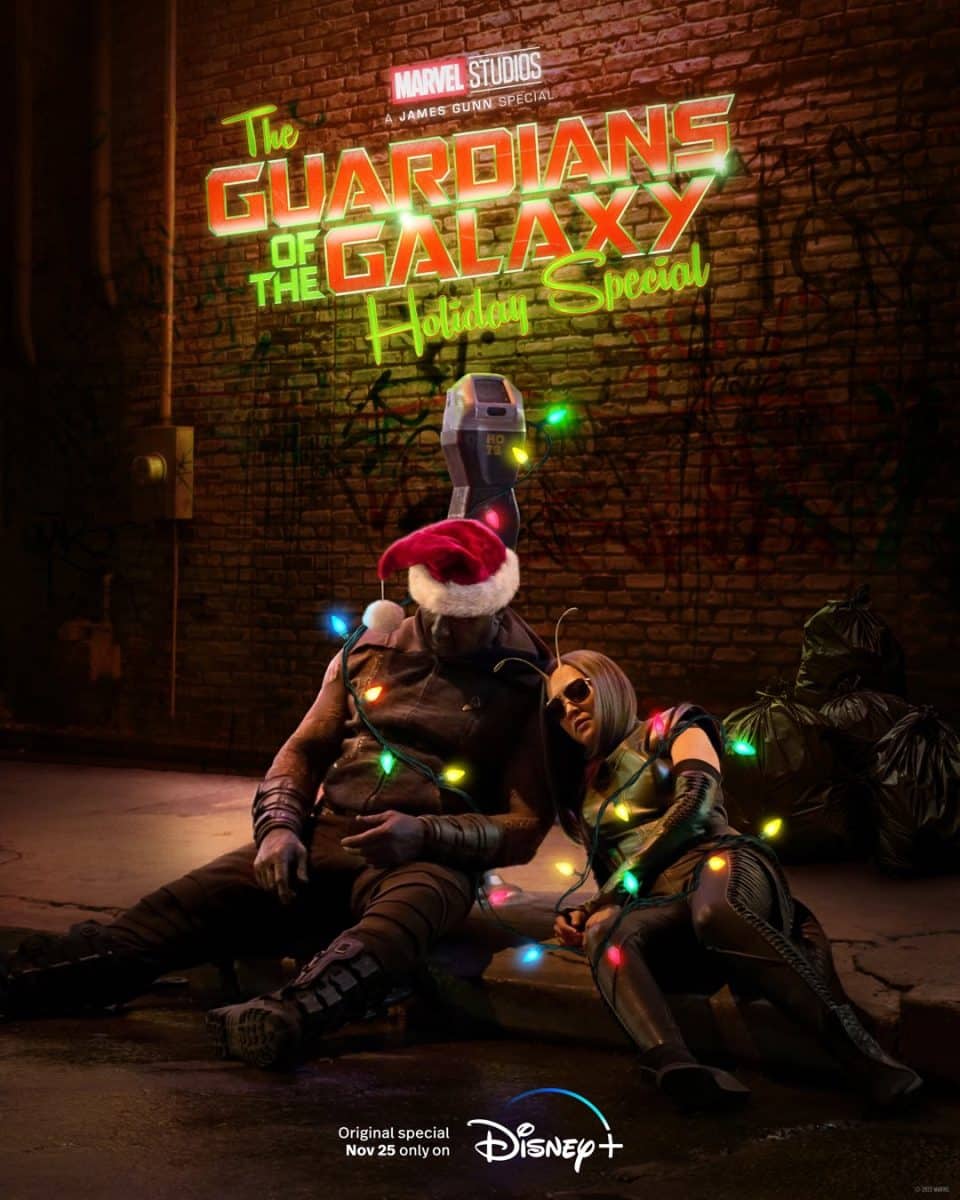 When does The Guardians of the Galaxy Holiday Special get released?
The Guardians of the Galaxy Holiday Special gets released on Disney Plus on Nov. 25.
The details include the Guardians (Drax and Mantis) are on a mission to make Christmas unforgettable for Peter Quill and head to Earth in search of the perfect present, the perfect present being the real-life Kevin Bacon.
The Marvel Studios' Special Presentation stars Chris Pratt, Dave Bautista, Karen Gillan, and Pom Klementieff, featuring Vin Diesel as Groot and Bradley Cooper as Rocket, Sean Gunn and The Old 97's with Michael Rooker and Kevin Bacon.
James Gunn wrote and directed The Guardians of the Galaxy Holiday Special. The executive producers are Kevin Feige, Louis D'Esposito, Victoria Alonso, Brad Winderbaum, Gunn, Sara Smith, and Simon Hatt, with David J. Grant and Lars P. Winther serving as co-producers.