With talk that Marvel Studios president Kevin Feige is trying to get Disney to rehire James Gunn for Guardians of the Galaxy 3, the right wing sites are still digging for more content as the latest sees images surface of the director at an alleged pedophilia-themed party.
A journalist for the Daily Caller posted images of James Gunn who appears to be in costume as a priest with other people in costume as clowns and young baby doll girls.
James Gunn in the images is shown praying as well as hugging some of the "young girls."
What's rather potentially shocking about Gunn being dressed as a priest is that he has revealed on more than one occasion that a priest at his grammar school, Mosignor Obmanns, sexually abused children.
It's unknown if the images are actually from a "pedophilia-themed party," Halloween party or some other party, but the theme of the party looks to be based on the undercover NBC investigative series "To Catch a Predator."
Update: The photos are confirmed to be from James Gunn's website (which he deleted) where he says, "I went to a LOT of theme parties," and he labels the pictures, "To Catch a Predator." (the post is archived on archive.org).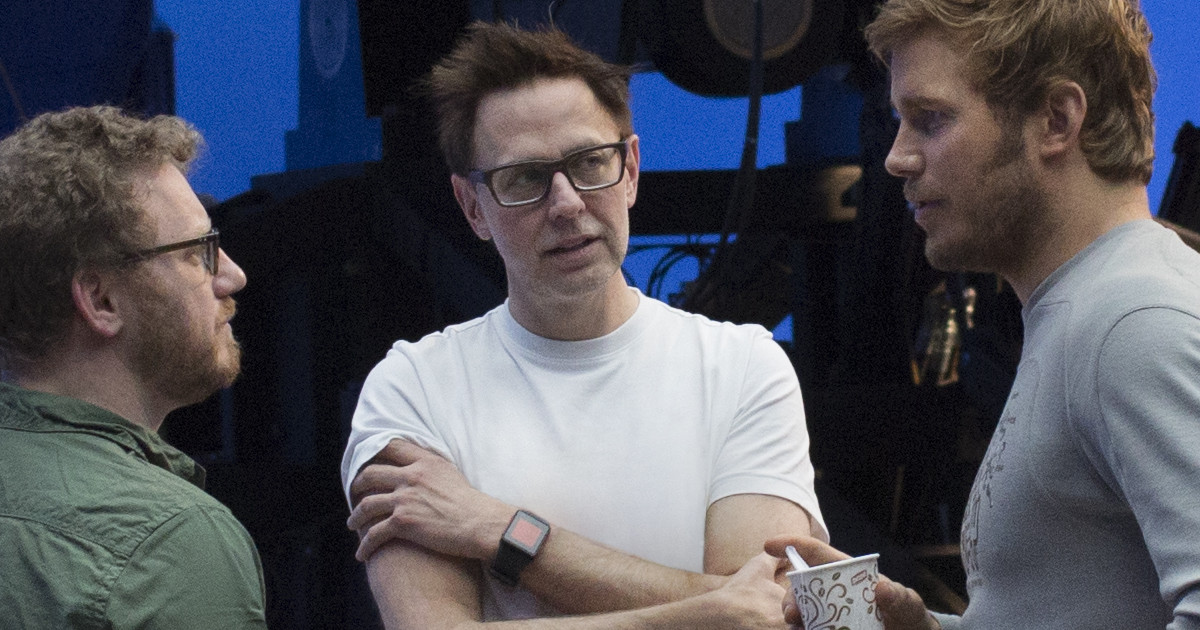 Briebart.com also dug up posts from James Gunn's website that were taken down including a video he titled, "Video: 100 Pubescent Girls Touch Themselves," which featured a chorus of what looks to be young high school-aged girls singing the pop song "I Touch Myself," a song about female masturbation.
It's also noted James Gunn made a comment on the video, which mentions Huston Huddleston (said to be a friend to Gunn), who was charged with soliciting a minor to appear in child p–ography and pleaded guilty to possession of child p—ography and is now a registered sex offender (editor's note: the joke is too graphic to re-post here).
Guardians of the Galaxy's Dave Bautista, who has staunchly been defending James Gunn, once again took to Twitter to slam the accusations.
"Man you guys are really reaching. So desperate! Anyway I just wanted to tell you to go f-ck yourself before I block you. So go f-ck yourself," Dave Bautista said.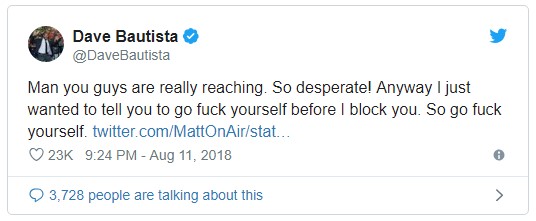 James Gunn
James Gunn was fired last month by Disney for tweets that resurfaced from ten years ago joking about rape and pedophilia.
Walt Disney Studios chairman Alan Horn stated the following when Gunn was first fired: "The offensive attitudes and statements discovered on James' Twitter feed are indefensible and inconsistent with our studio's values, and we have severed our business relationship with him."
Following the dismissal from Disney, Marvel Studios and Guardians of the Galaxy 3, James Gunn issued the following apology:
"My words of nearly a decade ago were, at the time, totally failed and unfortunate efforts to be provocative. I have regretted them for many years since — not just because they were stupid, not at all funny, wildly insensitive, and certainly not provocative like I had hoped, but also because they don't reflect the person I am today or have been for some time."

"Regardless of how much time has passed, I understand and accept the business decisions taken today. Even these many years later, I take full responsibility for the way I conducted myself then. All I can do now, beyond offering my sincere and heartfelt regret, is to be the best human being I can be: accepting, understanding, committed to equality, and far more thoughtful about my public statements and my obligations to our public discourse. To everyone inside my industry and beyond, I again offer my deepest apologies. Love to all."