The Avengers: Endgame proves good enough to sink the Titanic at the box office, as director James Cameron takes to social media to congratulate the sequel to Infinity War.
Endgame passes Titanic at the box office as it currently stands at a whopping $2,294.8 billion, which beats out Cameron's Titanic box office of $2,187.5B.
"An iceberg sank the real Titanic. It took the Avengers to sink my Titanic," James Cameron posted on Facebook. "Everyone here at Lightstorm Entertainment salutes your amazing achievement."
James Cameron might not be done just yet offering congrats to The Avengers: Endgame as the flick may pass Avatar's all-time worldwide box office record of $2,788.0B. While some of us fans have been comparing and debating Endgame to Star Wars, Titanic and Avatar, bear in mind it is all a win for Disney who owns all four franchises. With the Disney-Fox deal recently have gone through, Cameron's Avatar is now owned by Disney, and Disney now has a stake along with Paramount in Titanic.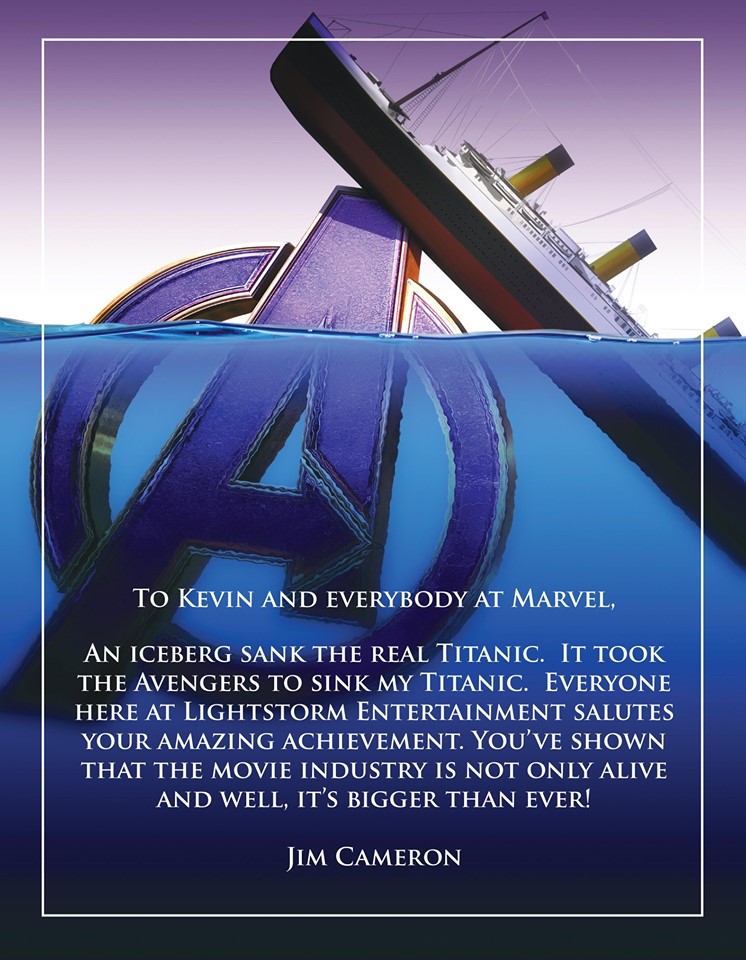 The Avengers: Endgame Box Office:
Domestic: $644,506,419
Foreign: $1,650,300,000
Worldwide: $2,294,806,419