Henry Cavill took a breather from social media as the Superman actor was absent from both Facebook and Instagram for over two weeks, but the good news is now he's back.
Cavill posted pics of himself while promoting the Hugo Boss brand.
"I'm back! And I'm in Shanghai! I had the good fortune of attending the Hugo Boss Pre-Fall 2020 fashion show and got to rub shoulders with the likes of Mark Langer, Chun Wu and the designer himself Ingo Wilts," Henry Cavill posted on Instagram Friday. "And yes this was a work event but, genuinely, every time I come to Shanghai it leaves me wanting more. I can't wait to get back here on my own time and enjoy the city and all it has to offer. Thank you China and thank you Hugo Boss for being such wonderful hosts once again. See you when I see you next!"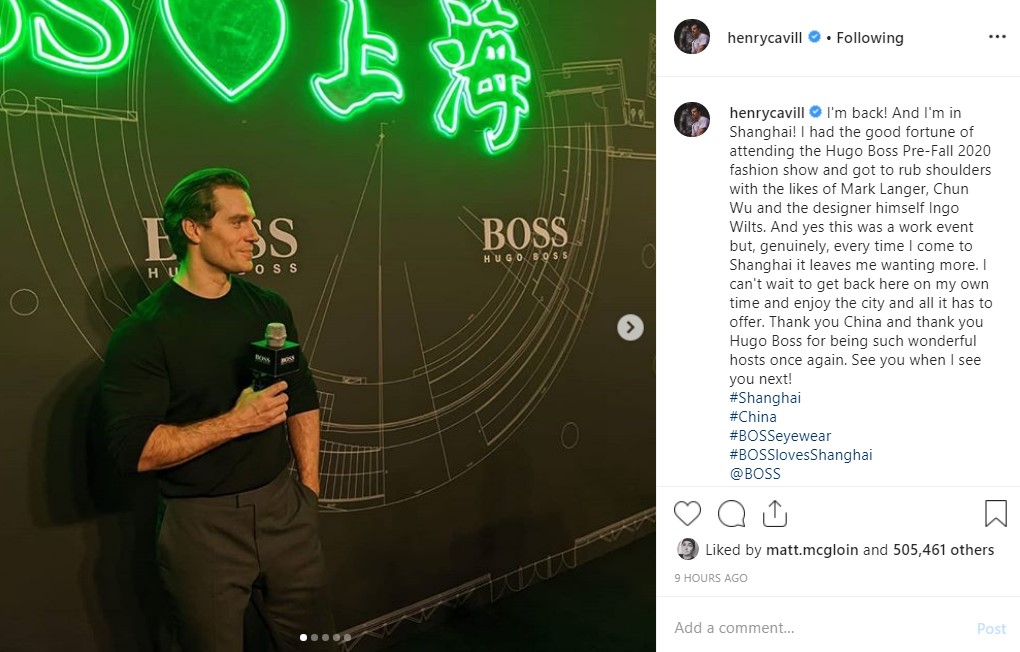 Fans are happy Henry Cavill has returned to social media
"Miss you so much," says one comment.
"Yay! You're back. Glad to hear you are doing well and the Boss is taking care of you!!" says another.
"We've missed you!!! Welcome back," another fan says.
"Guess who's back… back again… FINALLY!" says a happy fan.
While Henry Cavill wasn't posting on social media himself for those couple of weeks, fans still managed to spot the actor out in the wild and posted their own images.
In the works for the 36-year-old actor include the Netflix series, The Witcher, which sees him playing the solitary monster hunter, Geralt of Rivia, and the Enola Holmes movie that also stars Stranger Things actress Millie Bobby Brown, with Cavill playing none other than Sherlock Holmes.
Henry Cavill promotes Hugo Boss: