While on the set of their latest Marvel movie, Thor: Love and Thunder, Chris Hemsworth and Chris Pratt wish Captain America Chris Evans a happy birthday, well sorta.
Hemsworth took to his Instagram account to post a selfie of him and fellow Marvel star Chris Pratt.
"Happy 40th birthday Chris Evans, you'll always be number 1 in my book," joked Hemsworth.
Worth a mention is that all three actors are named Chris so we see they are having fun celebrating Evans' 40th birthday, which is today, Sunday, June 13, but it appears as if Pratt happens to be Hemsworth's favorite Chris.
The pic also reveals a look at Hemsworth and Pratt's costumes for Thor: Love and Thunder where Hemsworth is wearing a sleeveless t-shirt with what looks like a design of the nine realms, and Pratt is wearing a red suit. Check out set pics below featuring the actors in the same attire from filming back in February and Marvel also gave the crew t-shirts with similar promo art.
Thor: Love and Thunder has a May 6, 2022 release date directed by Taika Waititi also starring Natalie Portman as Jane Foster and the Female Thor, Tessa Thompson as Valkyrie, and Christian Bale is playing the villain of the movie, Gorr the God Butcher. Chris Hemsworth will also be returning the favor and will be featured in Guardians of the Galaxy 3.
Thor: Love and Thunder: Chris Pratt and Chris Hemsworth: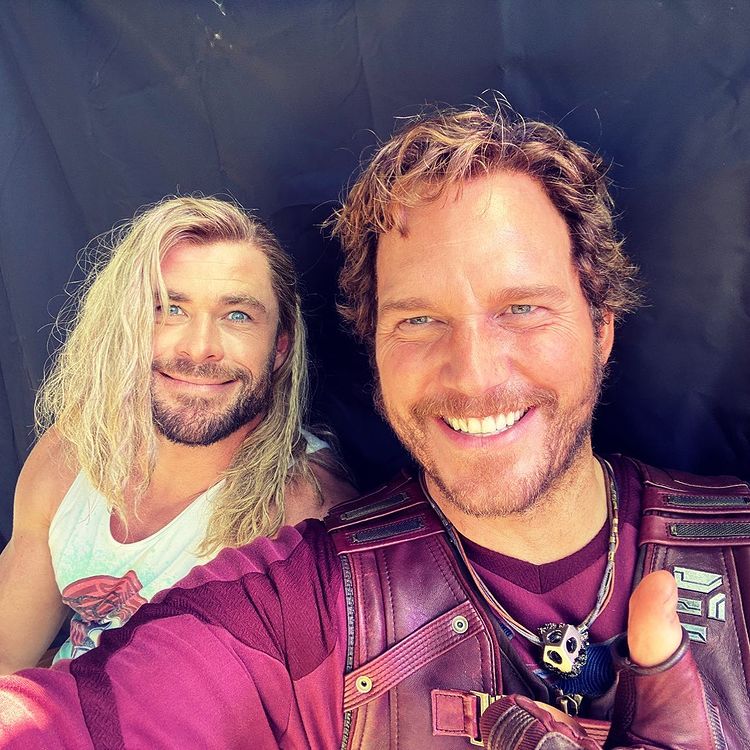 Thor: Love and Thunder crew gifts:
Thor: Love and Thunder: Chris Hemsworth and Chris Pratt on set: