Fantastic Four comic book artist Stefano Caselli reveals he is working on a secret Marvel movie project.
The artist who is also known for the Amazing Spider-Man, Iron Man, Avengers comic books posted a screenshot of a Marvel Studios website adding, "Working on something #secret for a small movie company #artgig #marvelstudios#funnythingstodraw #art#stefanocaselli #scuolaromanadeifumetti."
It's possible Stefano Caselli could be doing some sort of poster for a secret Marvel movie or even concept art.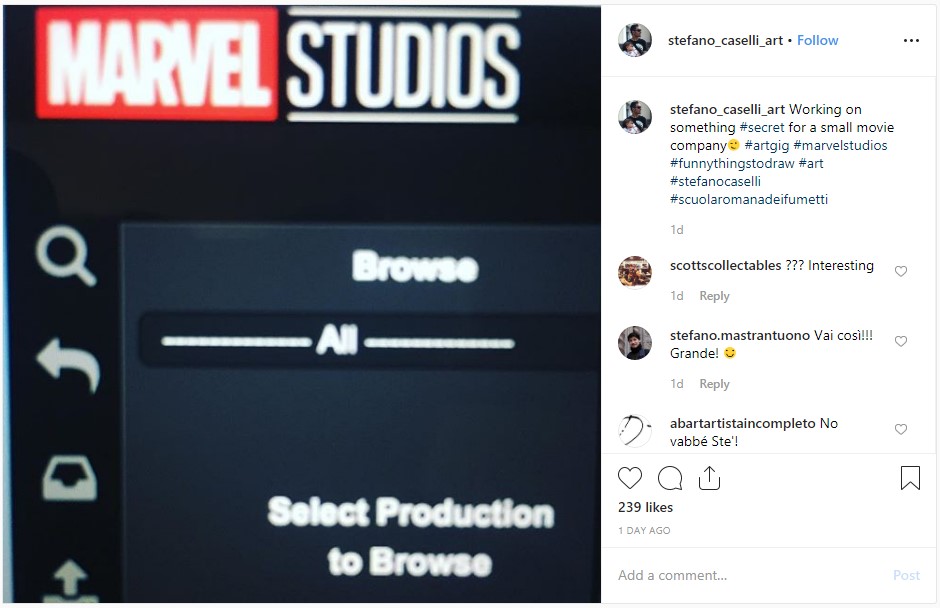 The secret Marvel movie could be any number of projects, as Stefano Caselli obviously can't talk about it. It could very well be something for the upcoming releases of Captain Marvel, The Avengers: Endgame or since Caselli has worked on Spidey, maybe Spider-Man: Far From Home. Other Marvel Studios projects in the works include the Scarlett Johansson Black Widow prequel film, an MCU Cosmic Eternals movie, and Shang-Chi, the first superhero movie with an Asian protagonist.
It is also entirely possible the project could be for something that hasn't been announced for the MCU as the Fantastic Four and X-Men film properties are returning to Marvel once the Disney-Fox deal goes through within the next couple of months.
Still, another possibility could be that Stefano Caselli is doing art for the upcoming Marvel Studios Disney+ streaming TV series that include the Tom Hiddleston Loki series, an Elizabeth Olen and Paul Bettany Vision and Scarlet Witch series and a team-up featuring Anthony Mackie as Falcon and Sebastian Stan as Winter Soldier.