Warner Bros. Pictures and Legendary have released the first poster for Dune: Part Two that teases the trailer and features Timothee Chalamet and Zendaya.
"Long live the fighters," teases the poster.
The movie is the sequel to the 2021 movie that made over $400 million worldwide directed by Denis Villeneuve who returns to direct Part Two.
Watch the trailer teaser below.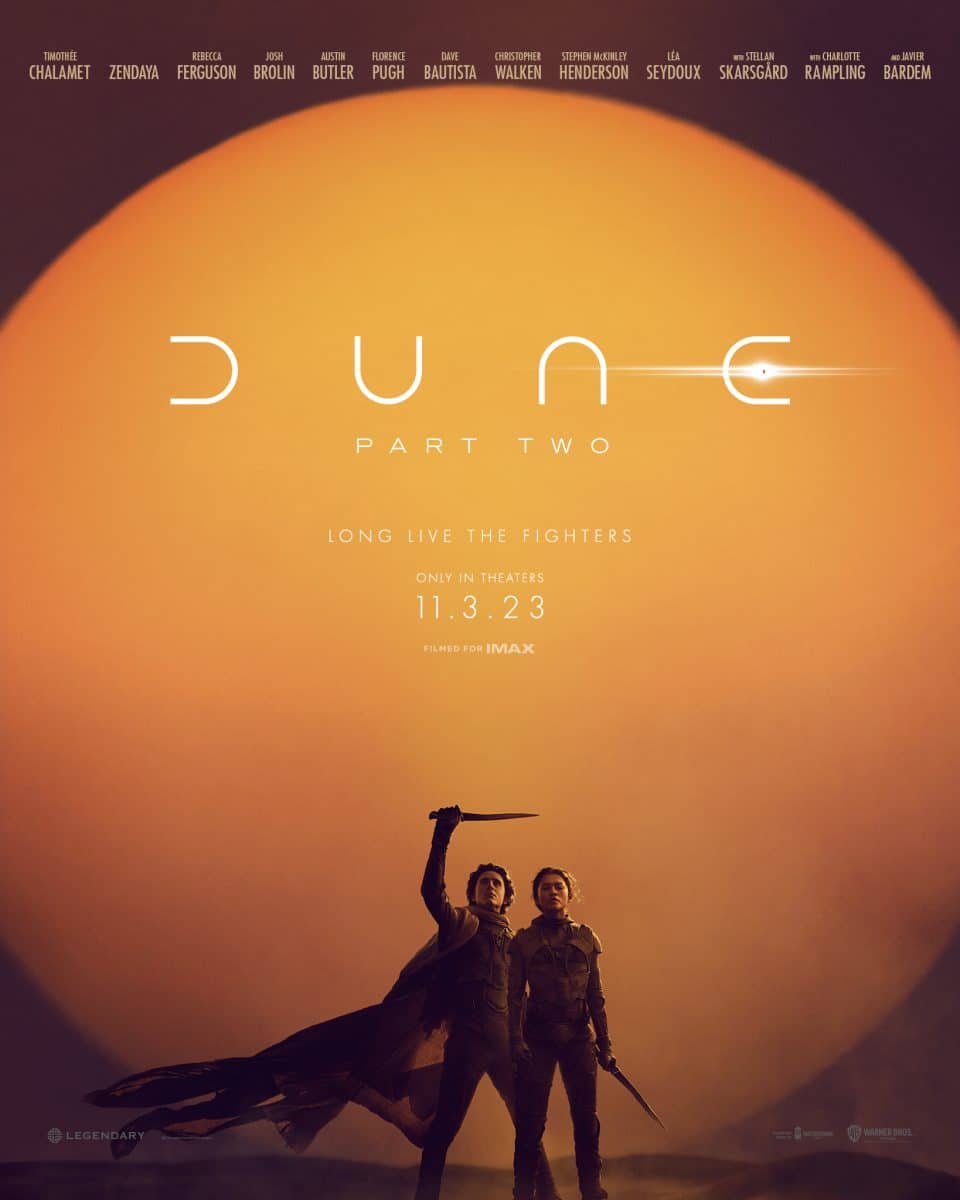 Dune: Part Two will be a spectacle
Villeneuve also previously told IMDb that the sequel will be a "spectacle."
"Right now the truth is Part One was designed to build the foundation of this world," he said. "If ever such a thing as Part Two occurs and I have the chance to do it, it will just be pure fun. Part One is the appetizer, the real meal is Part Two."
Dune: Part Two gets released on November 3 and also stars Rebecca Ferguson, Josh Brolin, Austin Butler, Florence Pugh, Dave Bautista, Christopher Walken, Stephen McKinley Henderson, Lea Seydoux, with Stellan Skarsgard, Charlotte Rampling, and Javier Bardem.
Watch the teaser:
Trailer Tomorrow. #DunePartTwo pic.twitter.com/1XlacqAukz

— DUNE (@dunemovie) May 2, 2023
A mythic and emotionally charged hero's journey, Dune tells the story of Paul Atreides, a brilliant and gifted young man born into a great destiny beyond his understanding, who must travel to the most dangerous planet in the universe to ensure the future of his family and his people. As malevolent forces explode into conflict over the planet's exclusive supply of the most precious resource in existence—a commodity capable of unlocking humanity's greatest potential—only those who can conquer their fear will survive.