The DMZ trailer has been released for HBO Max which is a new event series coming to the streaming service based on the DC Comics property of the same name.
"DMZ leaps off the pages of the acclaimed DC graphic novel into the visual landscape of a dangerous and distorted Manhattan as one woman navigates a demilitarized zone in a harrowing quest to find her lost son," states the video description.
Rosario Dawson and Benjamin Pratt lead the cast, with the series from Roberto Patino and Ava DuVernay.
"Family is everything. From Executive Producers @ava and Roberto Patino, watch the trailer for #DMZonMax. Premiering on Thursday, March 17 on HBO Max," Dawson posted on Instagram.
The comic book is set in the near future, where a Second American Civil War has turned the island of Manhattan into a demilitarized zone (DMZ), caught between forces of the United States of America and the secessionist Free States of America.
Details for DMZ include it is a four-part limited event series from Emmy nominee Roberto Patino, Emmy winner/Academy Award nominee Ava DuVernay, and Warner Bros. Television. Rosario Dawson ("Briarpatch," "Rent," "Sin City") and Benjamin Bratt ("Law & Order," "Traffic") lead the cast of the futuristic drama which is set amid a second American civil war and is based on the comic series published by DC. Patino wrote all the episodes and is the showrunner of the series and also wrote the pilot episode, which was directed by DuVernay.
DMZ trailer: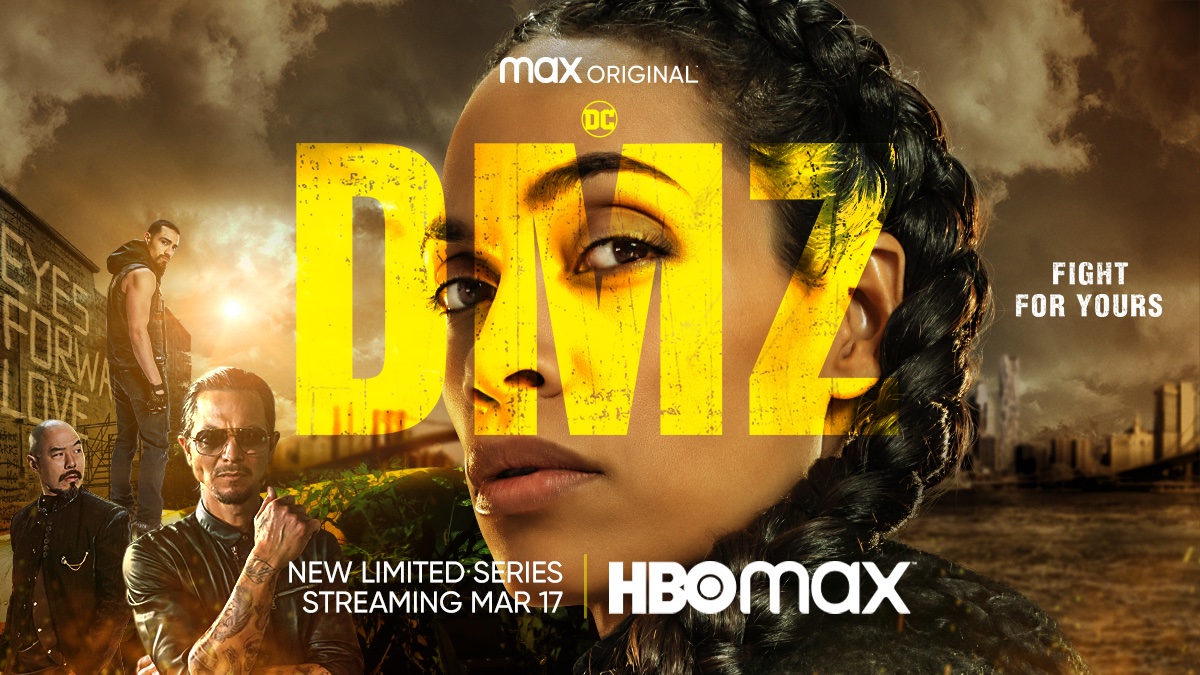 About DMZ on HBO Max:
In the near future, America is embroiled in a bitter civil war, leaving Manhattan a demilitarized zone (DMZ), destroyed and isolated from the rest of the world. Leaping off the pages of the popular comic, "DMZ" chronicles the harrowing journey of fearless and fierce medic Alma Ortega (series star Rosario Dawson), who sets out on a harrowing journey to find the son she lost in the evacuation of New York City at the onset of the conflict. Throwing gasoline on the flames of that conflict is Parco Delgado (series star Benjamin Bratt), the popular — and deadly — leader of one of the most powerful gangs in the DMZ. He wants to rule this new world — and will stop at nothing to secure that outcome. In this adrenalized and expansive drama which examines a stark political and cultural divide in American society, Alma must contend with the gangs, militias, demagogues and warlords that control this lawless no man's land. In doing so, she becomes the unlikely source of what everyone here has lost…hope.
In addition to Dawson and Bratt, "DMZ" series stars include Hoon Lee ("Banshee," "Warrior"), Freddy Miyares ("When They See Us," "The L Word: Generation Q") and Jordan Preston Carter ("The Haves and the Have Nots").