DC Universe announces it is pulling out all the stops as it celebrates its one year anniversary with its fans including Titans, Death of Superman and more.
Subscribers can join a two-week run-up to up to the anniversary celebration on Friday, September 13th that includes the biggest stars, hottest giveaways, and exciting new DC Daily episodes filled with special guests and unique experiences.
Things kicked off on Monday, September 2nd with Titans: Absolute Binge Watch Edition featuring special content that allows fans to experience the DCU's hit show Titans like never-before.
Not only is Season 1 of Titans played in sequential order, but each episode is also accompanied by DC Daily's Clarke Wolfe introducing behind-the-scenes footage, special interviews with the cast and creators, DC Daily after-show panels and so much more.
Watch and prepare for the highly anticipated upcoming Titans Season 2 premiere, streaming this Friday, September 6th.
Starting on Tuesday, September 3rd, and continuing throughout the week fans can take a dive into all things DC Universe with an amazing lineup of celebrity special guest appearances and exciting new DC Daily programming – the ultimate fan experience.
Check out the schedule below.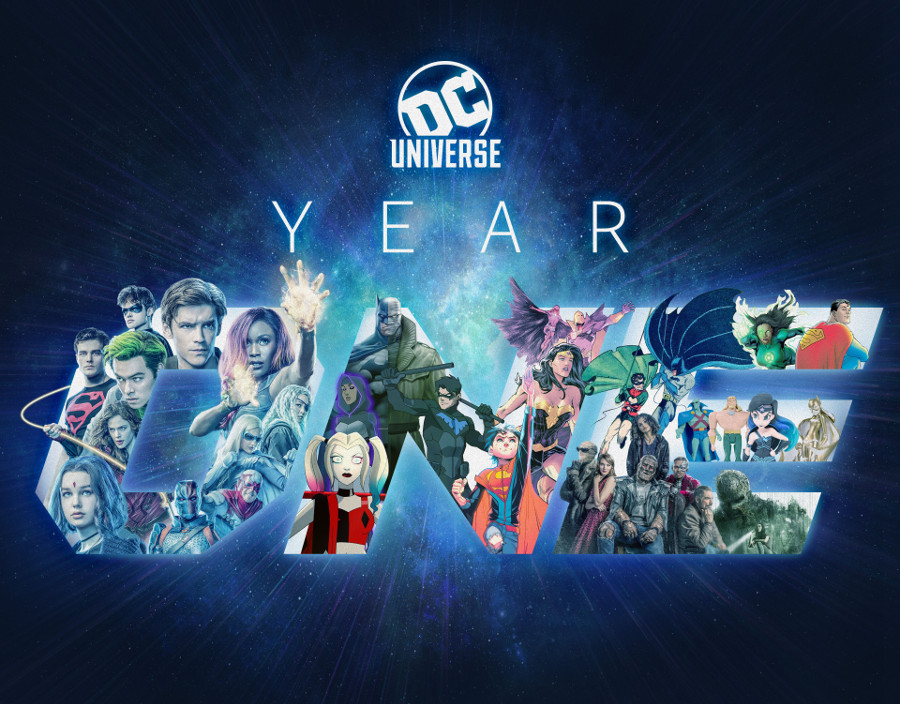 DC Universe Year One Anniversary – the ultimate fan experience
• Tuesday (9/3): Swamp Thing Celebration featuring show star Ian Ziering
• Wednesday (9/4): Doom Patrol Celebration featuring April Bowlby cooking with TV chef Adam Gertier
• Thursday (9/5): Young Justice Celebration hosted by Brandon Vietti, Greg Weisman & Zehra Fasal (AKA, Halo)
• Friday (9/6): Titans Celebration with celebrity guest, Curran Walters
• Monday (9/9): Couch Mode on the Big Screen, showing off DC Universe's comic reader mode on a big screen for all to enjoy. Additionally, Dan Jurgens will watch his Death of Superman brought to life, and Jim Krueger will watch his Justice as bigger than ever seen before
• Tuesday (9/10): Harley Quinn Celebration, showcasing the full set of DC Collectibles' B&W Batman, for the first time ever. Featuring special guest Harley Quinn co-creator Paul Dini
• Wednesday (9/11): Samm Levine's RoadShowcase visits the archives for a full episode displaying some of the massive DC props that can't travel to the studio. Batmobiles, statues, and so much more will be unveiled.
• Thursday (9/12): DC Universe: Year One – clips featuring fan-favorite moments
• Friday (9/13): Fan Appreciation, showcasing fan videos, art, trivia, and the fan of the week