Dave Bautista takes to Twitter to respond to the recent lawsuit filed by Scarlett Johansson against Disney over Black Widow and also comments on the upcoming Marvel What If? animated series.
Regarding Black Widow, following the movie bombing big time at the box office, Scarlett Johansson filed a lawsuit claiming that Disney by releasing the movie on Disney Plus hurt the box office.
Well, according to Dave Bautista, if Marvel would have listened to him and did a Drax solo movie instead of Black Widow, Disney wouldn't be in this predicament, and I have to agree. Black Widow looks to barely crack $400 million, something a Guardians of the Galaxy spinoff starring Bautista would have easily done, but instead, Disney and Feige find themselves in a big mess.
"Told em they should've made a Drax movie but noooooo!" tweeted Bautista.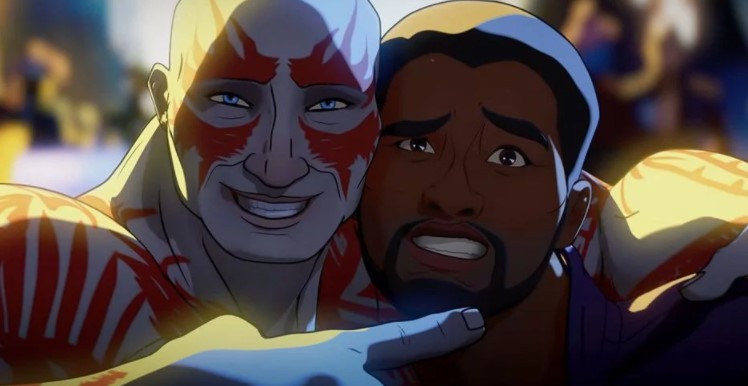 Dave Bautista Responds to Marvel's What If?
And regarding What If?, a fan questioned Dave Bautista asking why he isn't voicing Drax where it's learned Marvel never asked him.
"Let's start with I was never asked," Bautista tweeted.
Disney recently confirmed the voice cast of the series where just about every MCU actor returns to voice their respective character, but again, Marvel chose not to have Bautista voice Drax for some reason.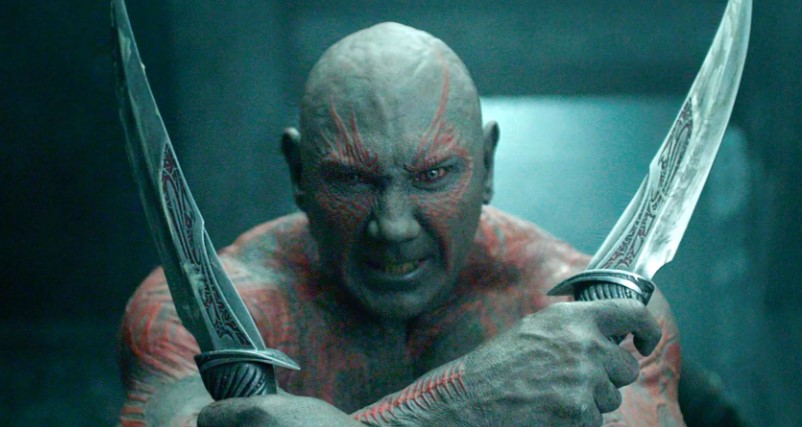 Dave Bautista wanted a Drax spinoff
Dave Bautista also previously made it pretty clear that following Guardians of the Galaxy 3, he's done with Marvel, and that he wasn't totally happy with the character's direction in the MCU.
Via Collider:
"That role changed the trajectory of my life. It's always going to be special to me. Now that I'm four films in…I really wished they would have invested more in Drax, personally. Because I think Drax has more of a story to tell. I think Drax has a really interesting backstory which they dropped the ball on. That's no dig on Marvel. They had their slate, I know what they're focused on, that's what they have slated out. But man, I think they really missed the ball on Drax. He has such a great backstory. Selfishly, as a performer, that would have given me the opportunity to show different sides of Drax, emotionally. And physically as well. Because, if you notice, Drax, although he looks like a badass, you look at him and he looks terrifying, but Drax gets his ass kicked more than any other Marvel character…The whole "Destroyer" thing they just threw that out the window…people just fell so in love with the comedic side of Drax they tapped into that, then they tapped into it more, then they really dug a hole into it. But we missed a huge boat on that character and I don't think it'll ever come back around. But I'm really just looking forward to finishing out this whole journey."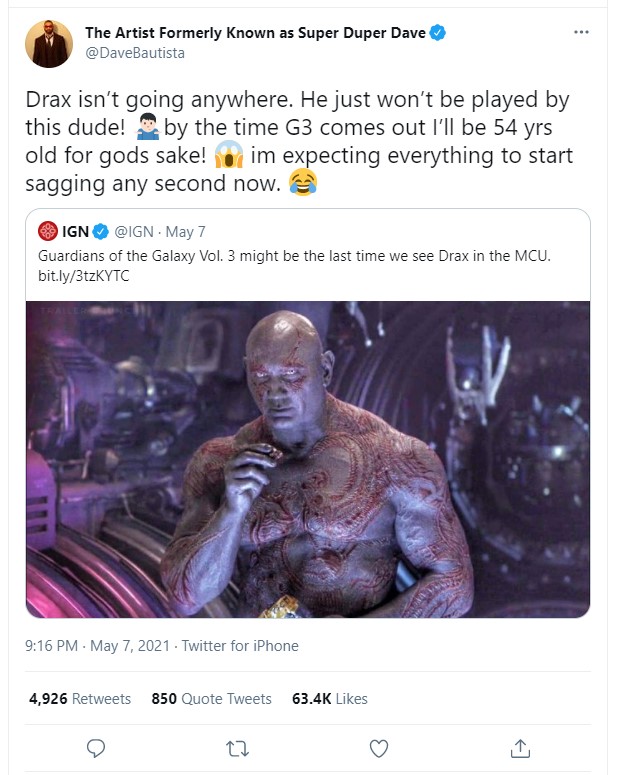 You can check out Dave Bautista next in the release of Dune on October 22, 2021.