Disney and Marvel actor Dave Bautista takes to social media to give President Donald Trump the middle finger.
Bautista, who is known for playing the dumb wit character for James Gunn in the Marvel Guardians of the Galaxy movies, responded to one of President Trump's tweets with a middle finger emoji calling the president a scumbag and offering that the president should correct his grammar (worth a mention is that Trump doesn't post his own tweets but has one of his assistants do it for him, something obvious oblivious to Bautista who has nothing better to do).
Putting aside that you're a scumbag for minute to point out that you could get so much more out of your rhetoric tweets if you were well spoken or used half way decent grammar. Food for thought. You're welcome. —- https://t.co/MBvcBsDT1o

— Dave Bautista (@DaveBautista) January 9, 2020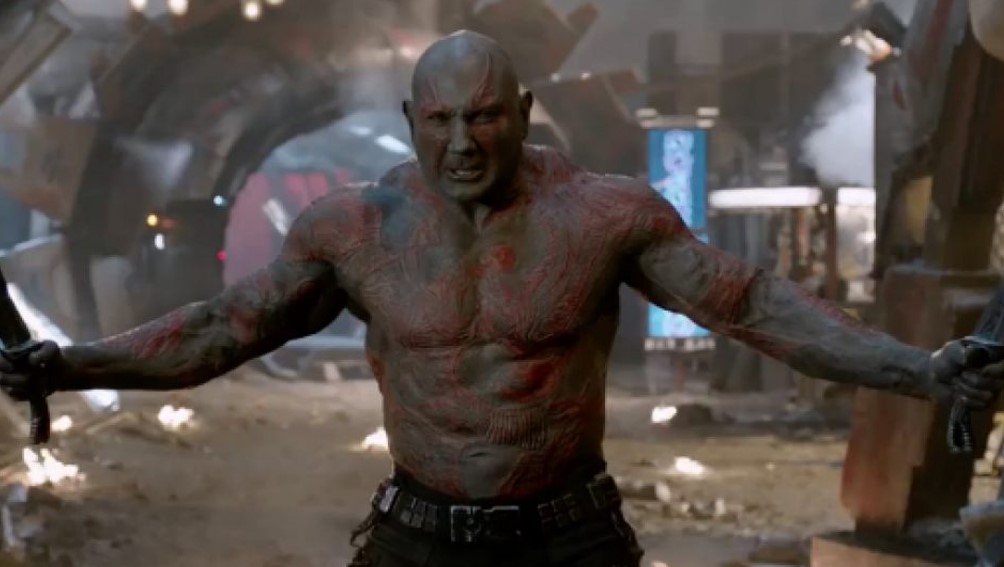 Dave Bautista goes off on Twitter against President Donald Trump
An additional tweet from Dave Bautista also has the amped-up actor calling Trump: "PresidentDumbDumb."
Oddly enough, Dave Bautista doesn't mind working for and getting paid by Trump supporters.
Disney is a known Trump supporter, as President Trump okayed the purchase of Fox Studios, and Marvel chairman Ike Perlmutter is involved with Trump's Veteran Affairs.
Vince McMahon and his wife Linda are Trump supporters: Dave Bautista will be inducted into the 2020 WWE Hall of Fame this year.
And I'm guessing that Zack Snyder is also a Trump supporter: Dave Bautista stars in Snyder's Netflix zombie movie, Army of the Dead.
Not to mention Chris Pratt, Dave's buddy who plays Star-Lord in Guardians of the Galaxy.
Perhaps Dave Bautista missed Ricky Gervais' Golden Globes monologue?
"So, if you do win an award tonight, don't use it as a platform to make a political speech, right?" Gervais, a leftist said. "You're in no position to lecture the public about anything. You know nothing about the real world. Most of you spent less time in school than Greta Thunberg. If you win, come up, accept your little award, thank your agent and your god, and f— off."