Darkseid is currently trending on Twitter with over 14,000 tweets as users are debating the DC villain taking on Marvel's Thanos.
Fans know that Jim Starlin created Thanos for Marvel who was "inspired" by Jack Kirby's Darkseid, but Joss Whedon beat DC to the punch and included the Great Titan in The Avengers post-credit scene. From there, Thanos would go on to become the major villain of the MCU being played by Josh Brolin in Infinity War and The Avengers: Endgame.
At one time, DC, too, did have big plans for Darkseid as director Zack Snyder was going to have him be the major villain of his Justice League movies. Unfortunately – and ironically – Snyder was replaced by Whedon, with Snyder's vision of the film sadly never coming to fruition. It's known the "Snyder Cut" of Justice League would have ended with Wonder Woman cutting off the head of Steppenwolf just as he steps into a Boom Tube, with his head rolling out and landing at the feet of Darkseid on Apocalypse. Darkseid would have then went on to become the villain of Snyder's Justice League 2.
While Snyder's version didn't get a chance to shine, it has been confirmed that Darkseid will be in the upcoming New Gods movie which is being directed by Ava DuVernay as she confirmed the Lord of Apokolips on social media.
Regarding Darkseid vs. Thanos, assuming that Thanos didn't have the Infinity Gauntlet, I would have to give the win to Darkseid. Bear in mind, the Infinity Gauntlet and Infinity Gems (Stones in the MCU) only work in the specific Marvel Universe, so Thanos wouldn't be able to use them if he showed up in the DCEU (of course, things could change). Regarding if Thanos did have the Infinity Gauntlet, as he would be in control of all of everything, and Darkseid came over to the Marvel Universe, I would have to give the win to Thanos.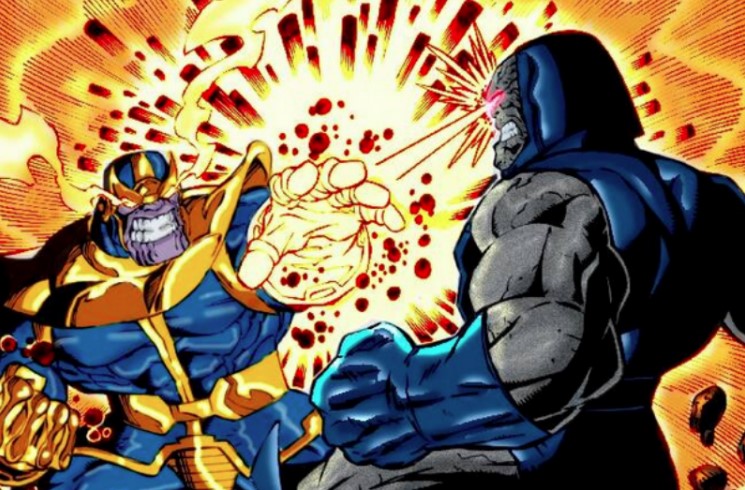 Check out what Twitter users have to say about Darkseid vs Thanos:
THANK YOU.
Darkseid is a literal GOD. Thanos is a bitch. https://t.co/Co7IXrbqKn

— — (@SachinD_96) August 27, 2019
Darkseid is like the Detroid Lions of comics and Thanos is the Patriots… Both have been in a long time but Thanos has a won a ton of Trophies and poor Darkseid has NONE!#TuesdayThoughts https://t.co/QJHHZLpVul

— The Best Show in the Omniverse (@SuperSuitShow) August 27, 2019
Baby Darkseid looks dope af, he loves metal, rock and is ready to shit on you, the purple thing is purple https://t.co/aUJN1B6Pq6

— Dick Grayson Shaved Head (@FGGrayson) August 27, 2019
Superman is the definitive winner with his holy unhuman strength of Nations; Kryptonians; led by city Metropolis. I believe; he has already fought Darkseid many times; and also won. Everyone; knows Thanos, does not stand a chance fighting this Smallville boy scout.

— King Michael Perreault (@local_north_ont) August 27, 2019
Thanos couldn't even dream of beating Darkseid if he wanted to. When it comes to the Mad Titan vs the Lord of Apokolips, it's not even an argument #DarkseidIs pic.twitter.com/kcO5fJp9eC

— Daniel S. Lopez (@DanielSLopez22) August 27, 2019
lets be realistic. Darkseid will look to thanos and say "I'm here to kick ass and chew bubblegum and I'm all out of bubblegum" deal with it. pic.twitter.com/ZSIYYeYzEq

— Aramis (@Aramis25494804) August 27, 2019
#Darkseid is WAY more powerful than #Thanos.

— JeyOdin (@JeyOdin) August 27, 2019
If you seriously think Thanos can defeat Darkseid, you shouldn't be able to talk about comic book characters. https://t.co/RDX5ltChak

— Rob Julien (@WayTooWitty) August 27, 2019
Saw Darkseid trending and I just thought it good to remind everyone that if you thought Thanos was a powerhouse, wait till you see Darkseid in action. pic.twitter.com/wuGGsk6fQA

— Christian (@StarckRavingMad) August 27, 2019
From The Hunger Dogs by #JackKirby. #Darkseid pic.twitter.com/nAOStKZ7Db

— The KirbyCast! (@TheKirbyCast) August 27, 2019