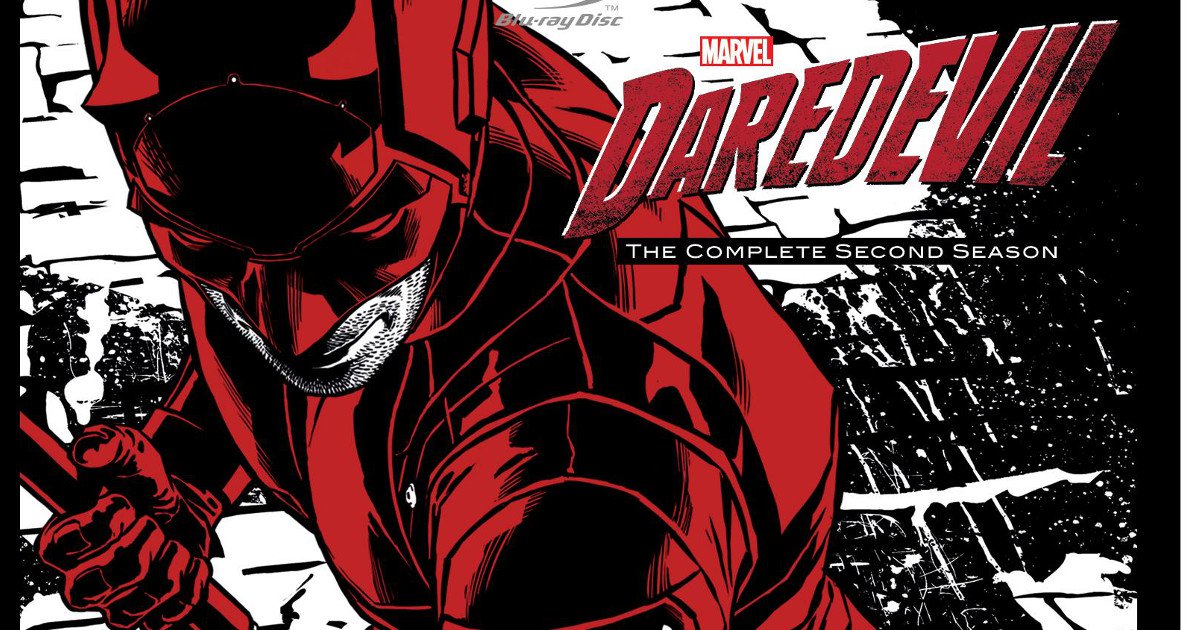 Disney announces the release of Daredevil Season 2 on Blu-Ray and Jessica Jones Season 1 on Blu-Ray.
Marvel's Daredevil and Marvel's Jessica Jones will both be available on Blu-Ray and DVD on August 22nd with 13 episodes each.
Daredevil
The razor-thin line between redemption and retribution explodes with a vengeance in "Marvel's Daredevil: The Complete Second Season."
With Wilson Fisk behind bars, Matt thinks his efforts to bring order to Hell's Kitchen are succeeding—until chaos reignites with two new arrivals: Frank Castle (a.k.a. The Punisher), an anguished ex-soldier determined to visit bloody, irrevocable "justice" upon his adversaries, and Matt's volatile old flame Elektra Natchios. Meanwhile, a lethal, relentless source of ancient evil continues to amass power. Now, as both the stakes and the body count rise, Matt faces a life-altering choice that forces him to confront what it truly means to be a hero.
Charlie Cox ("Boardwalk Empire") as Matt Murdock/Daredevil; Deborah Ann Woll ("True Blood") as Karen Page; Elden Henson ("The Hunger Games: Mockingjay – Part 2") as Foggy Nelson; Vincent D'Onofrio ("The Magnificent Seven") as Wilson Fisk; Rosario Dawson ("Marvel's Luke Cage") as Claire Temple; Stephen Rider("Shameless") as Blake Tower; Jon Bernthal("The Walking Dead") as Frank Castle/Punisher; and Elodie Yung("The Girl with The Dragon Tattoo) as Elektra Natchios.
Jessica Jones
Raw, riveting and relentlessly compelling, "Marvel's Jessica Jones: The Complete First Season" ignites a firestorm of suspense cloaked in the haze of a noir-inspired slow burn.
Haunted by a tragedy that broke her world apart, Jessica Jones settles in Hell's Kitchen, New York City, and opens her own detective agency, called Alias Investigations, with the hope of rebuilding her life and keeping the lights on in her apartment. She discovers that the source of her trauma, a mind-controlling sociopath named Kilgrave, has resurfaced, forcing her to use her gifts as a private eye to track him down before he causes more damage to her life or to anyone else.
Krysten Ritter ("Big Eyes") as Jessica Jones; David Tennant ("Broadchurch") as Kilgrave; Rachael Taylor ("Transformers") as Trish Walker; Mike Colter ("Million Dollar Baby") as Luke Cage; Wil Traval ("Once Upon a Time") as Will Simpson; Erin Moriarty ("Captain Fantastic") as Hope Shlottman; Eka Darville ("Empire") as Malcolm Ducasse; and Carrie-Anne Moss ("The Matrix") as Jeri Hogarth.