Thank you, Marvel! clap clap clap clap clap! Thank you, Marvel! clap clap clap clap clap!
Our prayers have been answered as Dan Abnett is announced to return to Marvel Cosmic with the upcoming Annihilation: Scourge event!
Abnett is slated to write the Annihilation - Scourge: Silver Surfer title!
Marvel Comics released the December solicits where, in addition to Silver Surfer, titles include Nova, Beta Ray Bill, and Fantastic Four, with the solicit for Source Omega also released.
Details leaked through Amazon also revealed an Annihilation: Agenda TPB which collects: ANNIHILATION (2019) ALPHA 1, A1-E1.
Matthew Rosenberg, writer of the Nova one shot, is also kicking off the event with Annihilation: Alpha in November.
"The original Annihilation and Annihilation Conquest are some of my favorite Marvel books of all time because they are so big in scale and yet so full of great characters and real drama," Rosenberg tells Newsarama. "That's what we're doing here. It's huge stakes, brutal action, universe destroying threats, and some of the best heroes (and not-quite heroes) the Marvel Universe has to offer thrown headfirst at it. We're definitely paying tribute to the original Annihilation books, but I think for fans of those books they will be shocked at where this goes."
Sounds awesome!
And great to see Dan Abnett back!
We've also been talking about bringing back the Cosmic Book News forums! Stay tuned!
Check out the Annihilation - Scourge solicits and covers:
ANNIHILATION – SCOURGE: BETA RAY BILL #1 (WITH DIGITAL CODE)
Written by MICHAEL MORECI
Penciled by TBD
Cover by Josemaria Casanovas
Variant Cover by Patch Zircher
The Scourge has arrived! As the local population becomes infected, will Beta Ray Bill be able to fight back the horde and save the innocents—or are they already lost? Overwhelmed, will Bill himself fall victim to the Annihilation wave?!
40 PGS./ONE SHOT/Rated T+ …$4.99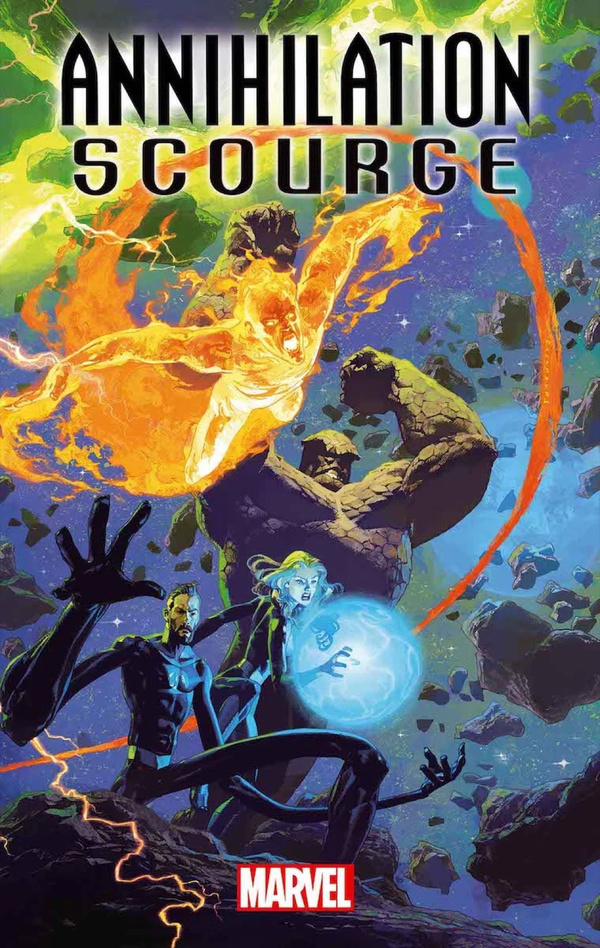 ANNIHILATION – SCOURGE: FANTASTIC FOUR #1 (WITH DIGITAL CODE)
Written by Christos Gage
Penciled by Diego Olortegui
Cover by Josemaria Casanovas
Variant Cover by Phil Noto
Alerted to a potential tear in the dimension, the Fantastic Four go to investigate – but what they discover is so much worse than they prepared for! Will the Fantastic Four be able to hold back the Scourge or will the Negative Zone finally succeed in tearing this family apart? Overrun, the Fantastic Four are about to learn: No one ever truly comes home from war.
40 PGS./ONE SHOT/Rated T+ …$4.99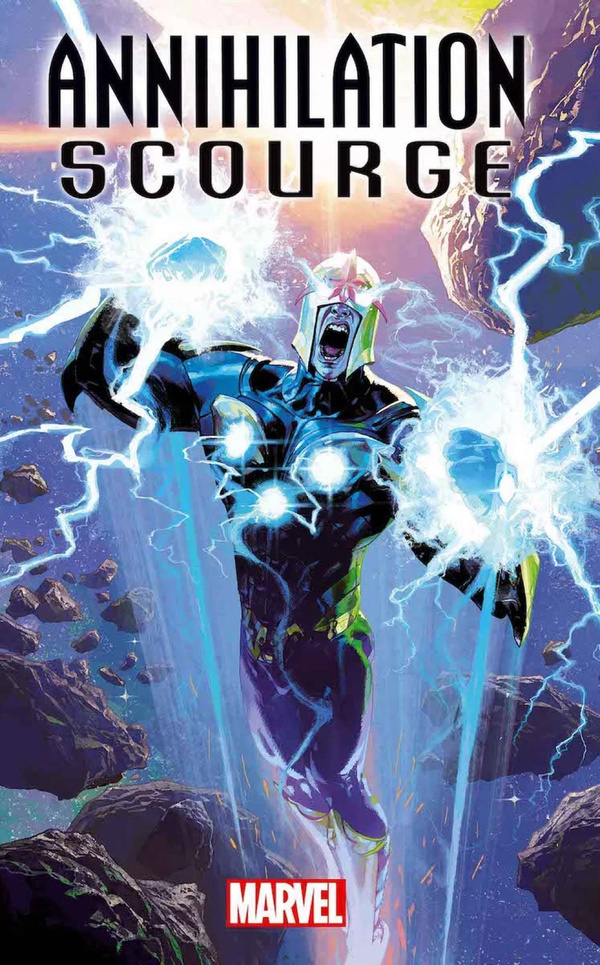 ANNIHILATION – SCOURGE: NOVA #1 (WITH DIGITAL CODE)
Written by Matthew Rosenberg
Penciled by Ibraim Roberson
Cover by Josemaria Casanovas
Variant Cover by Eduard PetrovicH
The universe hangs in peril! With no room for old grudges, Nova is forced to team up with one of his most nefarious adversaries – ANNIHILUS! But can Richard Rider trust the ruler of the Negative Zone to fight alongside him—or will this turn into a war with two fronts?
40 PGS./ONE SHOT/Rated T+ …$4.99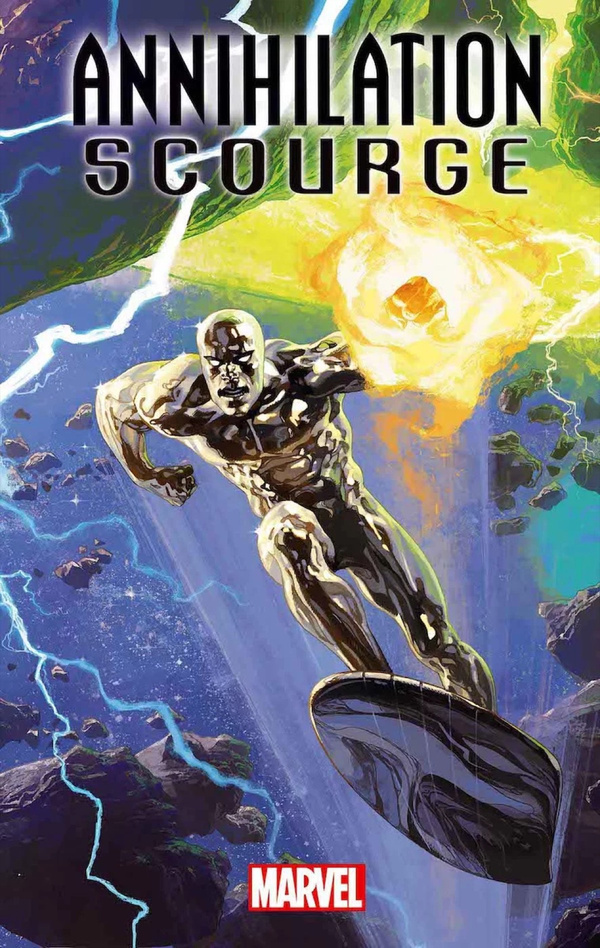 ANNIHILATION – SCOURGE: SILVER SURFER #1 (WITH DIGITAL CODE)
Written by Dan Abnett
Penciled by Paul Davidson
Cover by Josemaria Casanovas
Variant Cover by Ozgur Yildirim
The Scourge is closing in, wreaking havoc across the galaxy. The Silver Surfer has returned in time to bear witness to the Scourge's atrocities – but his new status quo leaves him helpless to intervene! Will the Surfer be able to find a way to save the fleeing innocents around him – or will he be forced to stand by and herald in a new age of death?
40 PGS./ONE SHOT/Rated T+ …$4.99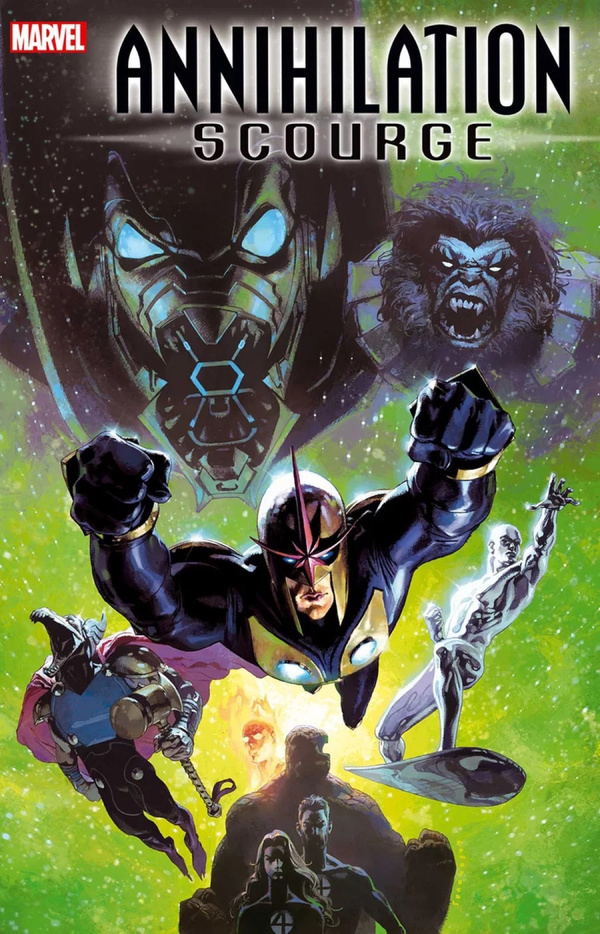 ANNIHILATION – SCOURGE OMEGA #1 (WITH DIGITAL CODE)
Written by Matthew Rosenberg
Penciled by Manuel Garcia
Cover by Josemaria Casanovas
Variant Cover by Arthur Adams
In the face of the Annihilation, there is no more room in the cosmos for heroes or villains—only survival.
40 PGS./ONE SHOT/Rated T+ …$4.99