The Black Widow, Eternals, and Shang-Chi release dates have been pushed back due to fears surrounding the coronavirus that have shut down movie theaters.
The release date changes follow WB pushing back Wonder Woman 1984 to December and while 70% of theaters are back open, the capacity is less than 100% with the social distancing rules.
Black Widow moves from Nov. 6 to May 7, 2021. In Black Widow, Natasha Romanoff aka Black Widow confronts the darker parts of her ledger when a dangerous conspiracy with ties to her past arises. Pursued by a force that will stop at nothing to bring her down, Natasha must deal with her history as a spy and the broken relationships left in her wake long before she became an Avenger.
Shang-Chi moves from May 7, 2021 to July 9, 2021. Simu Liu stars in the titular role as Shang-Chi, alongside Awkwafina and Tony Leung in a film directed by Destin Daniel Cretton.
Eternals moves from Feb. 12, 2021 to Nov. 5, 2021. Eternals features an exciting new team of Super Heroes in the Marvel Cinematic Universe, as the Eternals are ancient aliens who have been living on Earth in secret for thousands of years. Following the events of Marvel Studios' Avengers: Endgame, an unexpected tragedy forces them out of the shadows to reunite against mankind's most ancient enemy, The Deviants.
The updated MCU release date schedule can be found below.
Disney has also changed release dates for Kenneth Branagh's Death On The Nile, which was originally supposed to be released on Oct. 23, 2020, to Dec. 18, 2020.
Steven Spielberg's The West Side Story gets delayed a year from Dec. 18, 2020, to Dec. 10, 2021.
Deep Water, starring Ben Affleck Ana de Armas, gets pushed back from Nov. 13, 2020, to Aug. 13, 2021.
The Empty Man, a horror film with James Badge Dale, gets bumped up to Oct. 23, 2020, from a previous Dec. 4, 2020 release.
The King's Man also gets bumped up by two weeks to Feb. 12, 2021.
Pixar's animated movie Soul will still get released theatrically on Nov. 20, 2020, with no current plans for a Disney Plus release.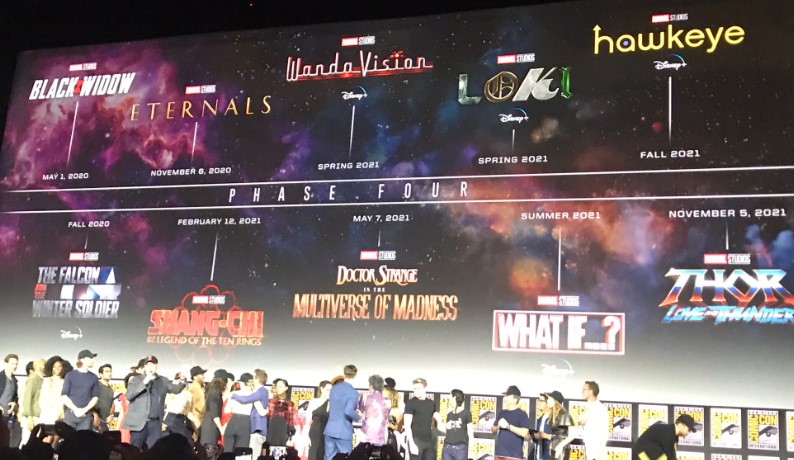 MCU release date schedule:
Black Widow: May 7, 2021
Shang-Chi: July 9, 2021
Eternals: Nov. 5, 2021
Untitled Spider-Man 3: Dec, 17, 2021 (Sony)
Thor: Love and Thunder: Feb. 11, 2022
Doctor Strange 2: March 25, 2022 (Ends MCU Phase 4)
Black Panther 2: May 6, 2022
Captain Marvel 2: July 8, 2022.