In addition to it thought the big title reveal was coming yesterday, a "leak" from Reddit claimed the Star Wars: Episode IX title was "Balance of the Force."
However, doing a 1-second Google search reveals "Balance of the Force" is actually a Star Wars pinball game, and it reveals how desperate various click-bait sites truely are, especially when ad revenue is at its all-time low at the beginning of the year (lol).
I think it is safe to say that "Balance of the Force" is ruled out as the Star Wars: Episode IX title, as being named after a pinball game would be rather lame (not that pinball games are lame, just that the title has already been used, eh?).
The Balance of the Force Star Wars pinball game is officially listed on StarWars.com:
Set in a galaxy far, far away, Star Wars Pinball lets you interact with the most iconic characters, and relive the greatest moments in the Star Wars universe. In Pack 1, play through three Star Wars-themed tables: Star Wars Episode V: The Empire Strikes Back, Star Wars, and Boba Fett. Choose your side of the Force by supporting either the Galactic Empire or the Rebel Alliance. In Pack 2, feel the disturbance in the Force in Star Wars Pinball: Balance of the Force, featuring three brand new pinball tables, immersing fans in the most iconic from the films. Experience the power of the dark side with a special Darth Vader tribute table. Join Luke Skywalker, Han Solo, Chewbacca and Princess Leia in the fight against the Sith as you play though the most memorable moments of Star Wars Episode VI: Return of the Jedi. Finally, choose to support the Rebel Alliance Fleet or the Galactic Empire's Armada as you take your place in the battle and complete missions to establish your position as an elite force in the Starfighter fleet.

Available On: Amazon Kindle, Android™, iPad®, iPhone®, iPod touch®, MAC, PlayStation®3, Wii U™, Windows Devices, Xbox 360®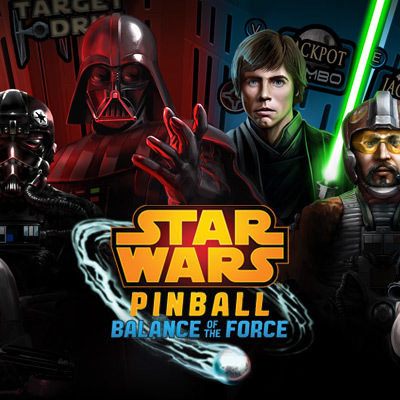 Regarding the Star Wars: Episode IX title reveal, there is no official date when it will be happening, but it does seem as if something is happening. Mark Hamill, Anthony Daniels and various Star Wars writers have been teasing something on Twitter, we just don't know when.
Star Wars Episode IX has a Dec. 20, 2019 release directed by J.J. Abrams starring Daisy Ridley, Adam Driver, John Boyega, Oscar Isaac, Lupita Nyong'o, Domhnall Gleeson, Kelly Marie Tran, Joonas Suotamo, Billie Lourd, Naomi Ackie, Richard E. Grant, Keri Russell, Mark Hamill, Anthony Daniels, and Billy Dee Williams, with unused footage of Carrie Fisher being used to bring back Leia.