Check out a super cool badass Zachary Levi Shazam image shared by director David F. Sandberg who recently posted behind-the-scenes footage on social media.
Sandberg held a "quarantine watch party" where he took to Twitter to show off the Shazam! movie.
In addition to the pic of Zachary Levi, Sandberg also showed off a new pic of the cast, Levi dancing, props, and lots more. See below.
Zachary Levi active on social media
Zachary Levi has also been active on social media as the actor will take part in a Facebook live chat today at 4pm ET.
"Hey y'all! I'm joining an open-to-all coffee chat with Active Minds LIVE on Facebook, tomorrow, April 2 at 4:00pm ET. You're invited to virtually hang out with us for a fun #FlattenTheCurve conversation and a chance to ask us a question or two. It'll be fun, I promise. Hasta mañana!" posted Levi on Instagram.
Levi also posted the image that Gal Gadot shared in regards to the medical professions as members of the Justice League.
"I think this is one of the best summations I've seen in regard to the medical personnel around the globe, as they are currently on the front lines of fighting what is the closest thing to a world war most of us have ever seen," said Levi. "Make sure to be extra kind and extra patient and extra helpful to those that are helping the most. And may we continue to lift them, their patients, and the rest of us, all up in petitions of grace and safety and covering during such a time as this. #doctorsareheroes #themaskedmavens."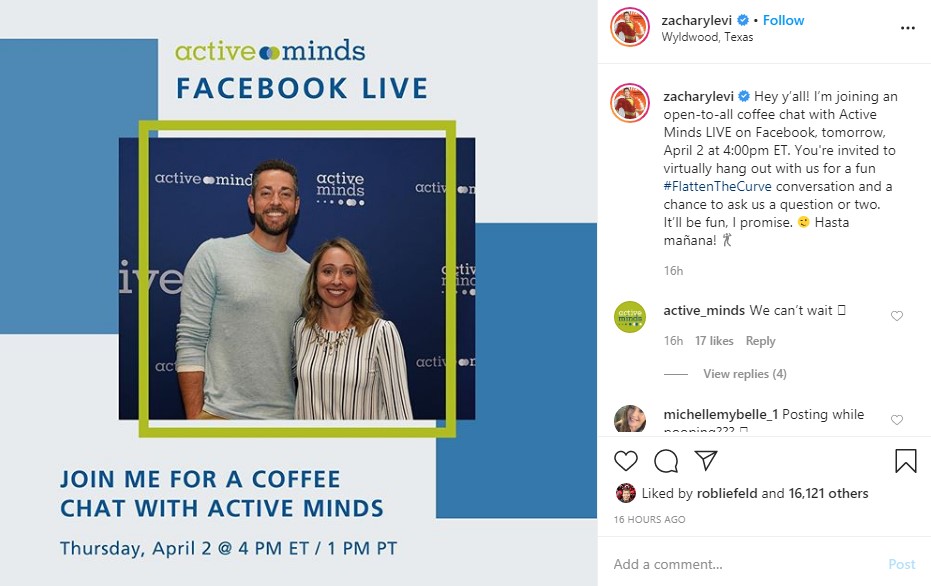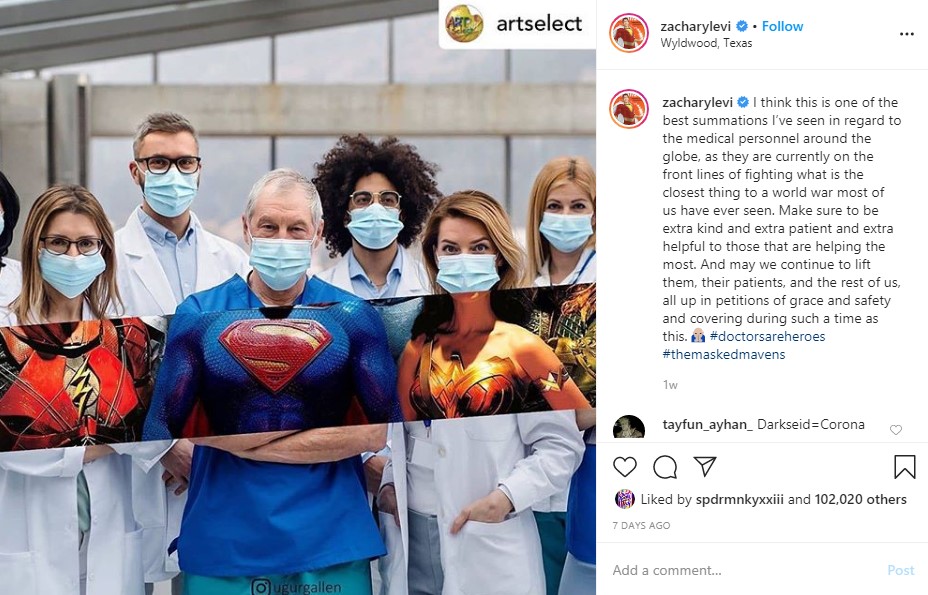 Shazam! images and behind-the-scenes footage: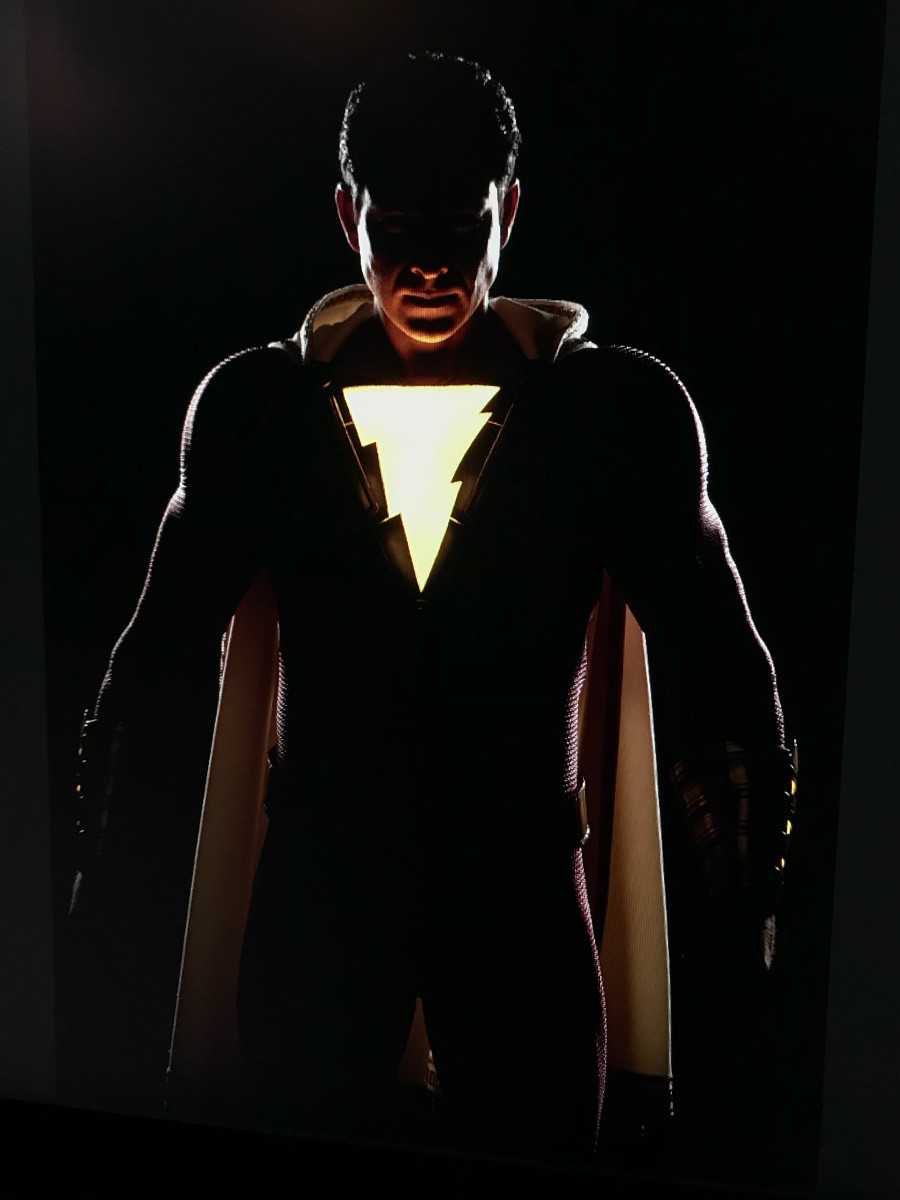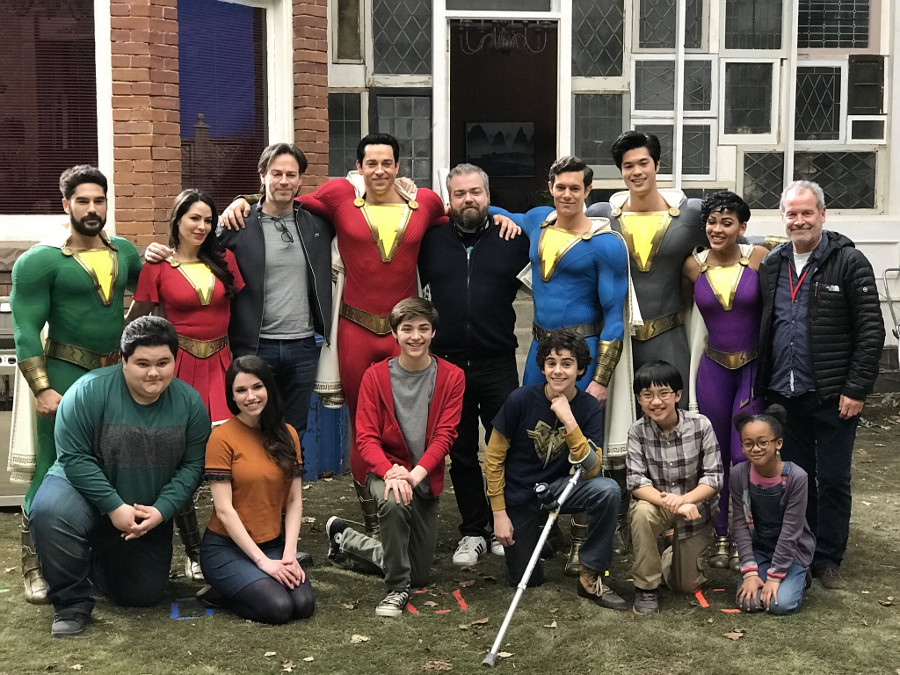 Greed holding Aquaman. #QuarantineWatchParty #Shazam pic.twitter.com/YgGdE297ch

— David F. Sandberg (@ponysmasher) April 2, 2020
Really wish I had kept this Mr. Mind prop. When I'm making movies my mind is all over the place and I realize afterwards that I should have kept more props. — #QuarantineWatchParty #Shazam pic.twitter.com/0eCxyEpSQy

— David F. Sandberg (@ponysmasher) April 2, 2020
The sins had real light up eyes. I loved this set and felt quite sad the day it was torn down. The statues were kept though. #QuarantineWatchParty #Shazam pic.twitter.com/WoWoZZuOdK

— David F. Sandberg (@ponysmasher) April 2, 2020
To light Asher during the hologram this contraption was used where I could remotely control the light myself. That then had to be painted out in post. #QuarantineWatchParty #Shazam pic.twitter.com/3miRCoX5VM

— David F. Sandberg (@ponysmasher) April 2, 2020
I loved shooting this. #QuarantineWatchParty #Shazam pic.twitter.com/F5aRh7Skyh

— David F. Sandberg (@ponysmasher) April 2, 2020
Prop from Freddy's room. Gotham really needs to do something about their crime problem. #QuarantineWatchParty #Shazam pic.twitter.com/kbjZtUxrNG

— David F. Sandberg (@ponysmasher) April 2, 2020
More "fun stuff you get to do as filmmakers" #QuarantineWatchParty #Shazam pic.twitter.com/BFYQ8vz1Tg

— David F. Sandberg (@ponysmasher) April 2, 2020
We bought 4 or 5 buses for this scene. We had half busses for certain scenes. #QuarantineWatchParty #Shazam pic.twitter.com/kyVROXnpjZ

— David F. Sandberg (@ponysmasher) April 2, 2020
Testing the Shazam into police car stunt. It was later done into an actual car, the boxes were just for rehearsal. #QuarantineWatchParty #Shazam pic.twitter.com/DeM0SQ5kcD

— David F. Sandberg (@ponysmasher) April 2, 2020
Shazam dance party #QuarantineWatchParty #Shazam pic.twitter.com/IJkq1ifix3

— David F. Sandberg (@ponysmasher) April 2, 2020