Update: The book is not canon to the MCU.
 
While it's known the backstory of Thanos has been cut from The Avengers: Infinity War movie, the Mad Titan's MCU origins will be explored in a novel tied to the film.
Details and the cover art for "MARVEL's Avengers: Infinity War: Thanos: Titan Consumed" book offer up the following (you can order through Amazon):
In Avengers: Infinity War, a threat emerged from the cosmos--Thanos, a ruthless warlord who plans to collect all six Infinity Stones. Joined by his formidable allies, he will be near-unstoppable at achieving his goal. The Avengers, the Guardians of the Galaxy, Doctor Strange and Spider-Man must join forces and fight side by side to stop Thanos while the fate of the Earth and the universe lays in the balance.

In this new original novel by bestselling author Barry Lyga, learn the origins of the most feared force in the universe, and see how Thanos became the Titan consumed by his quest for power.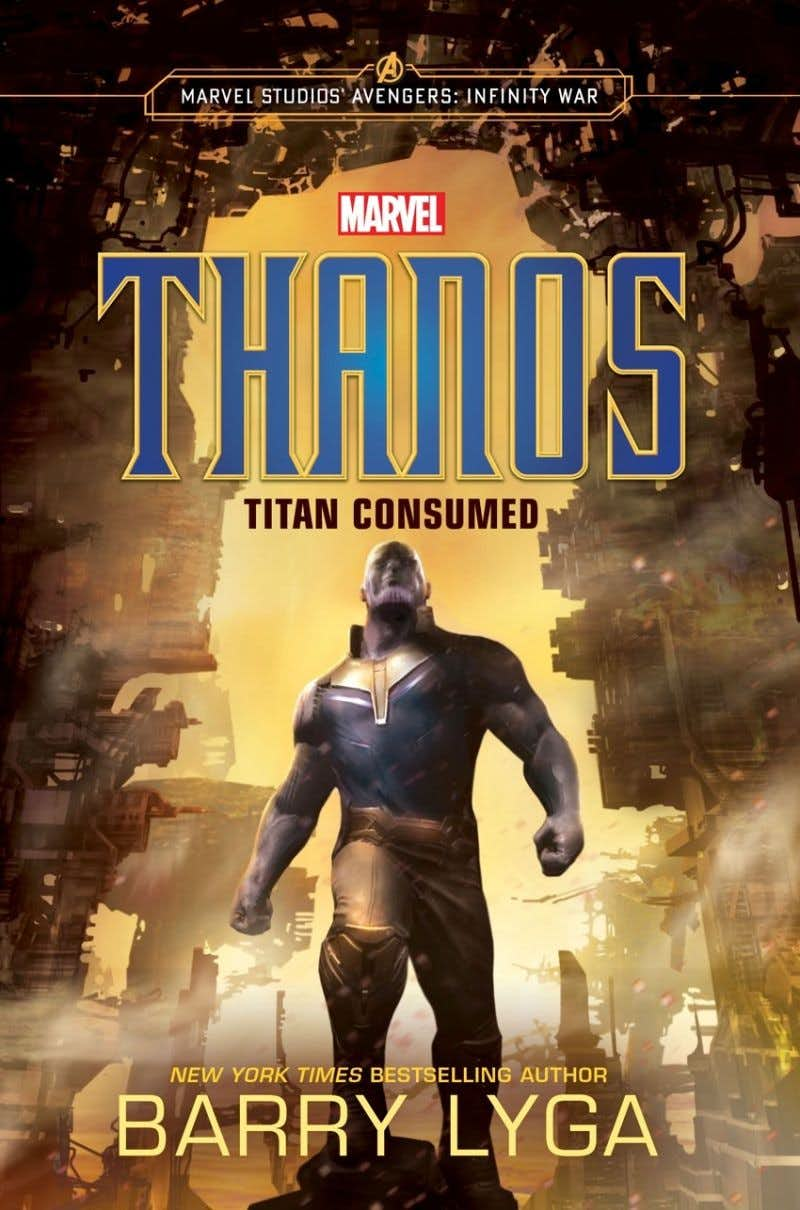 What has been said about MCU origins of Thanos is limited, but both Kevin Feige and Josh Brolin previously offered details:
'ÄúHe'Äôs from a planet called Titan that'Äôs no longer inhabited because of things that he thought he could help prevent, and he was not allowed to do that,'ÄĚ Feige¬†recently told EW.com. 'ÄúWhat he feared most happened, and the planet and everybody on it basically went extinct. He vowed not to let that happen again. He thinks he sees the universe going down the tubes. He thinks he sees life expanding outward unchecked. That will bring ruin, he believes, to the universe and to that life.'Ä̬†
He'Äôs different from his family,'Ä̬†Brolin¬†said. 'ÄúThey'Äôre all Titans and they all look similar, but he was born deformed. You see how he grew up, you see he was like the Quasimodo of this time, or if you'Äôve ever read¬†Perfume¬†[Patrick S√ľskind 'Äės 1985 novel about a serial killer who craves beautiful scenes but is disgusted by the smell of humanity], it'Äôs a great parallel to Thanos. He stuck out. He was an anomaly. He was a freak. And that lent to this apparent insanity.'Ä̬†¬†
Anthony and Joe Russo also previously offered a look into Thanos' motivations:
Thanos is this virtually indestructible character who's stronger than the Hulk, and has invincible skin. He's from a planet called Titan. Many years prior to the film his planet was experiencing a cataclysmic shift. They were running out of resources, and they were overpopulated. Thanos made a recommendation that they exterminate half the population randomly in order to save the rest of the population. Of course, the Titans rejected his notion, branded him a mad man, exiled him, and the planet ended up dying. So he has taken it upon himself to go planet-by-planet throughout the universe and wipe out half of the population of each planet as a way to correct the planet and bring it back into balance. 

Once he hears about the stones, he realizes that if he can get hold of all of the Infinity Stones he can control the entire universe. With the snap of his fingers he could correct the universe permanently by removing 50 per cent of life from it. So, these are incredible stakes for our characters. If the Avengers were built for anything, it's for stopping Thanos from completing his goal.  
The Avengers: Infinity War opens April 27.