The cover art for The Avengers: Endgame art book has been revealed featuring Thanos who smiles and is pretty happy with himself following what went down in Infinity War.
The art, by Ryan Meinerding, shows Thanos at his farm moments after wiping out the Avengers and turning them to dust, as we see the damaged Infinity Gauntlet on his left hand.
The Road to Marvel's Avengers: Endgame goes on sale April 23 and is now available for pre-order on Amazon. Note: I believe this is different from those super cool "art of the movie" books, as two separate books were released for Infinity War with a "Road To" book and an "Art of the Movie" book. The Avengers: Endgame art of the movie book goes on sale in November.
Here is the description for The Road to Marvel's Avengers: Endgame art book:
The fourth installment in the Avengers saga will be the culmination of 22 interconnected films and will let audiences witness the turning point of this epic journey. This collectible volume features art from films leading up to this thrilling event, including additional behind-the-scenes art, interviews and photography from Avengers: Infinity War.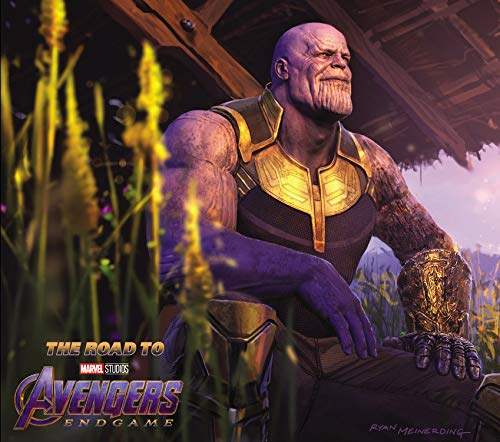 The Avengers: Endgame has an April 26, 2019 release directed by Joe and Anthony Russo. After the devastating events of Avengers: Infinity War, the universe is in ruins due to the efforts of the Mad Titan, Thanos. With the help of remaining allies, the Avengers must assemble once more in order to undo Thanos' actions and restore order to the universe once and for all, no matter what consequences may be in store.