Lucasfilm looks to have accidentally revealed that a new animated Star Wars series is in development with Tales of the Jedi.
According to listings on the official Star Wars Celebration website, a panel will be held for Tales of the Jedi, which is described as animated anthology shorts:
SAT, MAY 28, 2022

2:30 PM – 3:30 PM

THE CELEBRATION STAGE

Introducing Tales of the Jedi, animated anthology shorts. Hosted by Amy Ratcliffe with special guest Dave Filoni.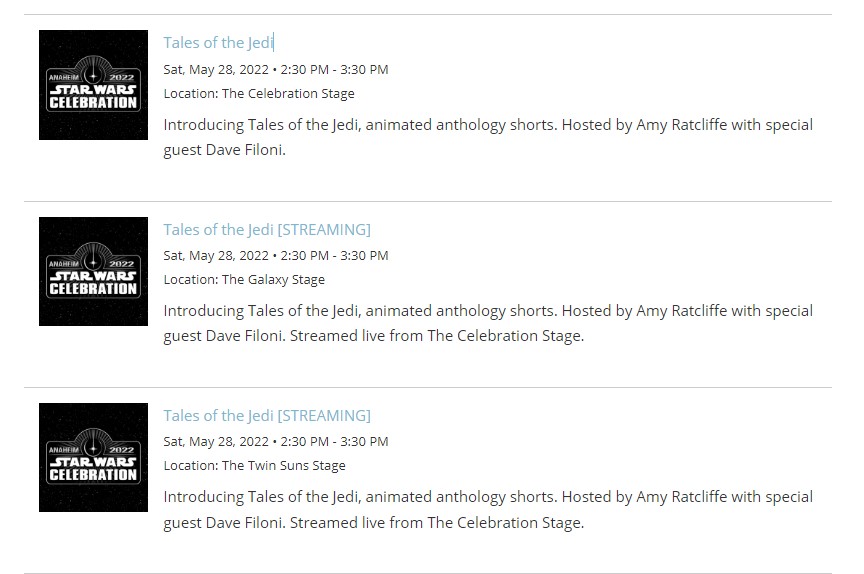 Star Wars: Tales of the Jedi is also a comic book
Tales of the Jedi sounds similar to the Star Wars: Visions series which is also described as a new anthology of animated shorts, so Tales of the Jedi could be similar, and worth a mention is that Lucasfilm didn't mandate that the storytelling surrounding Visions had to fit in the timeline, so the same may be applied for Tales.
Also worth a mention is that Star Wars: Tales of the Jedi is also a comic book series from Dark Horse that was published in the '90s set during the Old Republic era, more so surrounding the Great Sith War, so this new animated series could be set within that timeline as well.
Amazon describes the collection as:
The history of the Old Republic! 5000 years before Luke Skywalker, the Sith Empire rules the galaxy at the height of their powers — but the Great Hyperspace War could lead to their downfall! Then, a millennium later, two Jedi legends emerge: Nomi Sunrider, who takes up her murdered husband's lightsaber, and Ulic Qel-Droma, who discovers the final resting place of fallen Jedi Freedon Nadd — who may not be at rest after all! Can they save the Holocron containing all of Jedi history, or will the dark side of the Force triumph?