Splinter is apparently not gay in the new Teenage Mutant Ninja Turtles: Mutant Mayhem animated movie by Seth Rogen.
It's currently going viral thanks to YouTuber Keemstar on Twitter that Splinter has been changed to gay in the Teenage Mutant Ninja Turtles: Mutant Mayhem movie.
However, according to Reddit and other Twitter users, it's not true.
Update: Apparently there is a questionable scene with Splinter and Scumbug having a romantic link, as when questioned, a Reddit user responded "no" and then went on to explain:
There's a scene with splitter and scumbug. No voice actor. Promo pic says "scumbug as himself" but I thought the movie portrayed them as female. Leather head and wingnut are female in the movie. I maybe wrong on assuming they were female, but I thought it was a funny scene.
Update #2: Director Jeff Rowe confirms Scumbug was always a female cockroach, via Slashfilm, as marketing made a mistake about the "Scumbug as Himself" poster:
"That was a marketing mistake, and we were furious about it. They put that out, I don't know who did that or how that happened, but we were immediately like, 'That's not true. Don't put that in the world,' and that will now be on the internet forever. But that was never the intention. That was never the character. We always imagined her to be a female cockroach. And that one poster was a slip up."
Update #3: I asked members of my Facebook group of 11k fans who have seen the movie and they said Splinter is not gay as well: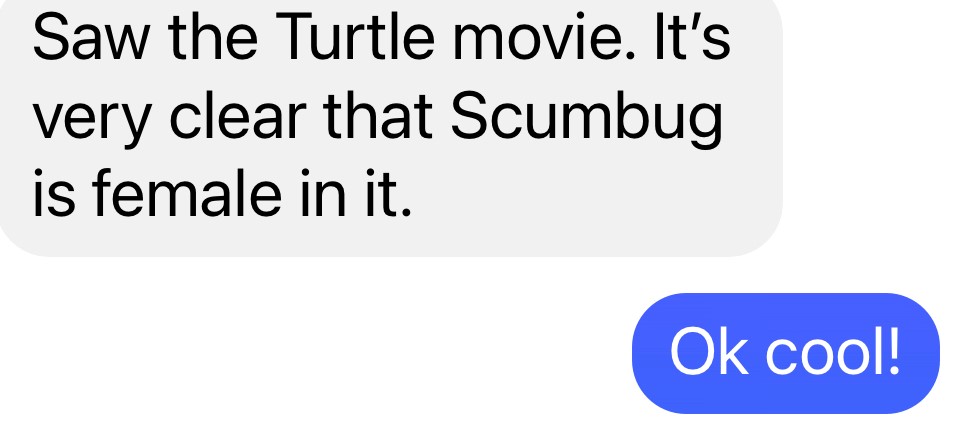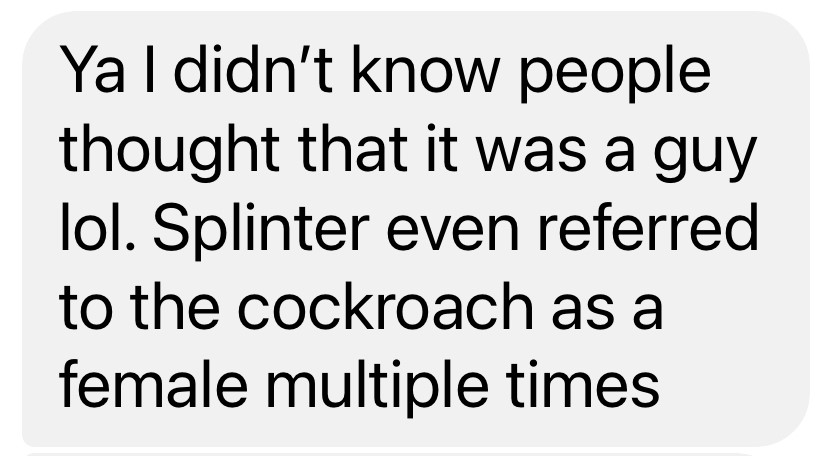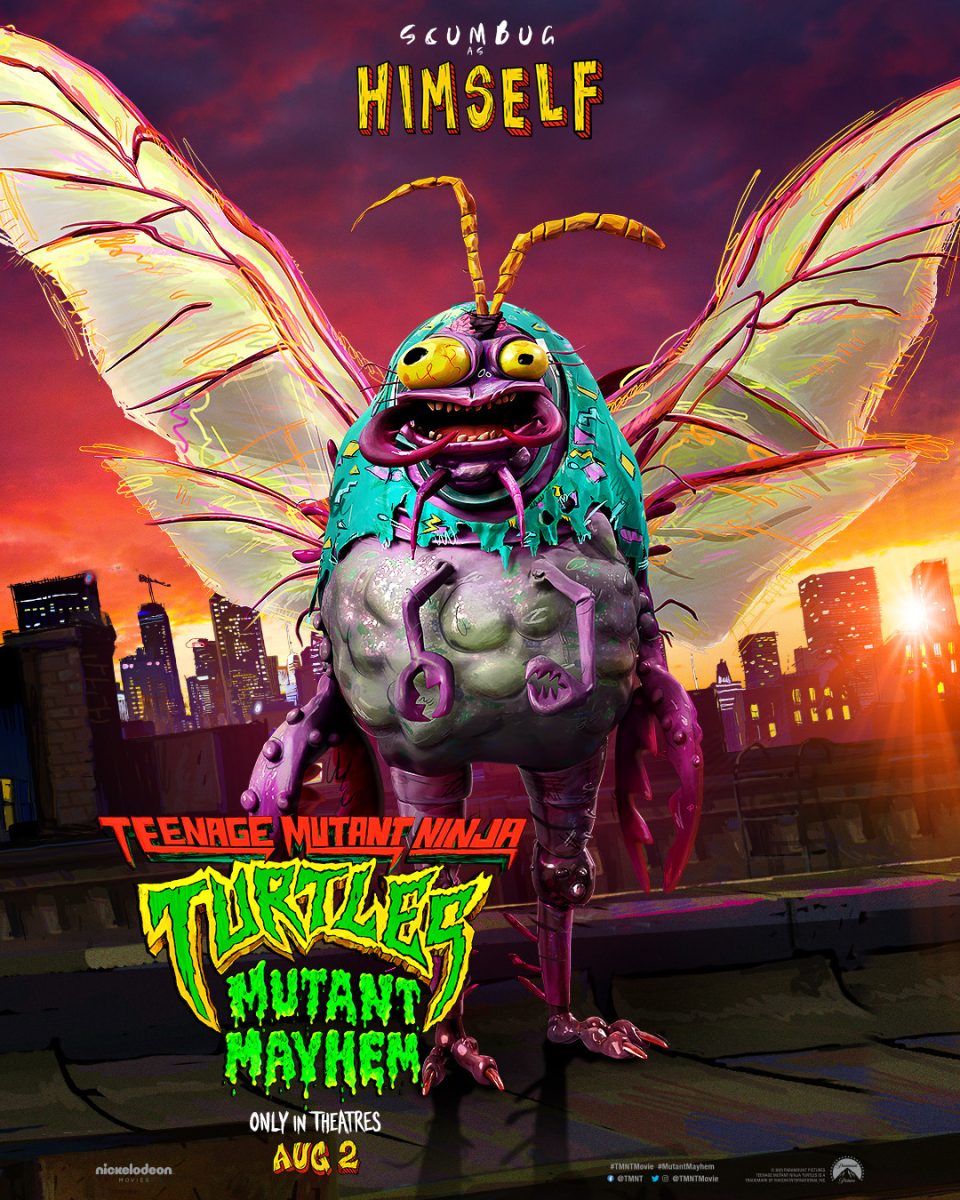 Reddit and Twitter users say Splinter is not gay:



I just found out that Splinter is NOT gay in the new TMNT movie from people that actually saw the movie.

Why do y'all think people are spreading this lie? pic.twitter.com/8fOIVzrR1l

— Harley Morenstein (@HarleyPlays) August 2, 2023
This is actually not true. One of my friends actually went to one of TMNT Mutant Mayhem's early screenings and nowhere in the film where it even implies that Splinter is gay.

Of course, we wouldn't be having this discussion if people actually sit down and watch the fucking movie https://t.co/VQJgfNOtuQ

— Crimson Mayhem (@Crimson_Mayhem_) August 2, 2023
Where did the rumor originate?
Splinter being gay in the Teenage Mutant Ninja Turtles: Mutant Mayhem was apparently first reported by a YouTuber that claimed to see an early screening and then posted by Bounding Into Comics.
YouTuber Keemstar, who happens to be from my own hometown of Buffalo, NY, who has 2.6 million followers on Twitter and 5.49 million on the YouTube DramaAlert channel, then picked up on it and tweeted about it.
The tweet currently has almost 3k likes, 500 retweets, and 700 comments.
They made Splinter GAY in new Teenage Mutant Ninja Turtle's.

Why? pic.twitter.com/K3lURqO0Y3

— KEEM 🍿 (@KEEMSTAR) August 2, 2023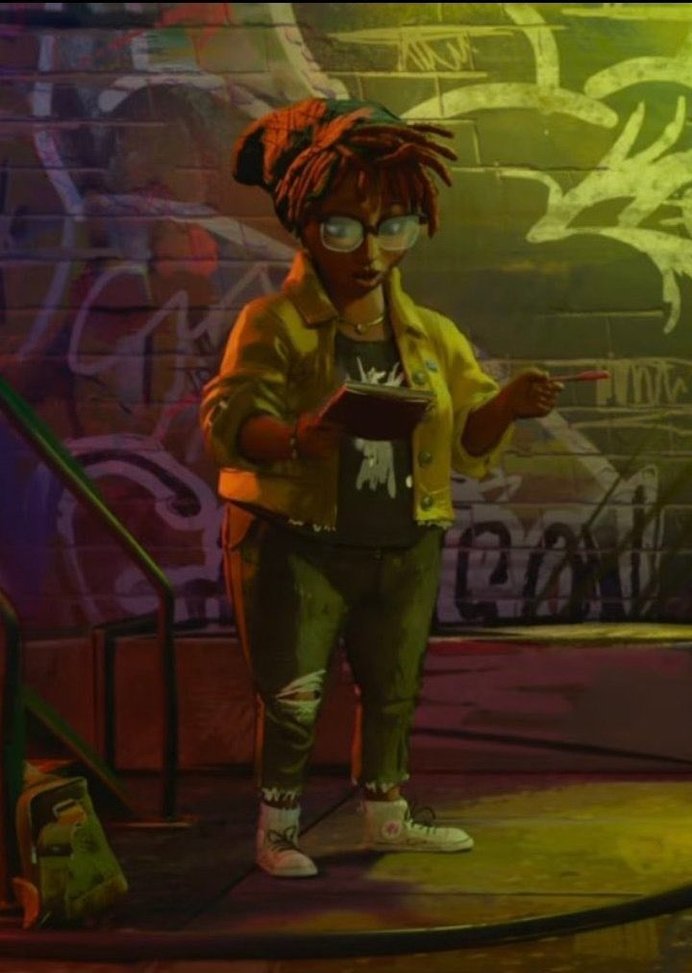 Why did the rumor originate?
I haven't seen the movie myself so I can't say whether or not Splinter is gay, but it could be possible that the initial reviewer thought Splinter seemed gay, possibly in part to the woke replacement of April O'Neil from white to black.
April O'Neil is white not black but Seth Rogen and company changed April to fit with the woke agenda. April also happens to be not as attractive and a bit on the heavy side. In the original cartoon, I know April has some cleavage showing where the teenage turtle boys have a bit of a crush on April, but Rogen apparently nixed all that.
Another spoiler: Rogen also apparently nixed the connection between Splinter and Shredder in Teenage Mutant Ninja Turtles: Mutant Mayhem.