Movies opening this weekend include Scream 6 which slices the Thursday previews box office, and the new Adam Driver sci-fi movie, 65, tanks on Rotten Tomatoes.
Scream 6 Thursday box office and Rotten Tomatoes:
The Scream 6 Thursday previews box office comes in at a franchise-best $5.7 million and beats last year's Thursday release of $3.5 million and even beat Creed III's Thursday last week of $5.5 million which went on to open to over $58 million.
Scream 6 is estimated to open to more than $35 million this weekend, another franchise best.
Update: Weekend is now looking like $42million.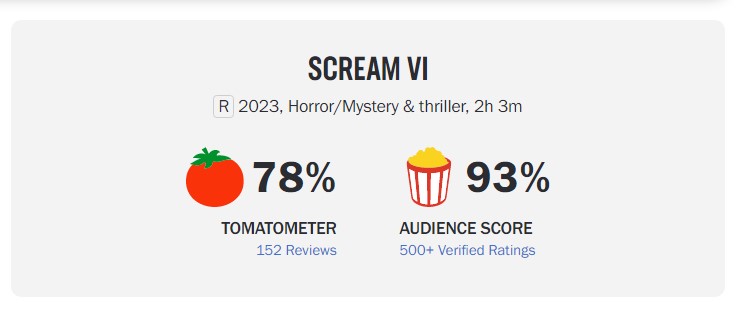 Over at Rotten Tomatoes, the flick has a 78% Rotten Tomatoes Score and a current 93% Rotten Tomatoes Score, so the fans are really liking what they are seeing.
The scores are comparable to last year's movie in terms of critic reviews and way ahead in terms of audience score, which is another best of the franchise.
Adam Driver 65 box office and Rotten Tomatoes:
However, it's a different story for the new Adam Driver sci-fi movie, 65, which is by the writers of A Quiet Place and producer Sam Raimi and directed by Scott Beck & Bryan Woods.
I'll be honest, I never even heard of the movie until this week.
Per the official synopsis, the flick sees Adam Driver after a catastrophic crash on an unknown planet, where Driver plays the pilot and quickly discovers he's actually stranded on Earth…65 million years ago.
Yeah, that means dinosaurs.
The rest of the synopsis offers: Now, with only one chance at rescue, Mills and the only other survivor, Koa (Ariana Greenblatt), must make their way across an unknown terrain riddled with dangerous prehistoric creatures in an epic fight to survive. From the writers of A Quiet Place and producer Sam Raimi comes 65, a sci-fi thriller starring Adam Driver, Ariana Greenblatt, and Chloe Coleman. Written, directed, and produced by Scott Beck & Bryan Woods – the film is also produced by Sam Raimi, Deborah Liebling and Zainab Azizi.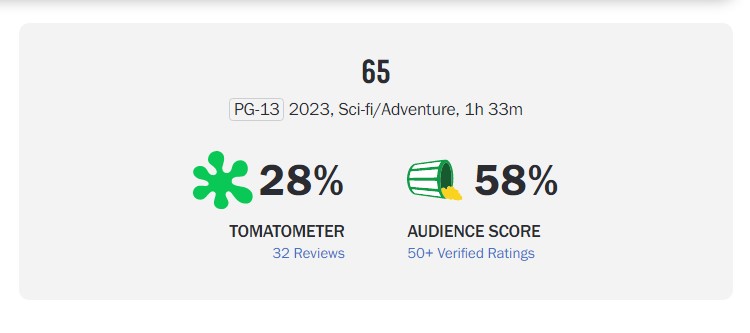 The 65 Rotten Tomatoes Score is a 28% from critics and the Audience Score is at 58%, so not all that good.
The Thursday box office is at $1.2 million and estimated to open in the $7 million to $9 million range this weekend, with heavy competition from Scream VI.
Marvel's Ant-Man and the Wasp: Quantumania will also open for its fourth weekend, but there is not much to say there as the flick has completely bombed at the box office.
The Woody Harrelson Champions movie also opens this weekend who stars in the hilarious and heartwarming story of a former minor-league basketball coach who, after a series of missteps, is ordered by the court to manage a team of players with intellectual disabilities. He soon realizes that despite his doubts, together, this team can go further than they ever imagined.