The Reign of the Supermen animated movie arrives TODAY, January 29, on Ultra HD Blu-ray Combo Pack and Blu-ray Combo Pack from Warner Bros. Home Entertainment. DC Universe subscribers can also watch the film on the streaming service starting today.
Watch an all-new clip above that features an attack on Earth by Darkseid and his army of parademons.
Below you can also check out images from last night's wildly successful New York City premiere at the Directors Guild of America. The event included appearances and a post-panel discussion between actors Jerry O'Connell (Superman), Rebecca Romijn (Lois Lane), Cress Williams (Steel/John Henry Irons), Patrick Fabian (Cyborg Superman & Hank Henshaw), Tony Todd (Darkseid), Charles Halford (Bibbo Bibbowski & The Eradicator), Nyambi Nyambi (Martian Manhunter), and filmmakers Executive Producer James Tucker, Producer / Director Sam Liu, Screenwriters Jim Krieg & Tim Sheridan and Character Designer Phil Bourassa.
Photos include: Jerry O'Connell on the panel; Cress Williams autographing a poster; Nyambi Nyambi holding the film's poster; Group shot of all panelists (except Nyambi Nyambi).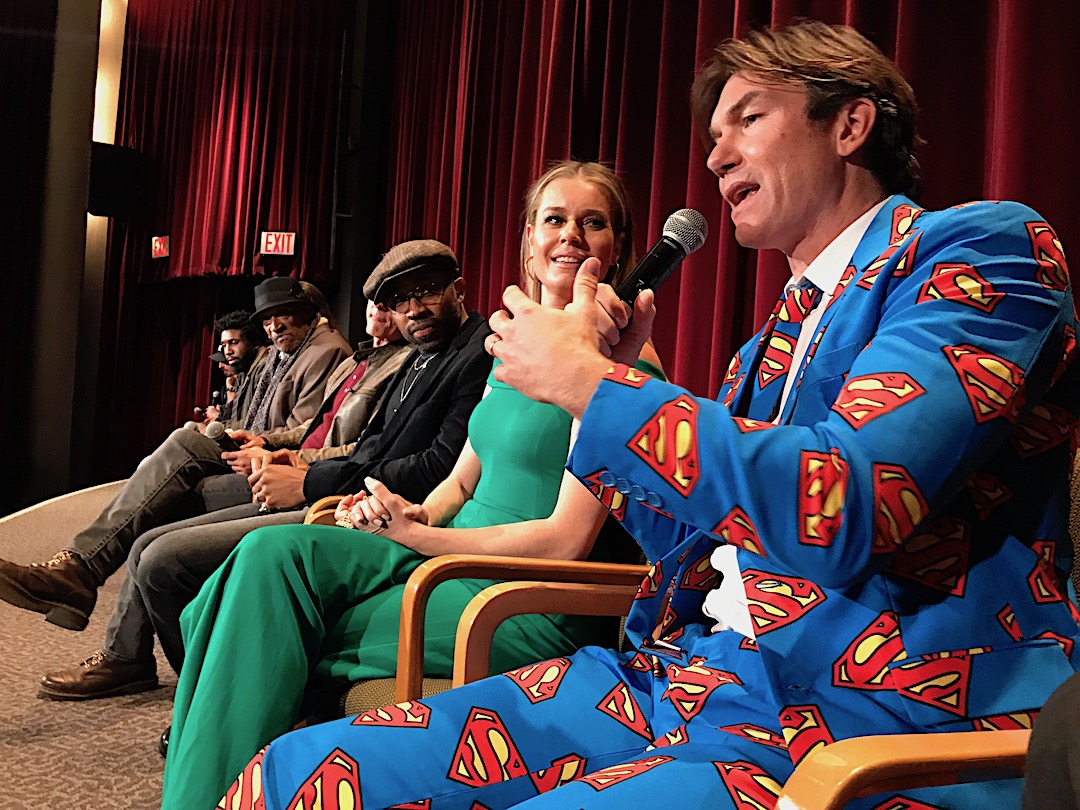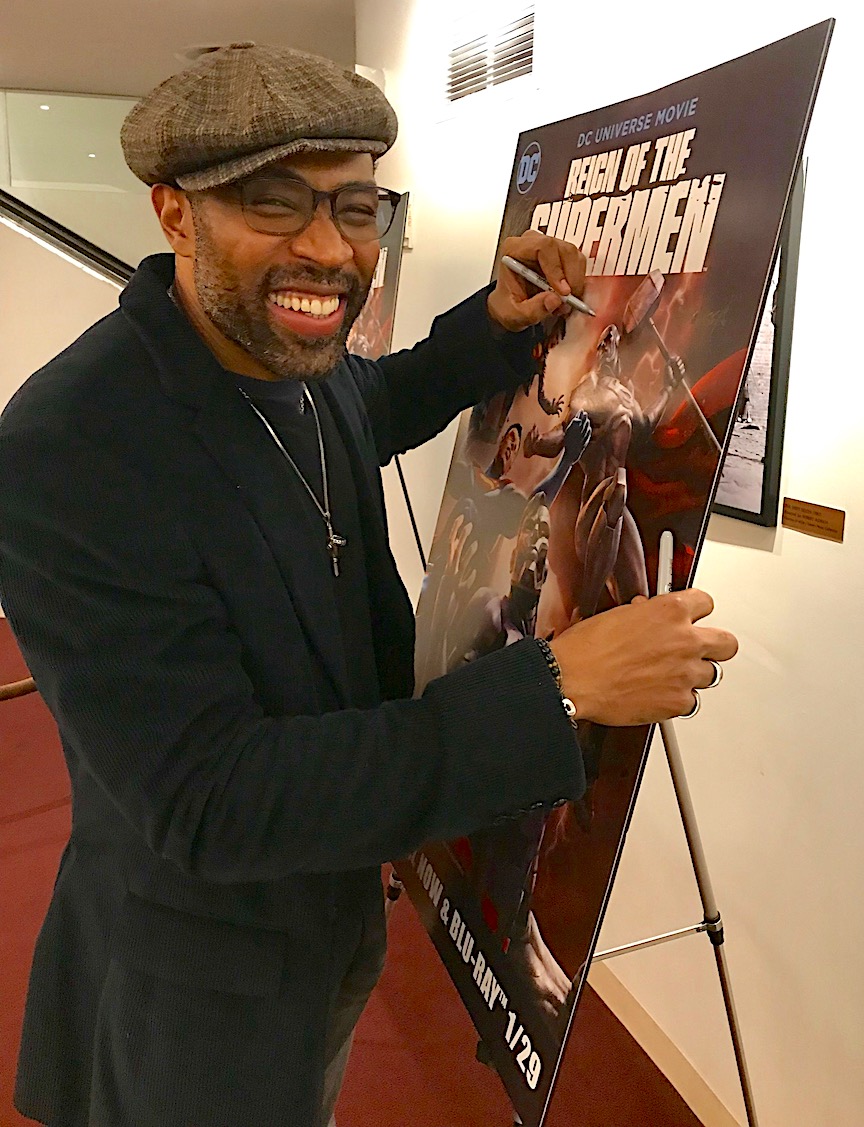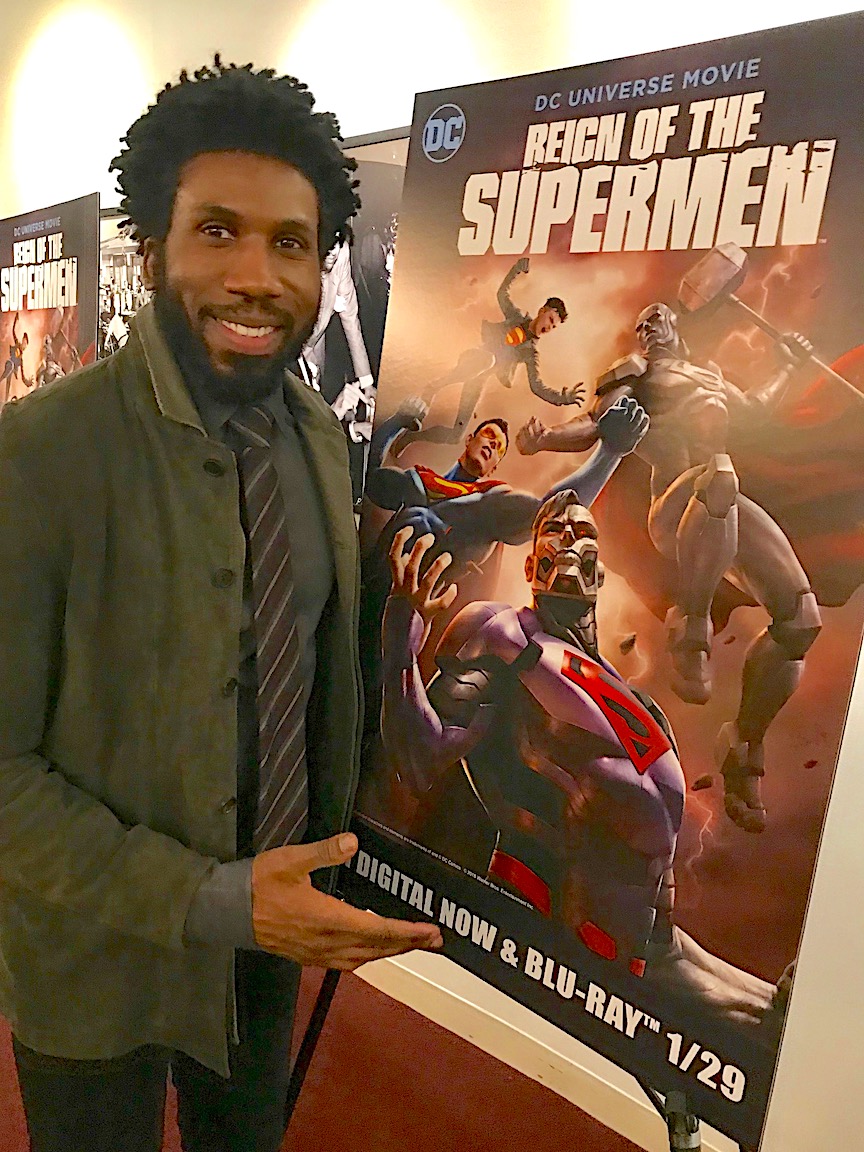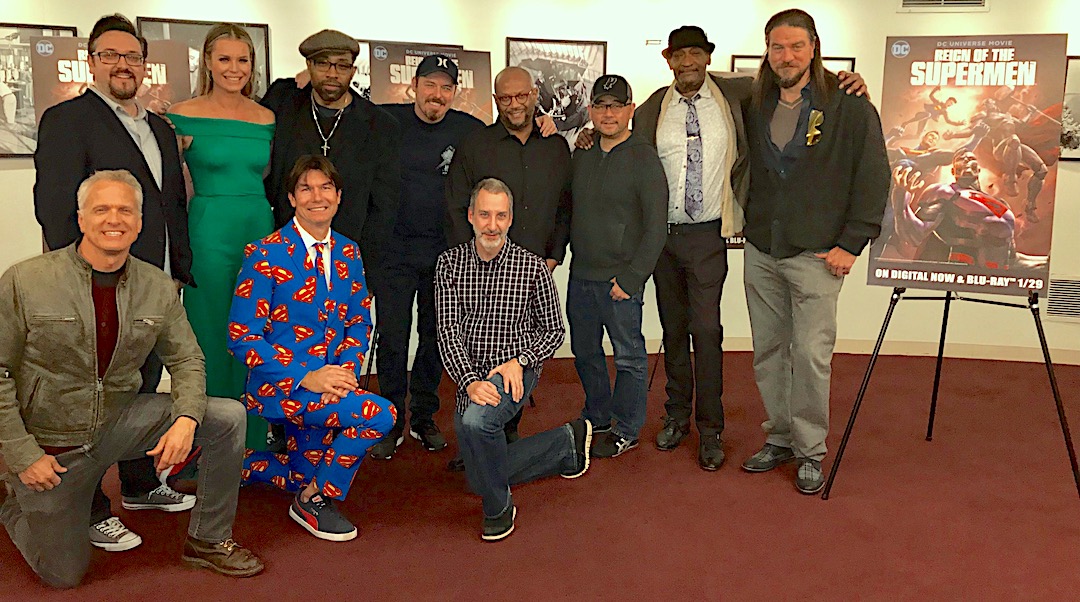 (photo credit: Gary Miereanu)
Here is the official info:
MANY TRY, BUT ONLY ONE CAN CLAIM THE TITLE OF SUPERMAN IN AN ALL-NEW ANIMATED FILM FROM WARNER BROS. HOME ENTERTAINMENT AND DC
REIGN OF THE SUPERMEN
COMING JANUARY 29, 2019 TO
Ultra HD™ BLU-RAY combo pack AND
BLU-RAY™ COMBO PACK
BURBANK, CA (October 24, 2018) – The world must cope with the loss of Superman – and the sudden emergence of four would-be heirs to the title – in the all-new, action-packed Reign of the Supermen, part of the popular series of DC Universe Movies. Produced by Warner Bros. Animation and DC, the feature-length animated film arrives from Warner Bros. Home Entertainment on Digital starting January 15, 2019, and on Ultra HD Blu-ray Combo Pack and Blu-ray Combo Pack on January 29, 2019. Order due date is December 18, 2018.
Reign of the Supermen will be available on Ultra HD Blu-ray Combo Pack ($39.99 SRP) and Blu-ray Combo Pack ($24.98 SRP) as well as on Digital ($19.99 HD, $14.99 SD). The Ultra HD Blu-ray Combo Pack features an Ultra HD Blu-ray disc in 4K with HDR and a Blu-ray disc featuring the film; the Blu-ray Combo Pack features the film in hi-definition. The Ultra HD Blu-ray and Blu-ray Combo Pack include a digital version of the film.
Reign of the Supermen finds Earth's citizens – and the Man of Steel's heroic contemporaries – dealing with a world without Superman. But the aftermath of Superman's death, and the subsequent disappearance of his body, leads to a new mystery – is Superman still alive? The question is further complicated when four new super-powered individuals – Steel, Cyborg Superman, Superboy and the Eradicator – emerge to proclaim themselves as the ultimate hero. In the end, only one will be able to proclaim himself the world's true Superman.
Reign of the Supermen is the second half of a two-part DC Universe Movies experience that began in August 2018 with The Death of Superman – the two films telling a more faithful animated version of "The Death of Superman," DC's landmark 1992-93 comic phenomenon. Superman Doomsday, the inaugural film in the DC Universe Movies series, told an abridged version of that comics story, but with a runtime of 75 minutes, the film was only able to focus on a core, singular storyline. The Death of Superman and Reign of the Supermen restore many of the moments and characters that fans hold dear to their hearts.
The Reign of the Supermen all-star cast is led by Jerry O'Connell (Carter, Bravo's Play by Play, Stand by Me), Rebecca Romijn (X-Men, The Librarians) and Rainn Wilson (The Office, The Meg) as the voices of Superman, Lois Lane and Lex Luthor, respectively. The potent trio is joined by the DC Universe Movies' returning voices of the Justice League: Jason O'Mara (The Man in the High Castle, Terra Nova) as Batman, Rosario Dawson (Sin City, Rent, Daredevil) as Wonder Woman, Shemar Moore (S.W.A.T., Criminal Minds) as Cyborg, Nathan Fillion (Castle, The Rookie) as Green Lantern/Hal Jordan, Christopher Gorham (Covert Affairs, Insatiable, Ugly Betty) as The Flash, and Nyambi Nyambi (Mike & Molly, The Good Fight) as Martian Manhunter.
Newly featured cast members include Cress Williams (Black Lightning) as Steel, Cameron Monaghan (Gotham) as Superboy, Patrick Fabian (Better Call Saul) as Hank Henshaw, and Tony Todd (Candyman) as Darkseid. In addition, the cast includes Charles Halford (Constantine) as Bibbo Bibbowski and The Eradicator, Rocky Carroll (NCIS) as Perry White, Toks Olagundoye (Castle) as Cat Grant, Max Mittleman (Justice League Action) as Jimmy Olsen, Paul Eiding (Ben 10: Omniverse) as Jonathan Kent, Jennifer Hale (Green Lantern: The Animated Series) as Martha Kent, Trevor Devall (Suicide Squad: Hell To Pay) as Dabney Donovan and Erica Luttrell (Salvation) as Mercy.
Producer Sam Liu (Gotham by Gaslight, Teen Titans: The Judas Contract) also directs Reign of the Supermen from a script by Jim Krieg (Batman: Gotham by Gaslight) and Tim Sheridan (Scooby-Doo and the Gourmet Ghost). Amy McKenna (The Death of Superman) is producer, and Alan Burnett (Suicide Squad: Hell To Pay) is co-producer. Executive Producers are Sam Register and James Tucker (Justice League Dark).
"Warner Bros. Home Entertainment is proud to continue the most popular Superman story of all time which began in The Death of Superman," said Mary Ellen Thomas, Warner Bros. Home Entertainment Vice President, Family & Animation Marketing. "Reign of the Supermen is the thrilling story of how the world reacts to the shocking death of its protector. No true comic fan will want to miss this larger than life story of the heroes and villains who rise to fill the void."
Reign of the Supermen Enhanced Content
Ultra HD Blu-ray Combo Pack, Blu-ray Combo Pack and Digital
Lex Luthor: The Greatest Nemesis (Featurette) – Evil Genius. Archenemy of Superman. Misunderstood hero? This documentary will look at one of the most renowned villains in literature and debate his ethics and motivations throughout his publication history and as the calculated anti-hero of Reign of the Supermen. We'll also explore how Lex Luthor is emblematic of technology without limit, often demonstrating what effect unbridled power, resources, and influence can have on humanity. We'll discuss the affinity for storytellers to associate Lex Luthor and with the field of science as they challenge our morals and integrity with real world issues such as cloning and what can happen if science fiction became science reality.
A Sneak Peek at the next DC Universe Movie, Justice League vs. The Fatal Five – An entertaining, insightful exciting look at the next animated film in the popular DC Universe Movies collection.
From the DC Vault: Superman: The Animated Series, "Heavy Metal"
From the DC Vault: Justice League Unlimited, "Panic in the Sky"
The 4K Ultra HD Blu-ray disc of Reign of the Supermen will feature Dolby VisionTM HDR that dramatically expands the color palette and contrast range and uses dynamic metadata to automatically optimize the picture for every screen, frame by frame. The 4K Ultra HD Blu-ray disc of Reign of the Supermen will also feature a Dolby Atmos® soundtrack remixed specifically for the home theater environment to place and move audio anywhere in the room, including overhead. To experience Dolby Atmos at home, a Dolby Atmos enabled AV receiver and additional speakers are required, or a Dolby Atmos enabled sound bar. Dolby Atmos soundtracks are also fully backward compatible with traditional audio configurations and legacy home entertainment equipment.
Reign of the Supermen will also be available on Movies Anywhere. Using the free Movies Anywhere app and website, consumers can access all their eligible movies by connecting their Movies Anywhere account with their participating digital retailer accounts.
Fans can also own Reign of the Supermen via purchase from digital retailers beginning January 15, 2018.
DIGITAL DISTRIBUTION ELEMENTS
On January 15, Reign of the Supermen will be available to own in high definition and standard definition from select digital retailers including Amazon, FandangoNow, iTunes, PlayStation, Vudu, Xbox and others. On January 29, Reign of the Supermen will be made available digitally on Video On Demand services from cable and satellite providers, and on select gaming consoles.
ABOUT MOVIES ANYWHERE
Movies Anywhere is a digital movie platform that enables movie fans to discover, access, and watch their favorite digital movies in one place. Movies Anywhere brings together a library of nearly 7,500 digital movies from Sony Pictures, Twentieth Century Fox Film, The Walt Disney Studios (including Disney, Pixar, Marvel Studios and Lucasfilm), Universal Pictures (including DreamWorks and Illumination Entertainment) and Warner Bros., and will continue to expand the consumer experience as more content providers, digital retailers and platforms are added. By connecting participating digital retailers that include Amazon Prime Video, FandangoNOW, Google Play, iTunes and Vudu, movie fans can now bring together their digital movie collections (whether purchased or redeemed) in one place and enjoy them from the comfort of their living rooms, and across multiple devices and platforms, including Amazon Fire devices; Android devices and Android TV; Apple TV; Chromecast; iPhone, iPad and iPod touch; Roku® devices and popular browsers. Movie fans can also redeem digital codes found in eligible Blu-ray and DVD disc packages from participating studios and enjoy them through Movies Anywhere. Movies Anywhere – your movies, together at last.
ABOUT DIGITAL
Digital movies or TV episodes allow fans to watch a digital version of their movie or TV show anywhere, on their favorite devices. Digital movies or TV episodes are included with the purchase of specially marked Blu-ray discs. With digital, consumers are able to instantly stream and download movies and TV shows to TVs, computers, tablets and smartphones through retail services. For more information on compatible devices and services go to wb.com/digitalmoviefaq. Consult a digital retailer for details and requirements and for a list of digital-compatible devices.
BASICS
PRODUCT SRP
4K UHD Combo Pack $39.99
Blu-ray Combo Pack $24.98
4K and Blu-ray Street Date: January 29, 2019
EST Street Date: January 15, 2019
Blu-ray Languages: English, Spanish, French, German
Blu-ray Subtitles: English, Spanish, French, German, Finnish, Danish,
Japanese, Norwegian, Swedish
Running Time: 87 minutes
Rating: PG-13 for sequences of action violence