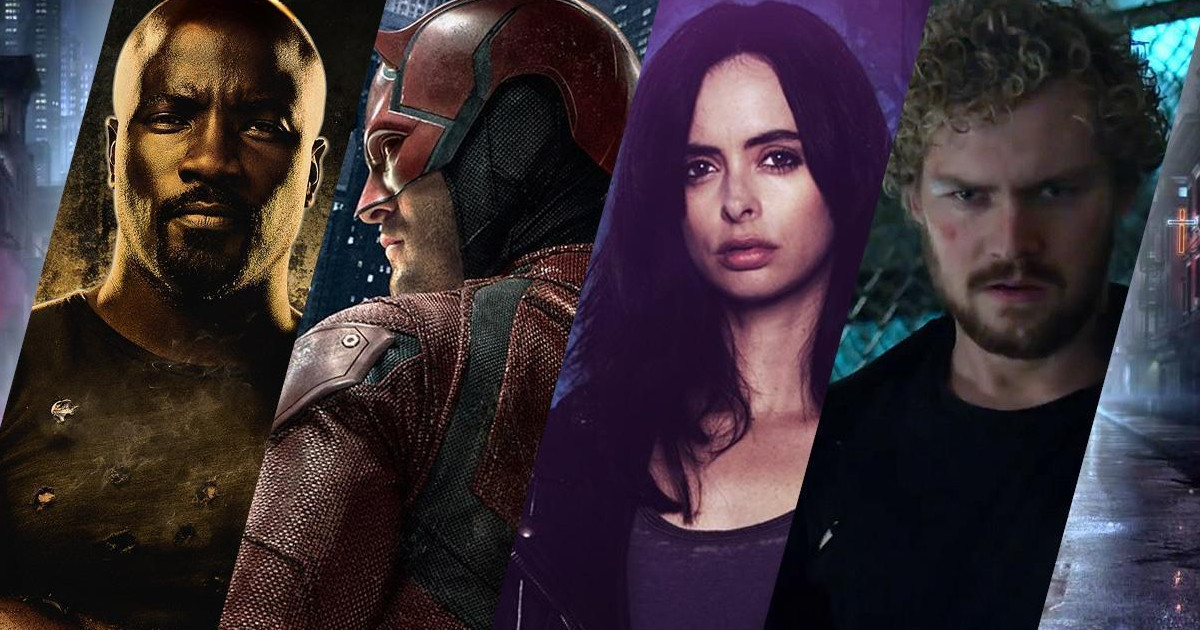 Netflix released information on the shows that stream on their digital service that led to new viewers watching their Marvel series, which includes Daredevil, Jessica Jones, Luke Cage and Iron Fist. Netlix points out their algorithm of recommending similar shows isn't simply genre-specific, but something related they might not expect.
Details below.
Info:
Decoding the Defenders: Netflix Unveils the Gateway Shows That Lead to a Heroic Binge
Netflix superpower? Knowing what viewers should watch next, especially if it's something they'd never expect. Case in point, one in eight Marvel Television viewers were new to comic book based content before discovering their first heroic binge on Netflix1.
Viewers are finding their way to the adventures of Daredevil, Jessica Jones, Luke Cage and Iron Fist through shows as diverse as the Defenders crew. And it's not by chance, it's by design – more than 80% of all shows are discovered through Netflix recommendations.
"At Netflix we know genres are just wrappers, which is why we work hard to create algorithms that help members break these pre-conceived notions and make it easier for them to find stories they'll love, even in seemingly unlikely places," said Todd Yellin, Vice President of Product.
Getting over a genre bias isn't limited to the Marvel Universe. One in five Stranger Things fans were new to horror before entering the Upside Down2. Similarly, one in seven Black Mirror watchers were new to science fiction before exploring the dark side of technology3.
Looking into the shows those new to the genre watched most4 before its four Marvel series, Netflix uncovered interesting patterns that act as a bingeing gateway to the Marvel Universe .
Anti-heroes and moral ambiguity lead viewers to Marvel's Daredevil.
Stories that dabble in life's grey area heighten viewers' senses for Daredevil, like the political turmoil of House of Cards and the thin lines of family loyalty in Bloodline. As do characters who blur the lines between vigilante and villain, like Walter White's entrepreneurial antics in Breaking Bad and Dexter Morgan's homicidal heroics in Dexter.
Sharp humor, strong females and dark crime draw watchers to Marvel's Jessica Jones.
It's Jessica Jones' sharp wit that makes her bingeworthy. Series with smart humor, like Master of None, Friends and John Mulaney: The Comeback Kid, draw viewers to Jones as do stories with strong female leads, like Orange is the New Black. A nod to her detective roots, series immersed in dark criminal worlds also do the trick, like the psychological thrill of Making A Murderer.
Dangerous worlds and complex consequences direct viewers to Marvel's Luke Cage.
Shows that expose the dark side of society draw viewers to Luke Cage, like the question of guilt in Amanda Knox and the examination of technology in Black Mirror. Similarly, series immersed in dangerous realms, like a cartel-ridden Medellin in Narcos and a zombie-filled Atlanta in The Walking Dead, lead watchers to Cage's world.
Edgy coming-of-age tales steer watchers to Marvel's Iron Fist.
Grit isn't the only path to a comic binge. Edgy coming-of-age series, like Love, Shameless and 13 Reasons Why, bring viewers to Danny Rand and his transitional tale from orphan to crime fighter. The passage from warrior to winner also struck a chord with viewers courtesy of Ultimate Beastmaster.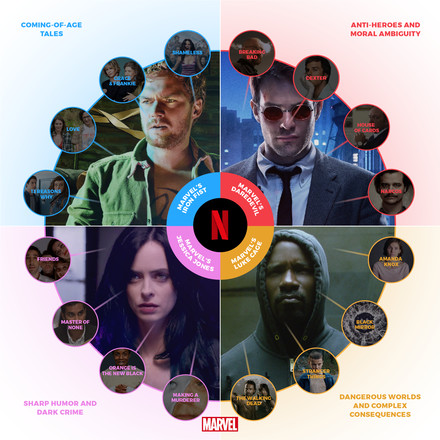 Methodology
1 Members who had never watched content tagged "superhero" on Netflix prior to watching one of the Marvel series.
2 Members who had never watched content tagged "horror" on Netflix prior to watching Stranger Things.
3 Members who had never watched content tagged "science fiction" on Netflix prior to watching Black Mirror.
4 Netflix analyzed viewing of members who had never watched content tagged "superhero" prior to watching one of its Marvel series to identify the top ten most watched global titles prior to each series for those new to the genre. The analysis was conducted across 40+ countries between 2015 and 2017.