Check out the first look at Ms. Marvel from the upcoming Disney Plus series as set images out of Atlanta, Georgia feature Iman Vellani as Kamala Khan.
The pics come from Thursday as Marvel continues filming the series.
Details include that Iman Vellani was seen riding a bicycle as she prepared to play the role of Ms. Marvel/Kamala Khan and also that Vellani is doing her own stunts with the scene involving her falling off her bike.
Additional images also show Iman Vellani dressed wearing a Captain Marvel costume.
See below.
Ms. Marvel has no release date, but it will likely debut sometime in 2021 on Disney Plus and joins WandaVision, The Falcon and the Winter Soldier, Loki, and Hawkeye, as well as She-Hulk and Moon Knight.
Ms. Marvel: Iman Vellani as Kamala Khan images: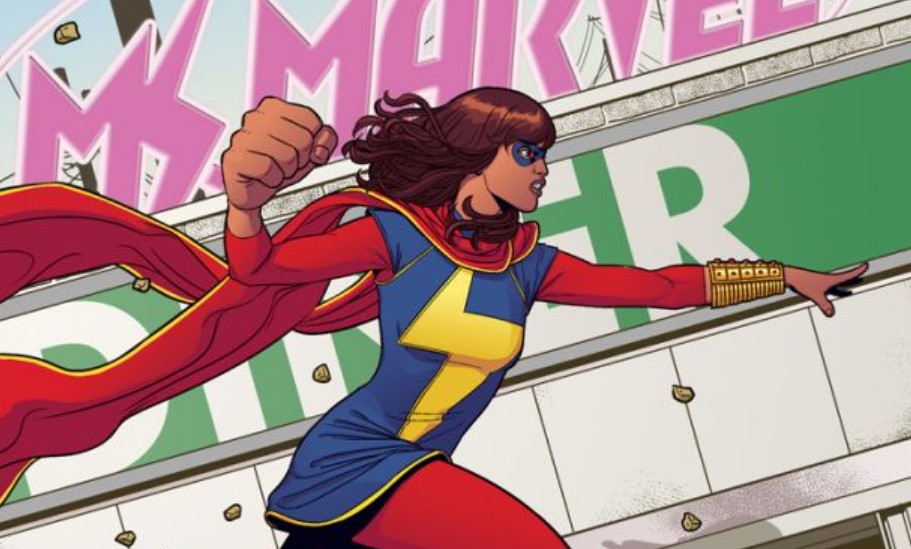 Marvel.com describes Ms. Marvel as:
Pakistani-American Super Hero Kamala Khan protects the streets of Jersey City with her one-of-a-kind embiggening power.

A Pakistani-American growing up in Jersey City, Kamala Khan idolized Super Heroes like Captain Marvel, never dreaming she'd have the opportunity to join her role models in safeguarding society from the forces of evil. With an Inhuman ability to alter shape and size, the newest Ms. Marvel employs an idealistic attitude as much as any power to make the world a better place.

When Black Bolt of the Inhumans released the Terrigen Mist into Earth's atmosphere, transforming and empowering several latent members of the super-powered race, even the silent monarch could not have guessed the effect his actions would have on teenager Kamala Khan—or in turn, how Kamala would affect the world around her. Prior to her metamorphosis, the Muslim American youth dealt with problems like balancing her family's religious and spiritual beliefs with the society she lived in, not to mention fitting in at school and other typical problems facing a girl her age.

Upon having her Inhumanity awakened and discovering she could now extend her limbs, alter her appearance, and shift shape in other manners, Kamala immediately crafted a costumed identity in line with her heroes. Choosing to become part of Captain Marvel's legacy, the youngster adopted the discarded Ms. Marvel name, and with the help of her friend—and unrequited crush—Bruno Carrelli, a tech wizard in his own right, dedicated herself to cleaning up the criminal element of Jersey City.

In the course of becoming a local hero, Khan would encounter various peers in the super-powered community, always with enthusiasm and unbridled joy. Early team-ups for Ms. Marvel included the mutant Wolverine, her fellow Inhumans, and, in a landmark moment for the burgeoning crusader, Captain Marvel herself, who happily endorsed her young protégée. Of course, with the good comes the bad, and during Kamala's tenure protecting her home, she has butted heads with the likes of new threats such as the human/bird hybrid The Inventor and a Hydra sect operating subversively out of Jersey City.