The Marvel Realm of Champions mobile game has been officially launched worldwide by Kabam with a new trailer released.
The all-new mobile action RPG and brawler game and the first Marvel game to allow for complete character-class customization with your very own Marvel Champions is now out today for the App Store and Google Play.
Marvel Realm of Champions is a bold new imagining of the Marvel Universe that transports players to Battleworld, a mysterious, war-ravaged planet forged from many realities. The factions of Battleworld were kept in isolation until Maestro marched over the land, forcibly unifying the houses into a single Realm. The Maestro's reign was cut short with his mysterious murder, causing massive unrest, threatening imminent war. In a last-ditch effort, a group of the House Leaders gathered in secret and agreed to fight in a secret war to prevent an open war. Players will fight for supremacy as they team up with friends for epic multiplayer mayhem in unique visually stunning Marvel-inspired battle arenas and brawl in action-packed, real-time, team battles for glory, triumph, and honor. Marvel Realm of Champions features the ability to customize their Marvel Champion through a variety of powerful gear, abilities, and weapons to tackle any combat situation and their unique Marvel style.
Marvel Realm of Champions | Worldwide Launch Trailer: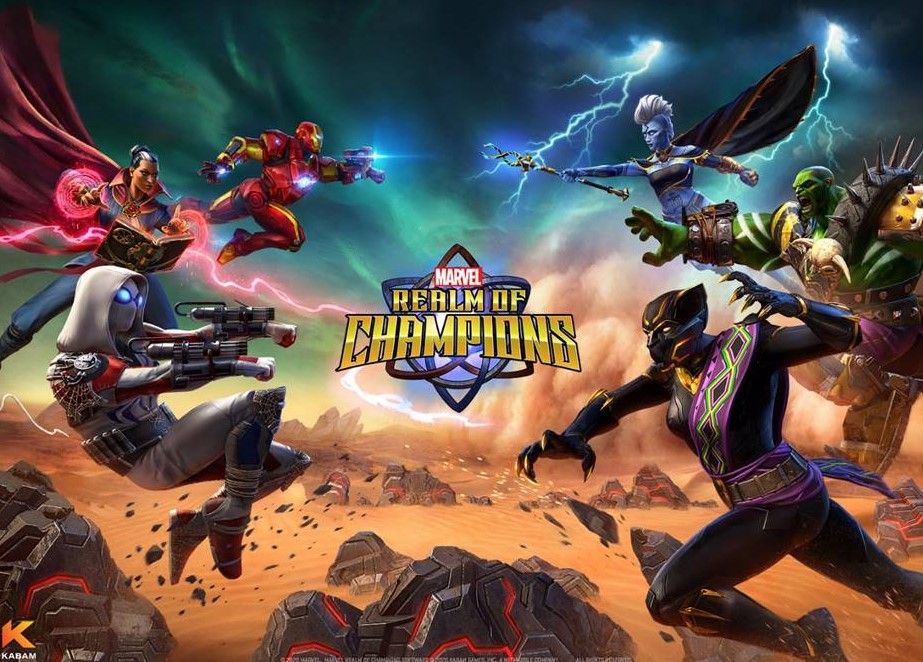 Customize your ultimate Marvel Champion with weapons and gear, then team up with your network of friends in real-time high-action brawls. Play your part in an epic war of planetary proportions as you rise from a rookie Champion to become a legendary hero of BATTLEWORLD!
YOUR CHAMPION. YOUR WAY.
Customize – The only Marvel game where you can become your favorite Champion and customize them to reflect both your personality and battle style.
Enhance – Earn gear and upgrades as you brawl through the mayhem. Gear and weapons will add to your Champions' abilities and strength. The more powerful your Champion becomes, the more successful you will be!
Play the Perfect Role – Tank with your Hulk and soak up hits while you attack hard with area disruption. Bring your Black Panther to inflict devastating damage at close range. Use high-powered ranged attacks with your Web Warrior and Iron Legionnaire. Amplify your allies with your Storm and Sorcerer Supreme and deal bursts of damage to vanquish groups of foes.
EXPERIENCE BATTLEWORLD
A New Marvel Universe – Marvel authenticity with a twist! Experience the deep story of Battleworld, full of mystery, intrigue, and ferocious battles with characters from across Marvel history.
Marvel Inspired Battle Arenas – Fight in the barbarian wastelands of the Hulk Gamma Horde, high-tech cityscapes composed of Iron Man's Stark Tech, and much more!
A Visually Stunning World – Witness awe-inspiring graphics and representations of iconic Marvel characters, battle arenas, and spectacular special moves.
EPIC REAL-TIME MULTIPLAYER BRAWLS
Strategize with your team to select the right mix of Champions to dominate over the competition in action-packed team battles!
Arena Conquest – Engage in real-time 3v3 team brawls! Takedown the opposing team's Baron and claim your victory!
Deathmatch – In this wild 2v2v2 battle for supremacy, gain points by vanquishing your foes in battle. Use epic power-ups to upgrade your Champion's abilities and lead your team to victory!
Stronghold – Team up and battle waves of enemies to protect your ISO Core. The difficulty increases as you successfully progress, along with your rewards!
Onslaught – In the first rotating Strike game mode, fight off 15 waves of increasingly difficult enemies that bear down on you and your teammates.
YOUR TEAM. YOUR ALLIANCE.
Join an Alliance or create your own to forge a community of Champions ready to tackle Battleworld's challenges! Whether you are looking to round out your Arena Conquest team or the key to your perfect Stronghold defense, Alliances are the best way to find your next teammate.
MAKE MARVEL YOURS! Your Champion. Your Team. Your Realm.
Join the intense, team-based multiplayer action and put your Champion to the test in action-packed brawls where skill and strategy will earn you a place among LEGENDS!