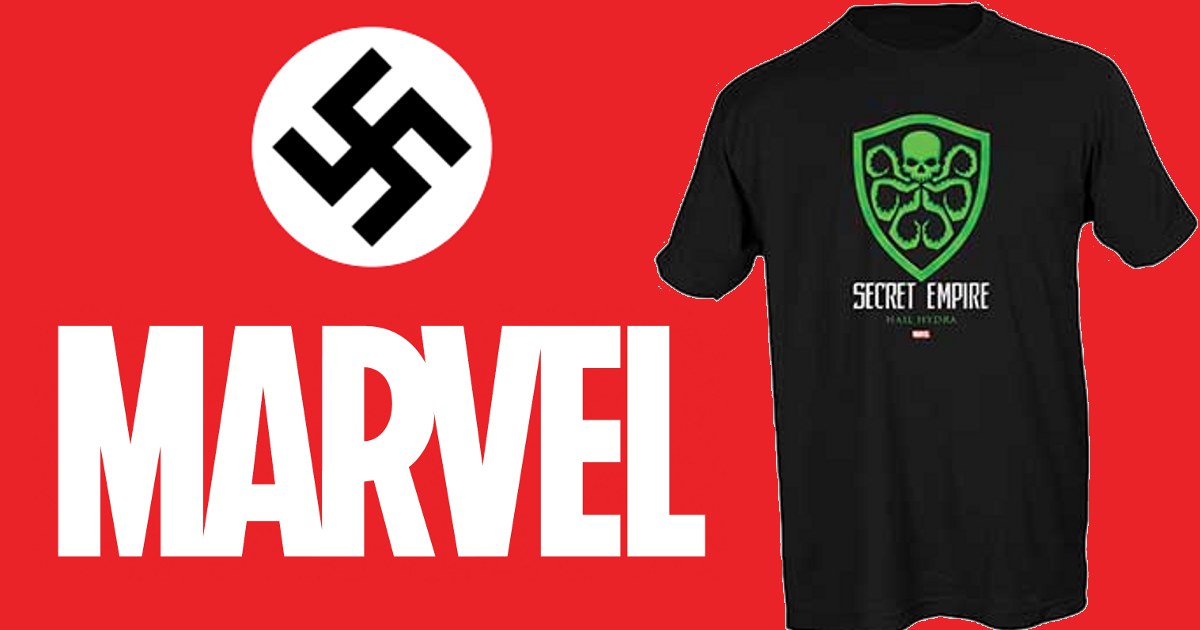 Marvel Comics seems to have a bit of a PR problem as of late, as not only are they in the hot seat regarding comments made by EIC Axel Alonso and VP of Sales David Gabriel, but now their Secret Empire retailer promotion is backfiring big time.
Marvel Comics latest event launched this week with Secret Empire which saw it revealed that the Axis had actually won WWII (meaning the Nazis) and that Captain America has been part of Hydra all along.
Well, as a way to promote Secret Empire, Marvel Comics came up with the "brillaint" idea to have retailers dress as members of Hydra (who are really Nazis).
As Bleeding Cool points out, a bunch of retailers aren't too thrilled with the Hydra idea (to say the least) as some of the retailers are from Jewish decent, had relatives who served in WWII, or are from a different background that the Nazis exterminated.
It's also pointed out that Marvel's Secret Empire isn't selling that well.
I can also say our very own comic book reviewer Chris Bushley, whom Marvel Comics has quoted many times on the covers of their books and in press releases, has decided to boycott Secret Empire.
It should also be noted that Marvel Comics is not giving away the Hydra t-shirts for free, but that apparently retailers need to order a certain amount of the books to be eligible, and then on top of that the retailers has to pay for the Hydra t-shirt.
As someone who works in a comic store, Marvel can f— off with this nonsense. My grandfather was an Allied soldier captured by the Nazis. https://t.co/temUcbzvx1

— (@sapphicgeek) April 20, 2017
We've also been asked to change our store logos to Hydra symbols. My staff are LGBTQ, Jewish, or both. We are no longer hand-selling Marvel. https://t.co/gQnBfBZC8L

— Glamour Toad (@NickiColey) April 20, 2017
As someone who used to manage a comic store, I would simply like to say f— THIS. https://t.co/IuduzY4hh8

— Jason Heller (@jason_m_heller) April 21, 2017
@tambourine the show Agents of SHIELD literally made it a point a week or two ago to have the characters assert multiple times that Hydra is Nazis

— shereen (@shereeny) April 21, 2017