With the release of the new Justice League movie trailer, the Justice League takes the top spot amongst social media buzz.
ComScore released statistics which states Justice League is currently the most talked about movie.
Right behind Justice League is Star Wars: The Last Jedi, which released two teasers of their own yesterday. We can probably speculate that online chatter will pick up even more tonight with the release of the new Star Wars: The Last Jedi trailer and that it will probably surpass that of Justice League.
The third most talked about movie is Thor: Ragnarok, which has decent buzz about the movie as most of the trailers and new footage have been released.
In fourth comes in Pacific Rim Uprising, which saw the new trailer drop at the New York Comic-Con offering a look at John Boyega, Scott Eastwood and the new Jaeger mechs and monster Kaiju.   
Watch the new Justice League trailer below!
(via Variety)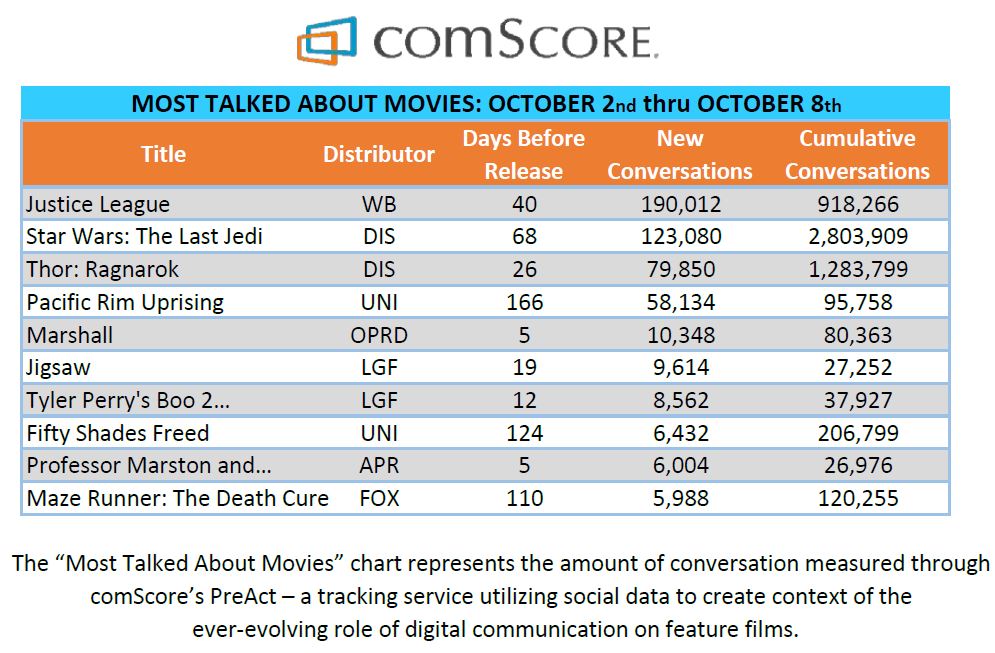 Justice League has a November 17, 2017 release directed by Zack Snyder, with the story by Chris Terrio and Zack Snyder, the screenplay by Chris Terrio and Joss Whedon, and stars Ben Affleck as Batman, Henry Cavill as Superman, Gal Gadot as Wonder Woman, Jason Momoa as Aquaman, Ezra Miller as The Flash, Ray Fisher as Cyborg, J.K. Simmons as Commissioner Gordon and Willem Dafoe an Atlantean, Nuidis Vulko.
Fueled by his restored faith in humanity and inspired by Superman's selfless act, Bruce Wayne enlists the help of his newfound ally, Diana Prince, to face an even greater enemy. Together, Batman and Wonder Woman work quickly to find and recruit a team of metahumans to stand against this newly awakened threat. But despite the formation of this unprecedented league of heroes—Batman, Wonder Woman, Aquaman, Cyborg and The Flash—it may already be too late to save the planet from an assault of catastrophic proportions.