Amazon Prime has released the Invincible trailer which is based on the comic book from Robert Kirkman who created The Walking Dead.
Invincible is an adult animated superhero series that revolves around 17-year-old Mark Grayson (Steven Yeun), who's just like every other guy his age — except his father is the most powerful superhero on the planet, Omni-Man (J.K. Simmons). But as Mark develops powers of his own, he discovers his father's legacy may not be as heroic as it seems.
The eight-episode series will be released in 2021 and stars The Walking Dead's Steven Yeun as the voice of the titular character, Mark Grayson; J.K. Simmons as Omni-Man; Sandra Oh as Debbie Grayson; Seth Rogen as Allen the Alien; Zazie Beetz as Amber Bennett; Mark Hamill as Art Rosenbaum; Walton Goggins as Cecil Stedman; Jason Mantzoukas as Rex Sloan; Mae Whitman as Fightmaster & Dropkick; Max Burkholder as Oliver Grayson; Chris Diamantopoulos as Doc Seismic; Grey Griffin as Amanda; Gillian Jacobs as Atom Even; Melise as Dupli-Kate; Khary Payton as Black Samson; with Zachary Quinto as Robot.
Invincible is produced by Skybound, with Simon Racioppa (Teen Titans) serving as showrunner. The series is executive produced by Kirkman, Racioppa, David Alpert (The Walking Dead, Fear the Walking Dead), Catherine Winder (The Angry Birds Movie, Star Wars: The Clone Wars) with Supervising Directors Justin & Chris Copeland (Avengers Assemble, Ultimate Spider-Man). Invincible, Kirkman's second-longest comic-book series, concluded in February 2018 after a 15-year run. The full series is available across 23 countries and in eight languages and is also currently in development separately as a feature-length movie.
Invincible trailer: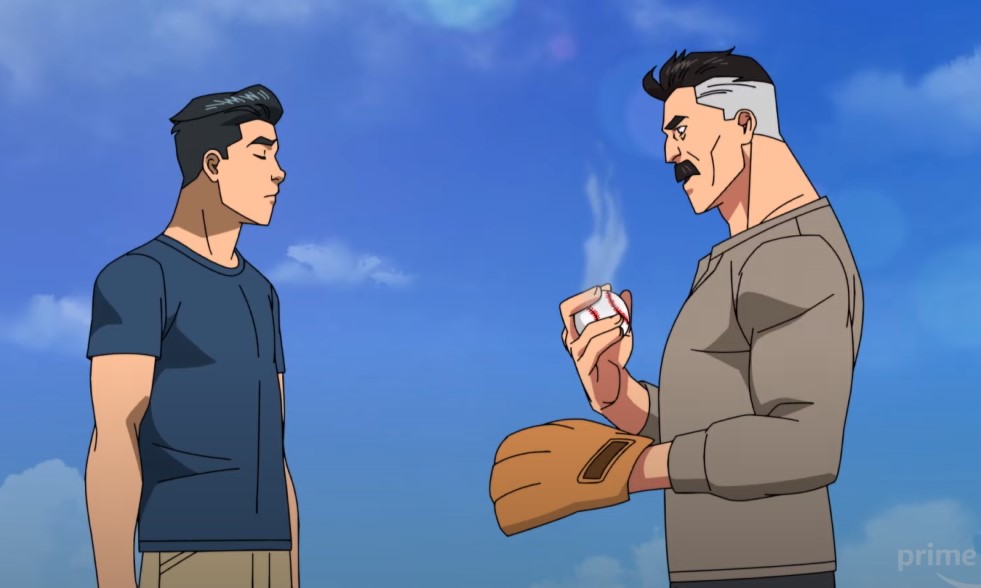 The comic book series is described as:
Mark Grayson is teenage superhero Invincible. He was a normal high school senior with a normal part-time job and otherwise normal life, except his father Nolan is the superhero Omni-Man, the most powerful superhero on the planet. At the age of 17, Mark begins to display superpowers, which come from his father being a member of the Viltrumite race, who, according to Nolan, pioneer the galaxy on a mission of benevolence and enlightenment. As Invincible, Mark begins working as a superhero, with his father acting as his mentor, and meeting other heroes. Mark worked occasionally with a superhero team called the Teen Team (consisting of Robot, Rex Plode, Dupli-Kate and Atom Eve), from there discovering that his Physics teacher has been turning his students into human bombs. He stops his teacher with the help of the heroine, Atom Eve. He also foils a plan to make an army of robots, created by the Mauler Twins. Meanwhile Omni-Man is kidnapped by aliens, taken to another dimension, but returns after what seems to be only a few days, but was actually eight months to him.