Following a two week absence, Henry Cavill has returned to social media with a pair of posts, with the latest showing the Superman actor supporting England in the Rugby World Cup.
"Half time for the biggest match of the Rugby World Cup 2019 so far!! England Vs New Zealand. England have come out swinging!!! Everything to play for still. The All Blacks (New Zealand) are always dangerous…..and so are we. C'Mon England!!! #England #Rugby #RWC2019 #NewZealand," Cavill posted on Instagram on Saturday.
England went on to win 19 – 7.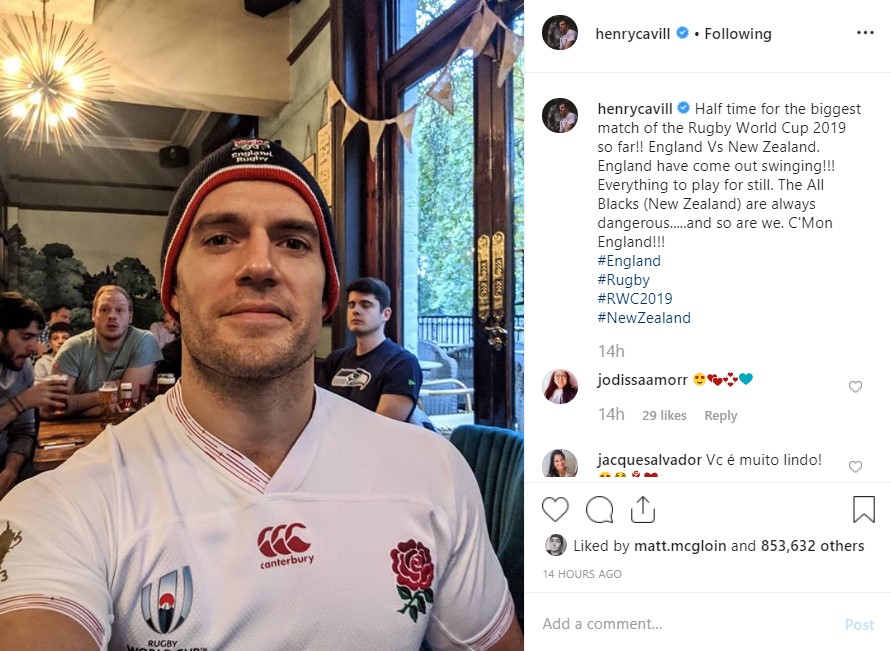 Henry Cavill back on social media
The previous post from Henry Cavill showed him in Shanghai at a fashion show while promoting Boss.
"I'm back! And I'm in Shanghai! I had the good fortune of attending the Hugo Boss Pre-Fall 2020 fashion show and got to rub shoulders with the likes of Mark Langer, Chun Wu and the designer himself Ingo Wilts," Henry Cavill posted on Instagram Friday. "And yes this was a work event but, genuinely, every time I come to Shanghai it leaves me wanting more. I can't wait to get back here on my own time and enjoy the city and all it has to offer. Thank you China and thank you Hugo Boss for being such wonderful hosts once again. See you when I see you next!"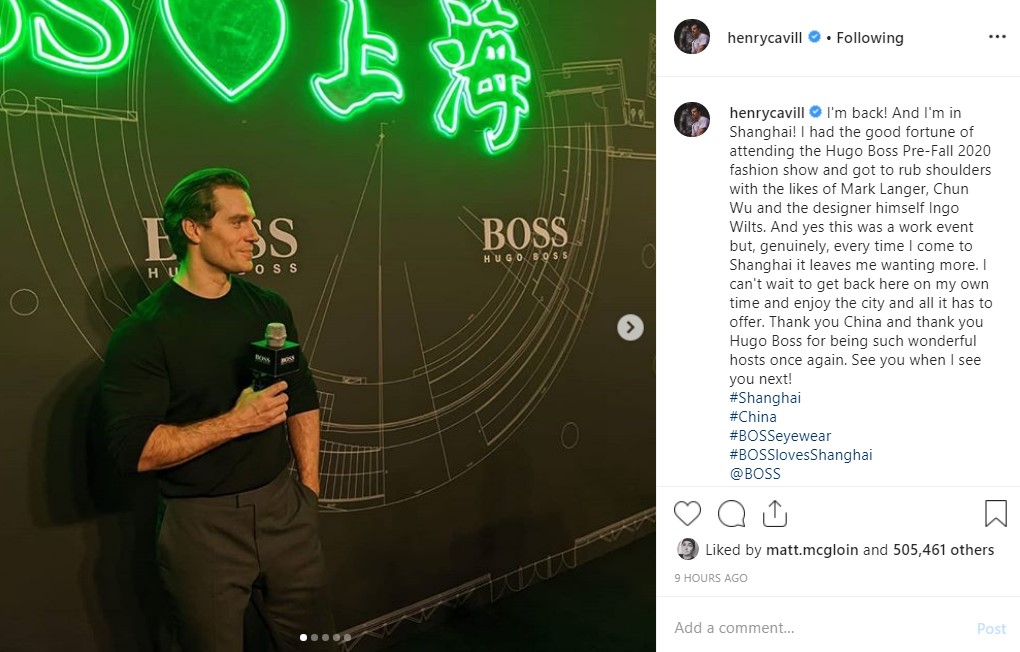 Henry Cavill stars in The Witcher
Sunday also sees new footage from The Witcher released at the London Comic Con, with new images recently released of Henry Cavill as Geralt of Rivia, the solitary monster hunter, hunting a kikimore, an insectoid monster species that lives underground as well as in swamps.
The panel is being held at 12:00 on Sunday 27 October, MCM's Centre Stage where the London Comic Con will welcome The Witcher showrunner Lauren Schmidt Hissrich and one of the leading actors in the show, Freya Allan (who plays Princess Ciri) for an exclusive panel. As well as talking about the series, they'll be revealing exciting new footage from the show.
Across the weekend MCM London (25-27 October), there'll also be a special experiential photo booth that'll serve as an introduction to the world of The Witcher. The nameless Continent is a place where iconic white-haired monster hunter Geralt of Rivia (played in the show by Mission Impossible – Fallout, and Man of Steel star Henry Cavill) unexpectedly finds himself pushed towards a powerful sorceress and a young princess with a dangerous secret…