Strong is The Force with Chewbacca!
I've all but written off Star Wars: The Last Jedi with the reveal of the Porgs, as the penguin-like wide-eyed creatures have no place in a Star Wars movie! Think the Ewoks! Think Jar Jar Binks!
Star Wars is about a battle between the Dark Side and the Light Side. It's war! It isn't a place for some cutsie creature who only appears in the movie as a product placement (puke) to sell merchandise for Disney.
So when Disney revealed the images of the Porgs, I thought that was the final straw for Star Wars. I'm not a big fan of either The Force Awakens (rehash) or Rogue One (boring), but I had high hopes director Rian Johnson would give us something better and new with Star Wars: The Last Jedi. Then to my surprise the Porgs were revealed! I figured it was all over!
EW.com revealed that the Porgs are native to the planet of Ahch-To, site of the first Jedi temple, and current home of Luke Skywalker. Official images even revealed the Porgs on board the Millennium Falcon (more puke!).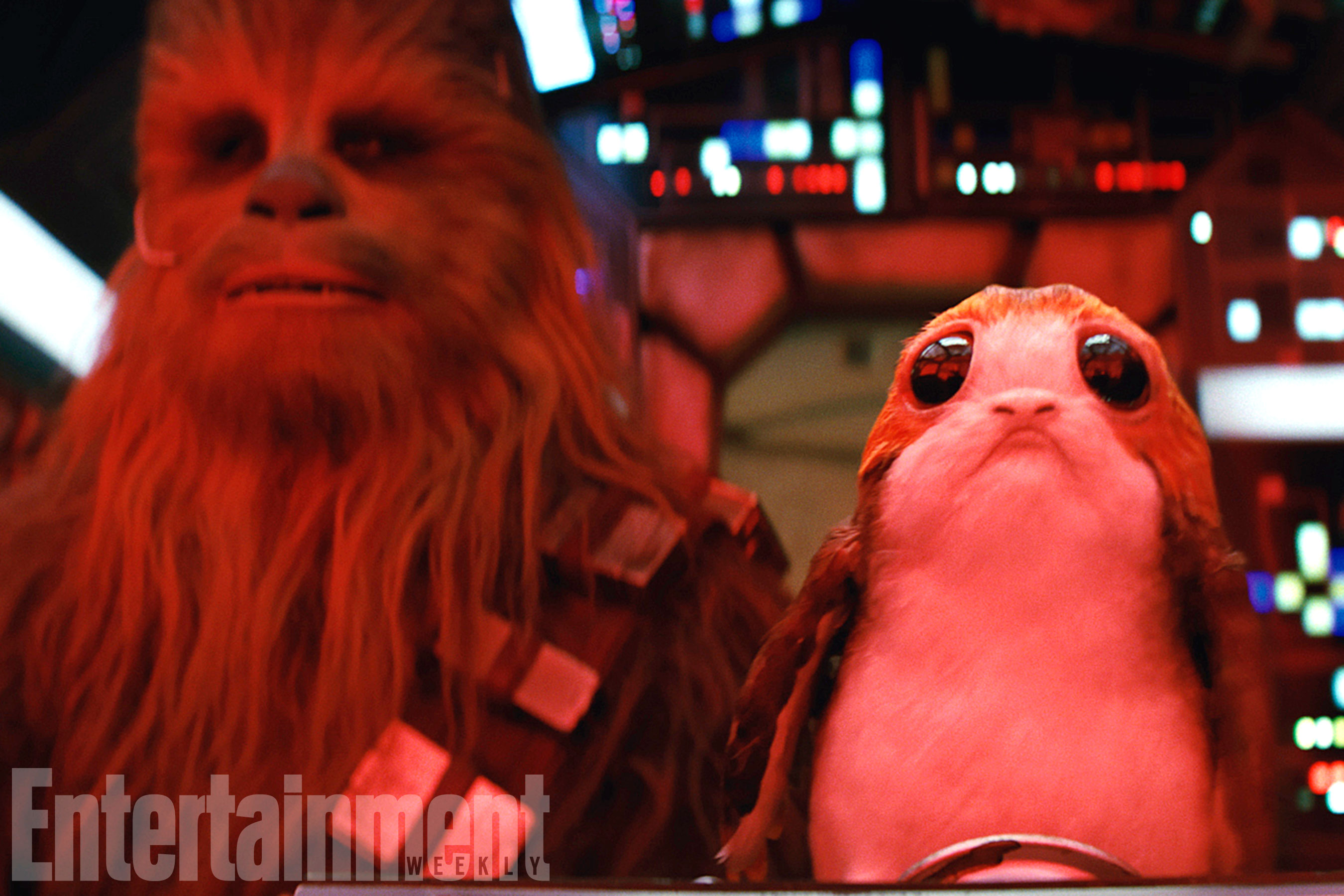 Now the good news!
It's actually being theorized that Chewbacca eats the Porgs!
Yes!
Fans have pointed out that one particular scene in Star Wars: The Last Jedi features Chewbacca in the Millennium Falcon with a feather sticking out of his mouth, leading to speculation Chewy ate one of the little bastards!
Mashable notes that Chewbacca is still mourning the loss of his friend Han Solo and is "a little more volatile than usual." It's thought Chewy grabs a Porg snack while sitting by the camp fire on Ahch-To.
As pointed out, fans on Twitter have also taken notice (see below), and video of the Porg toy has hit the net revealing it's squeaky cuteness.
I hope Chewy makes them extinct!
"Star Wars: The Last Jedi" has a December 15, 2017 release directed by Rian Johnson starring Daisy Ridley, Adam Driver, Carrie Fisher, Mark Hamill, Domhnall Gleeson, Oscar Isaac and Benicio Del Toro.