Ezra Miller joins Amazon's Invincible adult animated series, which is based on the Robert Kirman comic book from Image Comics.
Miller, who is known for playing DC's The Flash, will provide the voice of D.A. Sinclair who in the comics is a reclusive scientist at Upstate University and is the creator of the "Reanimen" — robotic zombies intended to be "the soldiers of the future."
Amazon made the cast announcement at this weekend's CCXP convention.
D.A. Sinclair from Invincible comics: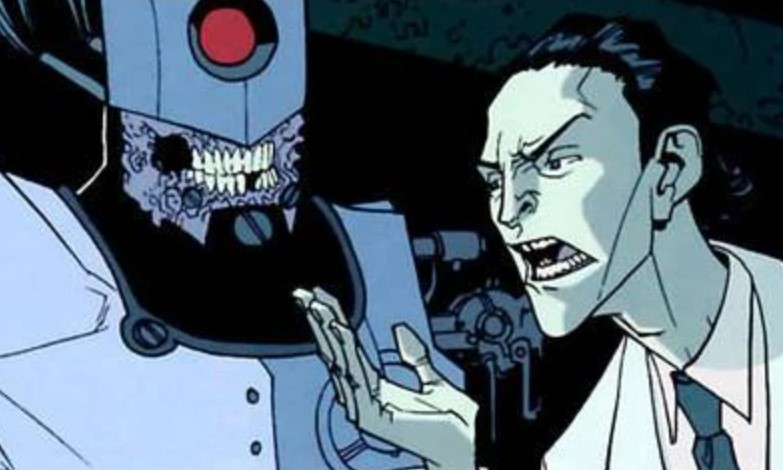 Invincible cast:
Also announced as part of the cast includes Clancy Brown as Damien Darkblood, Djimon Hounsou as the Martian Emperor, Jeffrey Donovan as Machine Head, Nicole Byer as new characters Fiona and Vanessa, Jon Hamm as the new character Steve, Jonathan Groff as Rick Sheridan, and Mahershala Ali as Titan.
The previously announced cast for Invincible also includes Steven Yeun as the voice of the titular character, Mark Grayson; J.K. Simmons as Omni-Man; Sandra Oh as Debbie Grayson; Seth Rogen as Allen the Alien; Zazie Beetz as Amber Bennett; Mark Hamill as Art Rosenbaum; Walton Goggins as Cecil Stedman; Jason Mantzoukas as Rex Sloan; Mae Whitman as Fightmaster & Dropkick; Max Burkholder as Oliver Grayson; Chris Diamantopoulos as Doc Seismic; Grey Griffin as Amanda; Gillian Jacobs as Atom Even; Melise as Dupli-Kate; Khary Payton as Black Samson; with Zachary Quinto as Robot.
The eight-episode series will be released in 2021. Check out the trailer below.
Invincible trailer:
Invincible is produced by Skybound, with Simon Racioppa (Teen Titans) serving as showrunner. The series is executive produced by Kirkman, Racioppa, David Alpert (The Walking Dead, Fear the Walking Dead), Catherine Winder (The Angry Birds Movie, Star Wars: The Clone Wars) with Supervising Directors Justin & Chris Copeland (Avengers Assemble, Ultimate Spider-Man). Invincible, Kirkman's second-longest comic-book series, concluded in February 2018 after a 15-year run. The full series is available across 23 countries and in eight languages and is also currently in development separately as a feature-length movie.