DC Comics announces a pair of villain comics will be released in March with Crime Syndicate, an evil version of the Justice League, and The Joker.
Crime Syndicate is a new mini-series from writer Andy Schmidt and artist Kieran McKeown that kicks off March 2.
Joker is a new ongoing monthly series from Batman writer James Tynion IV and artist Guillem, with the first issue getting released on March 9.
Check out the full details and art below.
Press Release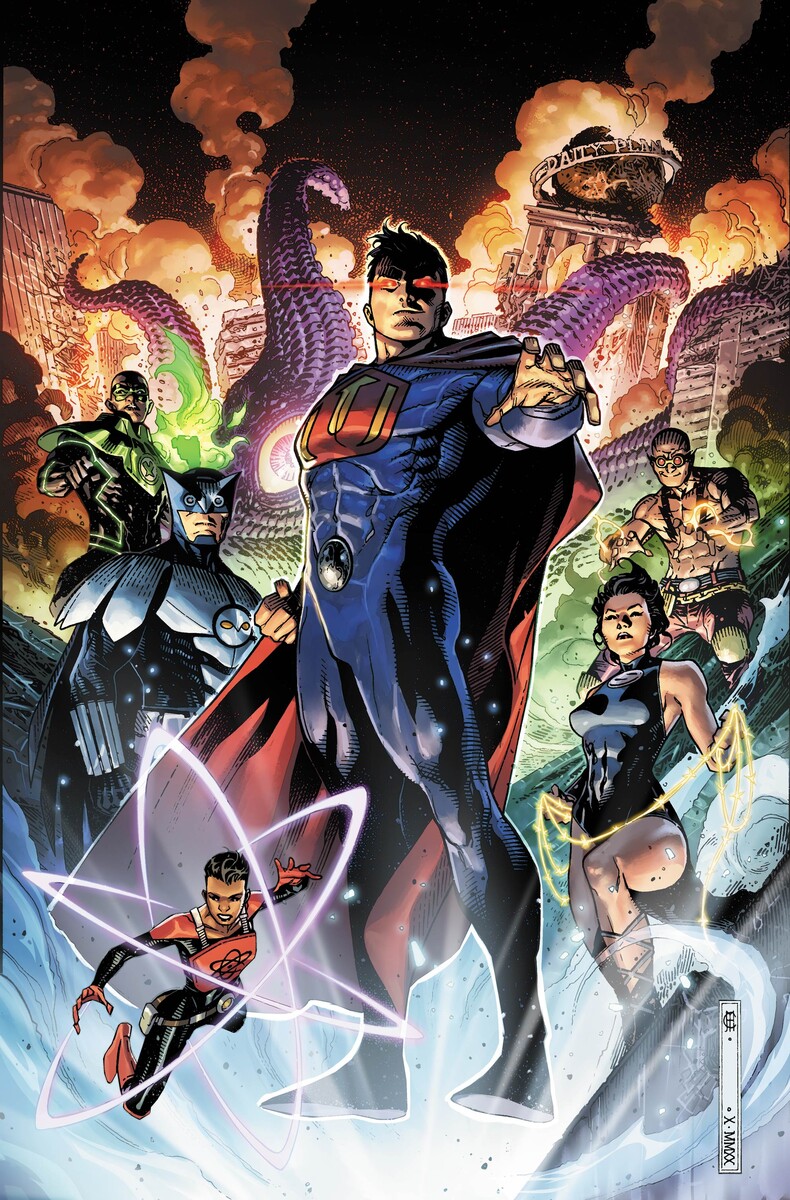 DC'S CRIME SYNDICATE RETURNS!
Spinning out of Dark Nights: Death Metal, the DC Multiverse is reborn, and with it a new Earth-3!
What if the Justice League decided to rule the world instead of protect it?
A paranoid titan (Ultraman), a narcissist (Super Woman), a nihilist (Owlman), a broken moral compass (Power Ring/Emerald Knight), a sociopath (Johnny Quick) and a sadist (Atomica). Does the world stand a chance?
Spoiler alert: No. No, it does not. Writer Andy Schmidt and artist Kieran McKeown will launch DC's new Crime Syndicate mini-series on March 2 to tell the origin of the evil Justice League from Earth-3!
Spinning out of the pages of Dark Nights: Death Metal, the DC Multiverse is reborn, and with it a new Earth-3! Witness the true origins of the malevolent makers of mayhem known as the Crime Syndicate as a common foe unites them! But how long can alliances last between villains like these?
"Kieran and I were given a once a lifetime opportunity to build a world from the ground up," said writer Andy Schmidt. "We're establishing the Crime Syndicate's origin story for the first time—how and why they came together. And we're not taking it lightly. You'll find that you've entered a fully realized world—this is the story of the Crime Syndicate, but it's also the story of Earth-3 and it moves fast and pulls no punches."
Also in this debut issue, witness the origin of Ultraman in our special backup story drawn by super-star artist Bryan Hitch!
Crime Syndicate by Andy Schmidt and Kieran McKeown is a six-issue mini-series debuting on Tuesday, March 2, 2021, with a cover by Jim Cheung and a variant cover by Skan.
Press Release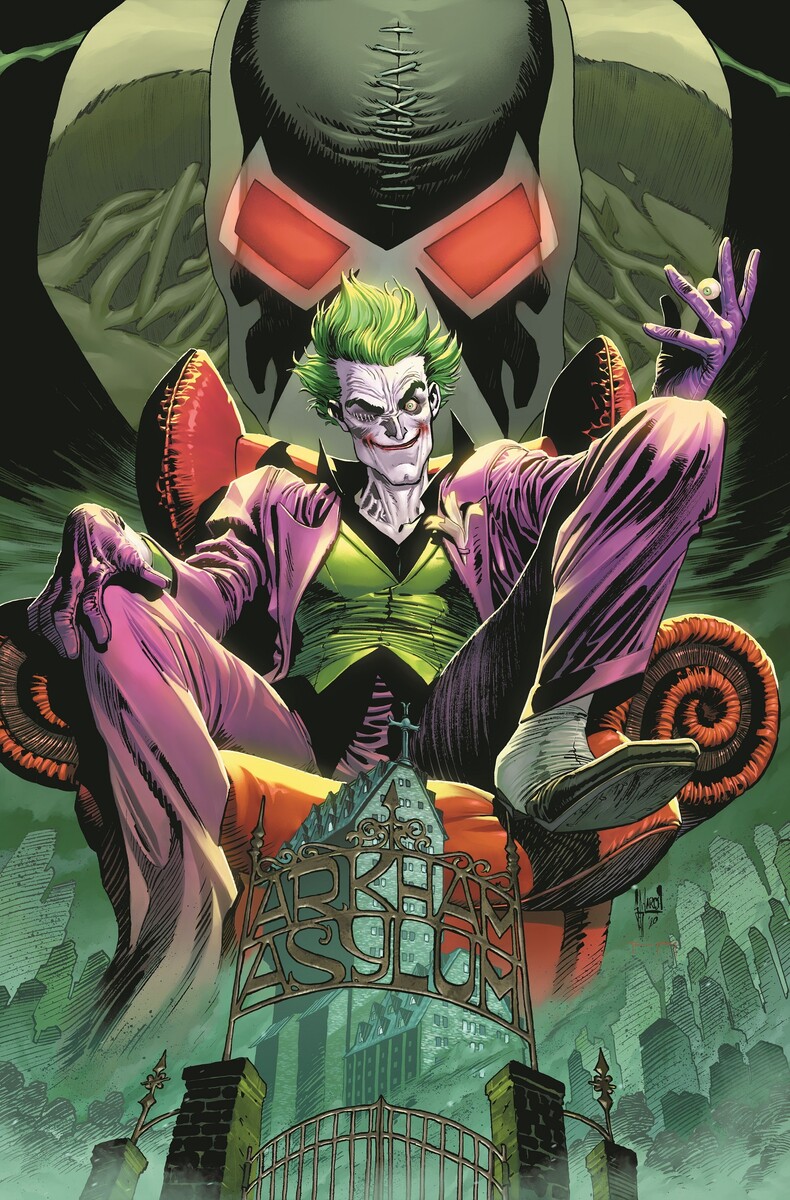 The Joker Faces A Worldwide Manhunt, A Determined EX-Cop and Mysterious New Enemies in The Joker, An All-New Ongoing Monthly Series from DC!
Batman Writer James Tynion IV and Guillem March Put The Joker On the Run This March
Sam Johns Teams Up with Tynion IV and Mirka Andolfo to Continue the Story of Punchline Behind the Walls of Gotham's Most Infamous Prison
Comic book fans everywhere know that The Joker is the most dangerous villain ever to menace Gotham City. But in March, Batman writer James Tynion IV and artist Guillem March go global with The Joker's brand of terror and mayhem in The Joker, a new monthly ongoing series from DC.
After an unthinkable attack on Gotham City, the Clown Prince of Crime has become the most wanted man in the world! The Joker is doing his best to stay several steps ahead of law enforcement overseas, but Jim Gordon, facing retirement, realizes this is the last manhunt of his life and vows to track down Gotham's worst nemesis, completing his storied career. But there are some mysterious and deadly forces that are also on the hunt for The Joker, and they're not going to let Gordon slow them down or get in the way.
"When I was approached by DC about the concept of an ongoing series spotlighting The Joker, I thought, 'What would that book even look like?,'" said Tynion. "I'm excited to share this story in a way that honors everything that a series about The Joker can be, while coming at if from an exciting, unexpected angle. I'm also thrilled to continue working with Sam and Mirka to expand the Punchline story we began in November as a back-up feature in this new ongoing Joker series. The Joker War was only the beginning of the terror and mayhem we're creating!"
In the backup story by Tynion IV, co-writer Sam Johns, and artist Mirka Andolfo, Alexis Kaye, a.k.a. Punchline becomes the newest resident of Blackgate Penitentiary, while on the outside Harper Row resumes her role as Bluebird to prevent her brother from falling under the influence of Punchline and her beguiling brand of anarchy and chaos.
The Joker is a 40-page $4.99 monthly series debuting at comic book stores and participating digital retailers on Tuesday, March 9, 2021. The debut issue features cover art by Guillem March, with variant covers by Frank Quitely, Francesco Mattina, Riccardo Federici and Mark Brooks.