Look up in the sky! It's a bird! It's a plane! It's President Donald Trump sporting a Superman t-shirt following having recovered from the China coronavirus!
President Donald Trump was recently diagnosed with the coronavirus where he was admitted to the Walter Reed National Military Medical Center hospital.
According to the NY Times, an idea that President Donald Trump had when he was leaving the hospital was that he was going to appear frail like he was hurt by the coronavirus, but underneath his dress shirt would be a Superman t-shirt which he would reveal when he ripped open the shirt to offer Americans a symbol of hope and strength.
The Times, assuming the report is true, says that Trump decided not to go ahead with the stunt, which is unfortunate because it would have been pretty epic:
In several phone calls last weekend from the presidential suite at Walter Reed National Military Medical Center, Mr. Trump shared an idea he was considering: When he left the hospital, he wanted to appear frail at first when people saw him, according to people with knowledge of the conversations. But underneath his button-down dress shirt, he would wear a Superman T-shirt, which he would reveal as a symbol of strength when he ripped open the top layer. He ultimately did not go ahead with the stunt.

At the White House on Saturday, Mr. Trump took note of the teal blue shirts the attendees wore, pointed to the crowd and said, "I want to put one of them on instead of a white shirt."
If the stunt sounds familiar, you are not the only one as currently trending on social media is a video where someone put Trump's face over Willy Wonka from the scene where Wonka performs a similar move: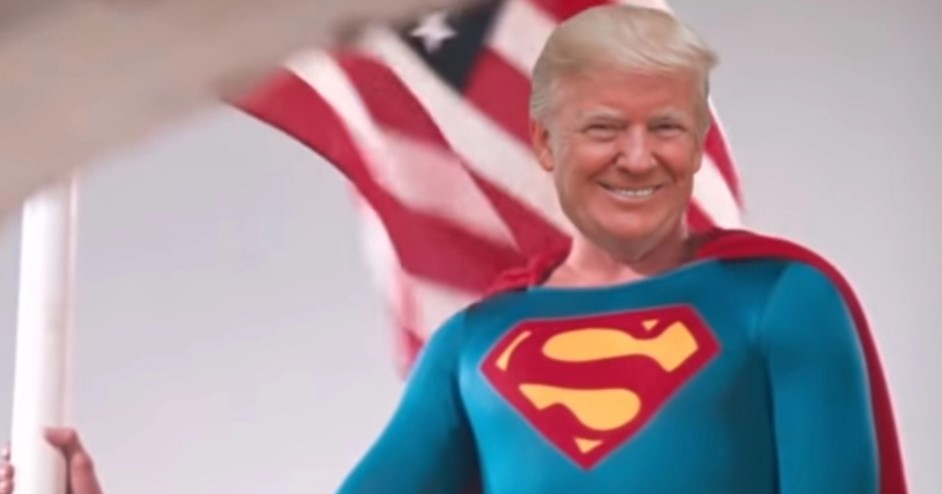 Trump is Batman, Superman
This isn't the first time Donald Trump has been associated with Superman or even a superhero for that matter. There is fan art of Donald Trump as the Man of Steel (see below) as well as a video put together using footage from Superman II of Trump vs Mueller. Back in 2015, when asked by a young boy, Trump even said he was Batman. There is also a video of Trump as the Great Titan Thanos wearing the Infinity Gauntlet dusting the House Democrats.
I can't help but think if Trump did go ahead with the Superman stunt how Dwayne Johnson would have reacted. Johnson recently backed Biden for president, and Johnson's production team now manages Henry Cavill who they want to return as Superman. Following Trump getting diagnosed with coronavirus, Johnson's former wife and business partner, Dany Garcia, as well as producer on the DC movies, Shazam! and Black Adam, took to Instagram to say that we need Superman now more than ever, an obvious dig at Trump. Just imagine the political messages that will be coming from Johnson and Garcia in their upcoming Black Adam movie, Shazam! 2 as well as if and how they use Henry Cavill as Superman, assuming Cavill returns as the Man of Steel that is. Good luck.
Donald Trump Superman fan art: